Looking up the canyon. We'll do a hard left at the base of the snow-covered mountain, then climb up and around the hill at left to the top of the ridgeline behind it. All photos by Bruce, May 28, 2002.
Windy Pass Trail
(Great Western, South Fork of Provo Canyon)
The Windy Pass Trail climbs from the South Fork of Provo Canyon to a high ridgeline called Windy Pass. It begins smoothly at the Big Spring trail, then becomes steep and rocky. Starting at 5700 feet altitude, you'll climb 3300 vertical feet to the pass. Out-and-back, it's 13 miles round trip.
Because of narrow trail, loose rock, and injury potential, I'm rating this trail advanced technical, very strenuous aerobic. This is not an easy trail.
Even if the trail is buffed, you'll be climbing at a rate of about 800 feet per mile once you join the Great Western.
I found the trail cratered and churned from horses, with many long sections of loose rock that made climbing a challenge and descent "endo city." I'd reserve this trail for an advanced rider (with good rock-surfing control) who's looking for a climbing challenge. If that's you, go for it.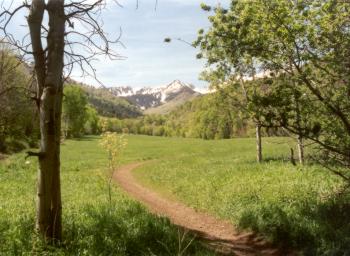 The trail starts on the Big Springs Loop. This section is smooth and buffed.
Serviceberry blooms along the trail. In September, these are a tasty treat.
The trail alternately passes through Gambel Oak and Mule's Ear on hot hillsides, then plunges into pines, maples, and quakies. There are choke cherry, serviceberry, and elderberry along the trail. In the trees, the ground is covered with dwarf waterleaf and oregon grape. In one section, clematis vines bloom as they climb the trailside brush.
\In the sunny areas, mule's ears and penstemon bloom in late spring. You'll also see scarlet gilia (desert trumpet) and desert parsley. This is a pretty ride, if you can take your eye off the treacherous trail for a second.
If you choose to continue beyond the pass, you'll climb another 200 feet elevation, then begin dropping towards Bald Knoll. The trail links up with Forest Road 121 about 6.5 miles beyond the pass. This road drops into Wallsburg. Most riders who are doing a shuttle ride, however, do the ride in the opposite direction: from Wallsburg to Vivian Park. This saves a few hundred feet of climbing, and is (I'm told) significantly easier.
Smoother trail section about half-way up, with serviceberry growing among quakies.
View north near the pass, looking towards Lone Peak. Timpanogos is on the left.
Bottom Line!
The difficulty of this trail will depend on the season, and on whether grooming (raking loose rocks) has been done. It's not your Momma's trail. It's a tough ride but fun for those who thrive on abuse. And the views are nice.
Riding notes:
0.0 Singletrack on far end of parking lot (E 5700)
0.85 Fork L, cross road
1.15 Fork L GPS N 40° 19.192' W 111° 31.874' (E 5900)
Go down and through gully (R=Big Spring)
1.6 Keep R (L goes downhill to GW trailhead)
1.9 Great Western comes in on left
GPS N 40° 19.369' W 111° 31.391' (E 6300)
4.6 Fork L (R=Shingle Mill Trail) to go east
GPS N 40° 17.528' W 111° 31.842' (E 7600)
5.6 Hard R to go south (E 8200)
6.15 Trail turns back east (E 8700)
6.4 Keep R uphill, begin stiff climb at Water Hollow
GPS N 40° 17.103' W 111° 30.593' (E 8800)
6.55 At pass (if continuing to Bald Knoll, go L)
GPS N 40° 17.026' W 111° 30.617' (E 9000)
Outline of the ride.
Getting there:
In Provo Canyon, turn south (right if you're going uphill) on the South Fork road at Vivian Park. Drive 3.1 miles and turn right at the National Forest access. Go to the big parking lot at the end. The singletrack trail starts at the hole in the fence at the north end of the parking lot. GPS N 40° 19.952' W 111° 31.487'.
To start at the horse trailhead, continue up the South Fork road another 0.9 mile. Pull right into a gravel parking area just before the gate of the Trefoil ranch. The trail starts at the gate with 0.8 miles of doubletrack. GPS N 40° 19.540' W 111° 31.074'. This route saves about a mile of distance but only about 150 ft of climbing. I don't recommend it for bikes.