View east on a cloudy day as we descend to the east on Wildcat. Photos and ride review by Bruce on October 28, 2015.
Wildcat to Hildalgo Lariat Loop
The Wildcat and Hildalgo trails are located in the Horsethief Area mountain bike trail system along Highway 313 northwest of Moab. They must be reached via other trails in the area. This page describes a lariat loop ride of Wildcat and Hildalgo, using a small bit of 7-up . The loop is at 5500 feet elevation, with a usual riding season from March through November.
On the uphill side, the Wildcat and Hildalgo trails can be reached via
Whirlwind Loop
, which forks off the
Mustang Loop
(which in turn is reached through the
Chisholm
or
Getaway
trails).
Both trails end on the 7-up trail near its upper end. Wildcat forks off the 7-up singletrack option, 1.9 miles from the upper end of 7-up at the Bull Run trailhead. The bottom of Hildalgo is about 0.8 miles further north on 7-up.
Going counterclockwise on the Whirlwind Loop, we've reached the Wildcat trail fork. The system is well-marked at every trail intersection!
Traversing a bit of weathered sandstone as the head southwest on Wildcat.
When Wildcat is combined with these two pieces of 7-up and Hildalgo, it forms a lariat loop of 2.5 miles from its origin on Whirlwind. There's around 200 feet of elevation change from the top of the lariat to the bottom on 7-up.
The trail surface is mostly Entrada sandstone and is fairly smooth. On the rock, Wildcat is marked with red-orange paint stripes. The sandstone alternates with short segments of hardpack dirt singletrack.
The trail is surrounded by mixed juniper and pinion forest, but with plenty of open views to the east.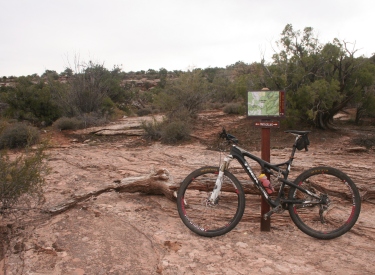 The Superfly rests against the trail sign at the intersection of Hildalgo and Wildcat.
Toward the end of Wildcat, we're climbing again to reach the 7-up singletrack at the top of a low rise.
A counterclockwise ride from uphill takes you down to the lowest part of the
Mustang Loop
, then down a short segment of the
Whirlwind Loop
's southern side. About one-tenth mile after leaving Mustang, you'll fork to the right off Whirlwind to descend Wildcat. Keep straight at the fork where Hildalgo forks to the left.
Wildcat will climb a little before it terminates on the
7-up
singletrack (this is an alternate route to the west of the main 7-up doubletrack).
Fork left on 7-up. The trail is marked with pale blue paint stripes. When you reach the main 7-up doubletrack, go left again. This next section is actually the most technical part of the ride, with some ledges and rough riding.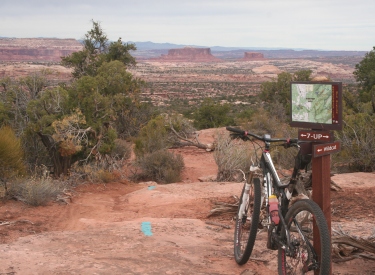 We've reached the end of Wildcat. We're looking down the 7-up singletrack towards Monitor and Merrimac buttes.
Leaving 7-up to climb Hildalgo westbound.
After 0.4 miles on the 7-up doubletrack (0.8 miles from where Wildcat ended on the 7-up singletrack), watch for Hildalgo on your left. In 2015, the trail fork and sign were on a tiny singletrack loop off the main doubletrack where it might be possible to ride past if you aren't paying attention.
Hildalgo climbs at a comfortable pace, without anything tricky. The surface is about 70% rock, alternating with short segments of well-packed dirt singletrack. On the rock, the trail is marked with red-purple paint stripes.
When you reach Wildcat, fork right uphill. At the Whirlwind trail fork 1/4 mile later, you can go left uphill to resume the Mustang Loop , or go to the right downhill to run around the Whirlwind Loop.
Hildalgo is mostly slickrock, with short bits of dirt trail between.
Nearing the uphill end of Hildalgo.
Bottom Line:
Similar to other trails in the Horsethief Area Good riding with some OK views. Makes a nice add-on to an area ride. For intermediate riders, I recommend the "Horsethief Tour" of 14 miles (see track file below) -- Getaway to the Mustang Loop riding clockwise, with detours to the Horsethief Campground trails , Whirlwind Loop , and the Wildcat/Hildalgo loop before completing Mustang and returning to the Getaway trailhead.
Riding notes, Wildcat/Hildalgo from Chisholm:
0.0 East from 313 (Chisholm) TH
N38 34.866 W109 47.857
0.5 L on Mustang Loop
N38 35.088 W109 47.586
1.3 Keep R (L = Whirlwind joins)
N38 35.501 W109 47.388
1.4 Downhill L on Whirlwind
(R = Mustang continues)
N38 35.499 W109 47.308
1.5 Fork R onto Wildcat
N38 35.574 W109 47.234
1.7 Keep R (L = Hildalgo)
N38 35.567 W109 47.108
2.3 L on 7-up ST
N38 35.687 W109 46.670
2.8 L on main 7-up DT
N38 35.862 W109 46.396
3.2 L on Hildalgo
N38 35.904 W109 46.787
3.8 R to rejoin Wildcat
N38 35.567 W109 47.108
4.0 L uphill on Whirlwind
N38 35.574 W109 47.234
4.1 L on Mustang
N38 35.499 W109 47.308
5.4 Keep R (L = toward Getaway)
N38 34.909 W109 47.267
6.0 L on Chisholm
N38 35.088 W109 47.586
6.5 Back at parking
Map of Mustang riding area
Getting there: From I-70 and Crescent Junction, drive south on US-191 for 20 miles (about 9 miles north of the Colorado River if you're driving out from Moab) to Highway 313. Drive uphill 11 miles.
Horsethief West: On your right at mile 11.8 from Highway 191, turn toward the campground. The mountain bike trailhead is before the campground on your left. Start southbound on Chisholm to reach the Mustang-area trails.
Highway 313 (Chisholm) Trailhead: At mile 12.5, spot the trailhead kiosk on the left side of the road. Turn into parking. Pedal east (away from the highway) on Chisholm to intercept the Mustang Loop in 0.5 mile.
Gemini Bridges Road (Getaway) Trailhead: For longer rides of the area trails. At mile 12.9, turn left at the Gemini Bridges sign. About 200 feet from the pavement, spot a small parking area on your left with the Getaway Trail just east of parking. Mustang forks away from Getaway 0.6 miles from the trailhead.
Bull Run Trailhead: Drive 1.1 miles down the Gemini Bridges dirt road, then turn right into the trailhead. Start your ride to the Horsethief Area trails by heading left on 7up.

Bathrooms: Horsethief Campground
Water: Horsethief Campground
Camping: Horsethief CG, nightly fee