View to the west from high on Tidal Wave, with the trail's next segment below us. Photos and ride review by Bruce on October 1, 2015.
Tidal Wave
Tidal Wave is a 2.7 mile downhill-only trail at Deer Valley. It runs from the top of the ski lifts on Bald Mountain to Silver Lake Lodge, dropping 1100 vertical feet. Top altitude is 9200 feet. The trail is extensively machined for smooth fast riding punctuated by table jumps and high-speed corners. Most riders will pay to do this trail as a lift-served ride, and that's my recommendation.
If you want to earn your vertical with a loop ride, you have multiple options. If you're not
intimately
familiar with the area trails, your best bet is to climb the lift road.
( Note! Deer Valley does NOT want you climbing uphill through their resort trails on days when the ski lift is running! The mountain patrol may stop you if you're climbing the lift road -- or any Deer Valley resort trail -- to the top of Tidal Wave. )
From the lift-loading zone at Silver Lake Lodge, grab the singletrack directly beneath the lift and pedal uphill until you can turn left on the gravel service road at around 0.2 miles. Now just stay on the road and climb. You won't get lost, and you aren't likely to get smashed by an out-of-control downhiller.
Cruising the Midmountain Trail westbound toward Team Big Bear on the loop ride.
Climbing through a grove of mixed fir and aspen on Team Big Bear.
All other uphill routes are somewhat complex because of multiple interconnecting trails, with most trail forks being unmarked (as of October 2015).
My sample loop ride stays away from the crowds by using Team Big Bear to Flagstaff (both outside of the resort area trails), then the upper end of Homeward Bound. There are several competing trails that can get you to Homeward Bound after you've finished Team Big Bear. (Did I mention that navigation was complex?) You won't encounter descending DH types until you reach Homeward Bound on Bald Mountain. But there the sight lines are good because the mountain is, well, bald.
Much of this web page will discuss navigation on the Team Big Bear route. After all, if you're using the ski lift you simply point your bike downhill and ride. And you'll have the up-to-date Deer Valley map that you got with your lift ticket.
Unfortunately, uphill navigation is complex due to multiple multiple multiple options. (Did I already say that?) First, get to the Midmountain Trail. There are multiple bike routes to it from Park City. To reach it by car, drive uphill to Silver Lake Lodge (see below).
With your bike facing uphill at the ski lift, descend to the right below the underpass. Midmountain is on your left as you come out of the tunnel.
Looking north down a ski slope from Team Big Bear.
Traversing around the hill below the ski lift as we approach the end of the climbing on Team Big Bear.
From Silver Lake Lodge, follow the Midmountain Trail 1.2 miles to Team Big Bear. It's the first major trail on the uphill side. Fork left and begin climbing. When on doubletrack, watch for the singletrack to fork away from the dirt road on your right about 0.1 miles uphill.
On Team Big Bear you'll gain 500 vertical feet in 1.5 miles.
Team Big Bear ends on the Ontario Loop. You can go either way. Below I have two GPS tracks that go to the right and one that goes left. You're now heading south on a relatively flat area.
If you went left on Ontario, keep right at the next two trail forks. Cross a doubletrack, then keep left as Road to Ruby singletrack joins, then drop downhill left to the eastern limb of the Flagstaff Loop.
Team Big Bear ends at this northern corner of the Ontario Loop. If you know the trail system you can go either way. I followed the rider to the right.
Ontario will deliver you to the Flagstaff Loop. You can take any of three pathways southbound. My track takes Flagstaff's east side to Deer Camp.
If you went right, you'll cross a doubletrack in about 1/4 mile. Immediately after, either keep straight for the western side of the Flagstaff Loop, or fork left on Road to Ruby singletrack. Either route can get you there. We'll assume you're headed for the Deer Camp option only because the lifts are not operating and no Deer Valley employee will stop you: Fork left. Keep straight as the eastern Ontario trail option joins, then fork left downhill on the eastern side of Flagstaff.
From the fork where Road to Ruby joined the eastern side of the Flagstaff Loop, pedal south 0.3 miles then make a hard left turn onto Deer Camp. The trail will traverse through aspens heading northeast. Stay straight on this trail, crossing over Tidal Wave, until you reach a trail fork on the edge of a water reservoir.
(You could also take the second left turn off Flagstaff, where Deer Camp climbs up to Road to Ruby near Homeward Bound. Or continue you could continue straight on eastern Flagstaff until it hits Road to Ruby. These routes will also bring you to Homeward Bound at the base of Bald Mountain. Just keep working generally eastward and a bit south. See the by-the-mile descriptions below.)
Cruising the aspens of Deer Camp.
Climbing out of the trees on Homeward Bound. You can see a bump of Tidal Wave on the far right.
From the Deer Camp fork near the west of the reservoir, turn to the right uphill. You're on Homeward Bound. The trail will emerge from the trees to a broad area of grass and brush. Ahead, you'll see that you're approaching Tidal Wave just above a series of table jumps.
Homeward bound will climb uphill right along the side of Tidal Wave. Then it will veer to the right and cross over.
At the next trail fork, go left to climb the mountain. The trails to the right go to the Bowhunter loop.
Looking north from the saddle. Mine equipment or old ski lift part?
View west as we climb through switchbacks on Homeward Bound.
Some of the pitches here are a little steep, a tad rocky, and occasionally loose. They can be done, but at 9000 feet elevation you may hurt. When you need a break, pretend to take a picture of the mountains to the west or the Midway down in the valley to the south. Works for me.
Homeward Bound ends on the lift road. Turn uphill and climb the last bit of gravel doubletrack. As you approach the lifts, you'll see a trail dropping downhill on the left. That's the combined entry to Tidal Wave and Aspen Slalom.
You're at Tidal Wave!
Drop downhill and the trail turns to the left (back westbound). Almost immediately, keep straight as Aspen Slalom drops away on your right.
Aspen Slalom on the right; Tidal Wave straight ahead.
Sample of a turn as we descend through the firs on the northern face of Bald Mountain.
Tidal Wave will descend through a series of highly-banked turns. These are designed to be taken with speed. If you brake and timidly crawl around the turn, you're likely to find your tires sliding sideways.
Shortly after crossing the lift road, keep straight as the Sunset trail crosses and twists down a steepish sideslope. As the trail flattens and veers to the right, aim for the wider trail with the table jumps as Homeward Bound crosses obliquely. (In October 2015, the only trail sign was at Aspen Slalom. Other forks and crossovers were unmarked.)
Series of table jumps in the meadow. Dirt was hauled in to smooth the trail surface.
More table jumps await as we head toward the crossing with Deer Camp.
The table jumps are designed for speed and distance, not for height. Intermediates can simply roll the jumps. Even timid jumpers will find that it's pretty easy to flick the pedals and pick the bike up.
The trail will cross over Deer Camp as you fly downhill. As you reach the Ontario Bowl, the directly of travel changes from generally west to northbound.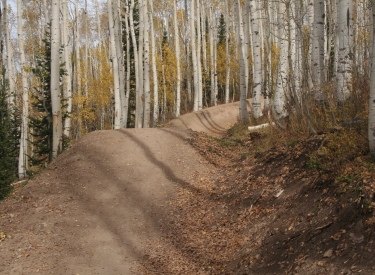 Looking back uphill. Built for speed. Plenty of room here.
Coming into a banked turn in Ontario Bowl.
After the trail turns back south and drops to the bottom of Ontario, you'll reach a doubletrack. Fork hard left downhill on the dirt road and you'll spot the continuing Tidal Wave trail branching to the right.
The trail now starts a straight flight north-northeast toward Silver Lake, clinging to the west side of a mountain. As it comes around the northern tip of the mountain, you'll see the lift area in front of you.
All done. Ready for another go?
On the final leg, with another series of table jumps breaking up the straightaway.
Riding notes, Team Big Bear to Tidal Wave's
top via West Flagstaff and Road to Ruby:
0.0 West (R) from lift, under crossover
Veer L on ST (Midmountain)
N40 37.211 W111 29.377
0.7 Keep R (L=Ontario Bypass)
N40 37.148 W111 29.756
1.2 R uphill on Team Big Bear
N40 37.114 W111 30.142
1.3 R off DT onto ST
N40 37.132 W111 29.992
2.2 Reach DT, keep L on ST
N40 36.895 W111 30.027
2.6 R at Ontario Loop fork
N40 36.768 W111 29.879
2.9 Cross DT and keep R
on west Flagstaff Loop
(L = to Road to Ruby)
N40 36.537 W111 29.969
3.4 Join Road to Ruby, keep R
N40 36.197 W111 29.712
3.6 Keep straight
(L=East Flagstaff, R=old road)
N40 36.121 W111 29.586
3.9 Keep R (L=Deer Camp)
N40 36.299 W111 29.463
4.0 Fork L (R = to Bowhunter)
N40 36.337 W111 29.360
4.2 Keep straight to old DT
N40 36.276 W111 29.236
4.3 L then R onto Homeward Bound
N40 36.325 W111 29.099
4.8 R uphill on service road
N40 36.467 W111 28.987
5.0 L downhill on Tidal Wave
N40 36.584 W111 28.974
Riding notes, Team Big Bear to Tidal Wave's
top via East Flagstaff and Deer Camp:
0.0 West (R) from lift, under crossover
Veer L on ST (Midmountain)
N40 37.211 W111 29.377
0.7 Keep R (L=Ontario Bypass)
N40 37.148 W111 29.756
1.2 R uphill on Team Big Bear
N40 37.114 W111 30.142
1.3 R off DT onto ST
N40 37.132 W111 29.992
2.2 Reach DT, keep L on ST
N40 36.895 W111 30.027
2.6 L at Ontario Loop fork
N40 36.768 W111 29.879
2.8 Keep R (L = loop)
N40 36.605 W111 29.889
2.85 Keep R (L = loop return)
N40 36.578 W111 29.892
2.9 Straight (Road to Ruby joins)
N40 36.532 W111 29.867
3.0 L on east Flagstaff
N40 36.451 W111 29.804
3.3 L on Deer Camp
N40 36.264 W111 29.640
3.4 Keep straight N40 36.314 W111 29.599
3.6 Cross Tidal Wave
N40 36.477 W111 29.485
3.7 R on Homeward Bound
N40 36.514 W111 29.415
4.0 Straight (Naildriver joins on L)
N40 36.334 W111 29.250
4.1 Cross Tidal Wave
N40 36.336 W111 29.140
100 feet then keep L
(R = to Bowhunter)
4.6 R uphill on road
N40 36.462 W111 28.985
4.8 L downhill to Tidal Wave
and Aspen Slalom
N40 36.584 W111 28.974
Riding notes, Homeward Bound to Tidal Wave's top:
0.0 South to ST underneath lift
N40 37.257 W111 29.301
0.05 Keep R for Homeward Bound
N40 37.221 W111 29.298
0.2 Cross DT (L to climb service road)
N40 37.152 W111 29.285
0.3 R to stay on Homeward Bound
N40 37.025 W111 29.293
1.4 Cross Deer Camp
N40 36.526 W111 29.413
1.7 Straight (Naildriver on L)
N40 36.334 W111 29.250
1.8 Cross Tidal Wave
N40 36.336 W111 29.140
100 feet then keep L
(R = to Bowhunter)
2.3 R uphill on road
N40 36.462 W111 28.985
2.5 L downhill to Tidal Wave
and Aspen Slalom
N40 36.584 W111 28.974
Riding notes, Tidal Wave downhill:
0.0 Top of Tidal Wave / Aspen Slalom
N40 36.584 W111 28.974
100 feet, then keep straight
0.4 Join then leave (cross) service road
N40 36.527 W111 29.120
0.5 Keep straight (Sunset crosses)
N40 36.473 W111 29.144
100 feet and keep straight again
N40 36.445 W111 29.147
0.7 Straight (Homeward Bound crosses)
N40 36.336 W111 29.140
1.1 Straight (Deer Camp crosses)
N40 36.479 W111 29.482
1.9 L on Ontario Bowl Road
N40 36.636 W111 29.519
Immediate R on ST
2.7 Drop into lift area
N40 37.249 W111 29.314
Deer Valley map
Getting there, Silver Lake Lodge:
In Park City, follow the signs toward Deer Valley Resort. To get to the upper (Silver Lake) lodge, turn left on Royal Drive just after the road divides -- before you actually see the Snow Park lodge. Drive 4 miles uphill, following the signs. When you come to a parking lot on your right, surrounded by tall buildings, pull in. From the lot, angle southeast between buildings until you arrive at a wide open area with chairlifts and a ticket sales office.
Midmountain in Empire Canyon: As you enter Park City, follow the signs for Deer Valley and Guardsman Road. Get on Bonanza Drive heading south uphill. At the roundabout, turn toward Empire Canyon (SR 224). Stay on that road for about 3.5 miles. Go through the roundabout in front of Empire Canyon Lodge and head uphill on 224. Just after the turn to the right, park on the left side of the road. The Midmountain Trail is back downhill just above the turn.
Other climbing routes for a loop ride:
Lift road: Recommended. Pedal toward the mountain on Homeward Bound, the trail directly under the ski lift. When the singletrack hits gravel road, turn left and follow the road uphill all the way to the top.
Deer Valley singletracks: May have high-speed downhill traffic. To your right, spot the broad trail coming down the hill near the underpass. This is the bottom of Tidal Wave (DH only). To the left of Tidal Wave is Homeward Bound, which has been suggested as a good two-way trail for your climb to the top. Still, consider using the service road on days with high rider volume.
Team Big Bear from Empire Canyon: From Empire Canyon's parking on SR 224 just above Empire Canyon Lodge, pedal east on Midmountain 0.3 miles to Team Big Bear. Once down Tidal Wave, you'll come back via Midmountain.
Tour des Suds and Moosebones: Climb TDS to the doubletrack in Empire Canyon and turn left on the DT. Pass by Boulder and grab Moosebones to Empire Pass. From the top of the hill, take Road to Ruby to Bald Mountain.
Corvair to TG to Road to Ruby: Park in Empire Canyon. Take midmountain 0.4 miles to Corvair, then TG to Upper Corvair, then cross Empire Pass to Road to Ruby and follow it to Homeward Bound.