A shady glen on Gravedigger, about 12 miles into the ride. Photos and track from a ride on September 15, 2011.
tototototototo
This is a classic epic loop ride on the south end of Park City. The climb on Tour des Suds has changed quite a bit over the last 10 years, but the rest is the same old-style monster riding. This is a must-do for your Park City bucket list.
The ride as I've outlined it here is 13.6 miles with around 3000 vertical feet of climbing. Base altitude is 7350, top altitude is 8900 feet. Some navigation skill will be required, as there are a couple of spots where you can go wrong and get lost. Don't ride without a good current map, and it's very helpful to follow a GPS track file.
The dirt road from Daly Canyon, 1/2 mile into the ride. We're about 100 yards from the top, where the road will swing right, and we'll find Tour des Suds on our right.
Climbing uphill on Tour des Suds.
There are some variations on this ride, especially in how you begin. For example, you can start from
Deer Valley
and take the
Rossi Hill trail
around to SR 224, connect up to Prospect and take Prospect or Ontario Ridge over to the Daly Canyon Road just before the turnoff to Tour des Suds.If you're starting from Park City Mountain Resort, take Lowell Ave, jog down to King Road, then catch Gina's Bypass to Daly. (See my multi-track area file.)
A common variation is to catch Ontario Ridge shortly after starting up Daly Canyon, so you're on singletrack within 0.2 miles.
Some riders prefer to climb on Team Big Bear rather than upper Tour des Suds. OK. But don't climb up the DH trail from Ruby Lift to Empire (it starts right where Tour des Suds forks off the Midmountain Trail ).
Exiting Tour des Suds onto dirt road, about mile 4.
View north from Moose Bones. We're heading west, near the highest altitude of the ride.
There's a bit of roadside parking in Daly Canyon (at the continuation of Park Avenue), right where the pavement turns to dirt. Start uphill heading southwest. 0.2 miles later, you'll pass the entry to Ontario Ridge, which is a common ride variation. Keep straight and climb up to the water tank. Veer left around the tank. As you reach the upper level road (mile 0.6), keep straight heading northeast.
As you reach a sharp right turn at the top of the road at mile 0.9, turn right onto Tour des Suds. Stay on the main trail, which will be the most level of any option. There are a LOT of sucker trails forking every which-way.
The Moose Bones Trail, at the spot where the DH from Ruby joins then forks away downhill.
TG is a fun trail, undulating and twisting through the forest. We're just a little downhill from the SR 224 start of TG.
When you hit mile 1.4, note a trail on the left from SR 224, coming up toward you. That's your landmark that it's time to turn sharply right uphill. Go about 100 yards up, then fork hard left onto Tour des Suds. (There's usually a sign there. Straight ahead is Empire Link. The right fork takes you back down to TDS.)
The trail will be fairly straight and simple for a while. When you reach paved SR 224 at mile 1.9, go uphill 100 feet and cross to the opposite side.Navigate a series of jumbled interconnected eroded switchbacks, and somehow get to the top of the sloped meadow to the trees. Find the continuing TDS heading south.
TG will have some short climbs, and a few spots that will be tricky for intermediate riders.
Critical spot! Fork hard left to climb the dirt road.
After a series of switchbacks, TDS will arrive at the
Midmountain Trail
You're at mile 2.2. Fork right.Keep left on Midmountain at a fork at mile 2.4.
Keep straight, level and right as Team Big Bear forks uphill at mile 2.8. Then keep left and level as a trail drops down to a ski lift at SR 224.
At mile 3.0, fork left uphill on Tour des Suds. Two trails join here. The leftmost is a downhill from Ruby Lift. You want the one to the right. (The Midmountain continues straight here -- it will cross SR 224 about 100 yards later.)Climb up TDS until you hit a broad dirt road at mile 3.8. Fork left. Pass the downhill from Ruby Lift as it crosses at 4.1.
Spot where you'll exit the maze of dirt roads to take singletrack continuation of TG (sometimes still called TG2 by geezer riders).
View east at the Empire Canyon Lodge as we traverse ski slopes northbound on TG.
When you hit a 90-degree left turn in the road (mile 4.2), find the Moose Bones trail at the apex of the turn. It's the right-most trail. Your direction will be west.
Climb Moose Bones. Keep straight and uphill as the Ruby DH crosses at mile 4.5, and as a connector from Ruby joins a little later (4.7).When you hit paved road at mile 5.0, cross to continuing singletrack.
This second section of TG is more technical. Because so many riders get lost at the dirt road, the trail is narrower and feels more remote.
A fun series of stair-step root drops on TG.
At the next road 100 yards later, coast downhill to the next hairpin turn (mile 5.2). The TG trail is the singletrack that drops downhill from the turn in SR 224. (The doubletrack to the left of the singletrack goes to the top of the ridge, where it connects to an alternate singletrack. That singletrack will reconnect into TG.)
Keep right at the fork at the bottom of the initial plunge onto TG. (left connects to the upper singletrack).Cruise on TG for about 1/3 mile then keep left uphill at the trail fork at mile 5.5. (Right is smoother and more level, and will reconnect 1/2 mile later.)Keep level and right at a second trail fork at 5.6 (the trail on the left also descends from the upper trail.)
Another little section of TG that may challenge intermediate riders.
The fork where we turn off Midmountain (we came from the trail on the right of the photo), and onto Link (the trail on the left side of the photo).
At mile 5.8, keep left and uphill as the alternate trail rejoins and forks away again. (The smoother trail on the right descends back to Midmountain at the Empire Canyon Lodge.)At 6.1, cross a doubletrack to continue on singletrack.
At 6.3, you're at awhere many riders get lost. (There were zero trail indicators in 2011.) See the photos above.The trail comes onto dirt road, and the obvious line looks like you should continue straight and downhill on the road. Instead.
Another 180 turn. We're standing on Little Chief. Uphill is the end of Link. To the right downhill is Johns99.
Twisty aspen-slalom on Johns99.
As you reach the mine tailings, turn right on dirt road. At the next road (mile 6.5) fork right downhill. At the next fork (mile 6.6), keep left uphill on dirt road. Now watch for singletrack on your right about 100 yards further, crossing a meadow to the trees (again, see photo above). This used to be called TG2.
The TG trail now gets more technical. There will be roots and narrow twisting trail. At mile 7.3,
Black Forest
joins on your left. You may not notice, because it's not exactly a highway. TG then veers right downhill and will hit Midmountain at mile 7.6.
Johns99 becomes dryer and narrower as it hugs steep hillsides in scrub oak.
Johns99 breaks out into a little meadow near King Road.
Turn left on Midmountain. (The plunging route straight ahead as you drop down from TG is a cheater route. It will join Link lower on the mountain. It's ugly, and I don't think it's legal.) Pedal west on Midmountain for 0.1 miles. Then make a hard right turn (a virtual 180) downhill onto Link.
Drop downhill on Link through thick conifers to mile 8.0. At the signed trail fork, turn hard left onto Johns99. (Straight ahead takes you onto Little Chief.)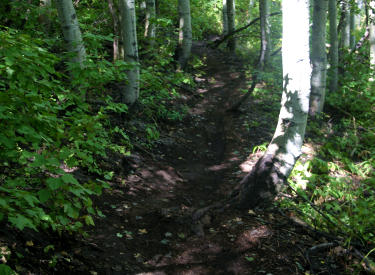 We're now on Johns Trail. Aspen roots and aspen trunks to hop over. Leaning trees to dodge.
Lower on Johns Trail, the aspens are mixed with maple. We're almost to the 4:20 trail fork.
At mile 8.6, Empire Link joins on your right and will cross over. Take the right fork to stay on Johns99. Johns99 changes from thick tall aspen forest to a dryer mix of low aspen, maple, and scrub. You'll cross a few small meadows with breakout views.At mile 9.4, you'll hit gravel King Road. Drop downhill a few feet and find continuing Johns99 on the opposite side. After riding aspen for a bit, the trail enters dark fir forest.
When Johns99 reaches the Silver King Mine, hold to the right and climb up to the ridge by the ski lift. At mile 10.0, keep to the right of the lift and begin climbing a broad rocky trail. Johns Trail will veer to the right off of this broad path near the top, at mile 10.1.
Here's the beginning of 4:20.
Cruising gently downhill on 4:20. Lots of aspen forest mixed with maples.
Descend Johns Trail. This is twisty and fun, with plenty of aspens to dodge and roots to navigate. But it's not everybody's cup of tea. I love Johns precisely because it's a tricky slow downhill. Other riders hate it because it's a tricky slow dowhill.When you reach the 4:20 sign at mile 11.5, fork left. A cheater route will join you on your left. Keep straight and head south.
After dropping through a series of tight turns, the 4:20 trail heads south a bit more. The riding is in aspens with a thick understory of shrubbery.4:20 drops abruptly onto King Road at mile 11.9. Find Gravedigger a few feet down the road, on the downhill side.
Hairpin turn on 4:20. Quite a few of these. Fun!
Descend from 4:20 to King Road. Roll over a big rock, then drop quickly.
Gravedigger is cooler, in deep aspen and fir forest. The surface is a little more technical, with some roots and rocks.At mile 12.1, Gravedigger hits an ugly rough rocky doubletrack. Head right, uphill. About 50 yards later, fork left on singletrack. Descend and cross the creek into the trees.
At 12.3, fork right uphill. (Straight ahead is the OLD Gravedigger. It's ugly-tech, and has now been designated as the continuation of the
Moosehouse Trail
But it rejoins shortly, if you want to try it.)
Gravedigger drops off King Road a few feet downhill from 4:20.
Gravedigger changes from rooty aspen forest to fir.
At 12.5, keep straight as Moosehouse crosses. Gravedigger now heads straight south, hugging a fairly steep mountain side. The trailside flora changes from aspen to maple, then scrub oak.
At 12.9, skirt the fence and join doubletrack. Keep generally left and coast downhill. The dirt road will do a 180. Just before the road splits (above the water tank), veer left onto singletrack (mile 13.1) that crosses to the other side of the gulch.
Ugly and loose, but mercifully short. Here's where you fork uphill on Gravedigger.
After a short rocky climb (versus hike-a-bike), Gravedigger drops off the loose doubletrack to cross the creek.
This singletrack uses some old mine fixtures as playthings. There are cheater routes around a couple of trickier stunts. Keep heading downhill. The singletrack trail will rejoin the downhill road shortly.
If you skipped the singletrack, veer left downhill at the road fork. Go around the water tank as you do another 180.Coast back to the parking spot on the dirt road. Wow.
Heading south on the last section of Gravedigger.
Abandoned mine buildings at the bottom of Gravedigger.
Bottom line: This is an epic ride that requires good navigation skills and a map. Or a GPS unit with track display. Or somebody who's done it before -- and done it recently, because the area trails are constantly changing. Just in 2011, SIX new trail forks were added to this route.
Riding guide, clockwise loop: 0.0 Uphill on DT N40 37.960 W111 29.846 0.6 L around water tank, then straight N40 37.643 W111 30.140 0.9 R onto Tour des Suds N40 37.786 W111 29.814 1.4 Hard R uphill N40 37.547 W111 29.925 1.5 L, continue TDS N40 37.594 W111 29.936 1.9 R on paved road, then L uphill N40 37.259 W111 29.729 2.2 R on Midmountain N40 37.141 W111 29.752 2.4 Keep L N40 37.184 W111 29.848 2.8 Keep level (Team Big Bear crossing) N40 37.113 W111 30.151 3.0 L uphill on Tour des Suds N40 37.019 W111 30.414 3.8 L on dirt road N40 36.670 W111 30.388 4.2 R on Moose Bones N40 36.850 W111 30.024 4.5 Ruby crosses, keep straight N40 36.769 W111 30.093 5.0 Cross paved road N40 36.471 W111 30.382 5.1 Downhill on road N40 36.441 W111 30.428 5.2 Straight into ST as road turns N40 36.428 W111 30.474 Keep R at next fork N40 36.436 W111 30.488 5.5 Keep L uphill N40 36.571 W111 30.642 5.6 Keep straight (R) N40 36.671 W111 30.657 5.8 Keep L uphill N40 36.645 W111 30.880 6.1 Cross DT N40 36.743 W111 31.058 6.3 Hard L uphill on DT Critical! N40 36.804 W111 30.978
6.5 Fork R downhill on DT N40 36.836 W111 31.020 6.6 Fork L uphill on DT N40 36.902 W111 30.942 6.7 R on ST N40 36.934 W111 30.965 7.3 Keep straight (Black Forest on L) N40 37.371 W111 31.030 7.6 L on Midmountain N40 37.516 W111 30.933 7.7 Hard R on Link N40 37.496 W111 30.994 8.0 Hard L onto Johns99 N40 37.356 W111 30.802 8.6 R to stay on Johns99 N40 37.580 W111 30.854 9.4 Cross King Road downhill N40 37.831 W111 30.321 10.0 R up to ridge, go R of ski lift N40 37.952 W111 30.727 Up on rock DT 10.1 R onto Johns N40 37.974 W111 30.659 11.5 R onto 4:20 N40 38.411 W111 30.201 11.9 Cross King Road downhill to Gravedigger N40 38.184 W111 30.093 12.1 R uphill on rocky DT N40 38.026 W111 30.079 After 150 feet, L on ST 12.3 Hard R N40 37.958 W111 30.060 12.5 Straight as Moosehouse crosses N40 37.950 W111 30.009 12.9 Join DT, veer left N40 37.617 W111 30.251 13.1 L onto ST N40 37.595 W111 30.196 13.2 Rejoin DT N40 37.719 W111 30.115 13.6 At parking
As you drive into Park City, you'll arrive at the "main" intersection of Park Avenue and Kearns Blvd. From the light, head south on Park Avenue (straight ahead if you came from I-80, a left turn if you arrived on Kearns Blvd from US-40). Keep going through town. Just after the road veers a little to the right, it becomes narrower. As you reach the end of the homes and pavement, find parking on your left along the creek. Start the ride by continuing up the dirt road the direction you were driving.
Track files (right click and "Save as..."): TG Loop riding track as described Area trails including loop (over 70 tracks) Print topo map: View Lodging, camping, shops: Links to Park City area resources
area map