Sundance Resort Bike Trails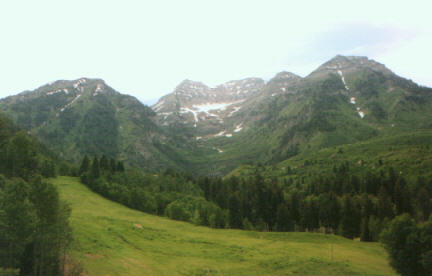 Looking west to the back side of Mount Timpanogos, with a ski slope in the foreground. June 5, 2000 by Bruce.
Because of its lower altitude, Sundance offers ski-lift service to mountain bike trails about a month earlier than any other ski resort -- seven days a week after Memorial Day weekend.You can buy single lift rides, or buy an all-day pass for $18 (2009, subject to change) or a half-day starting at 2:30. You can knock off 50 miles of first-class downhill in an afternoon.
The singletrack trails are fun and well-maintained. Turns are banked for bikes. Most of the riding is in aspens and pines, with an occasional meadow giving you a great view of the back side of Timpanogos. There are many permutations of the downhill routes to explore.
Dominic drops over a rock ledge on Rock & Roll, one of the few trails with expert sections. July 26, 2003
Easier stretch of trail through the aspens. June 5, 2000
The singletrack trails are on the skilled-intermediate level. Doubletracks are upper-beginner level due to gravel on some slightly-steep areas. But with the ski lift eliminating much of the work, Sundance is a good spot for a beginner with reasonable riding skills but none-too-strong climbing.
There are three major routes that branch from the same singletrack about 1/2 mile from the lift. Branching options let you select different scenery and difficulty level. These major routes include Ray's Run, Scotts Pond, and Archies Loop.
Heading towards Scotts Pond, Bruce takes a little air off an aspen trunk. July 26, 2003.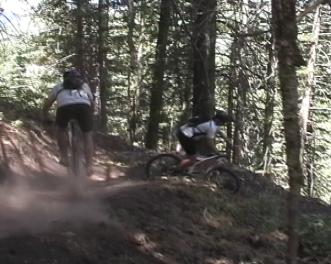 Chad and Dominic rocket around a switchback in the pines, on the Boneyard Trail. July 26, 2003.
Ray's Run is a more-or-less straight plunge down the mountain with an option to fork to Boneyard via Rock & Roll or continuing down to Lower Bobsled. There are a lot of banked turns in the trees, about 4 miles top to bottom. The Upper Bobsled version of this route gets our vote!Scott's Pond Loop features Switchback Alley (appropriately named) and a lovely ride around a pond, then connects to Rock & Roll - Boneyard or to Archies Loop.
Archies Loop is a fairly straight cruise around a mountain, taking you to an impressive view over the North Fork's junction with Provo Canyon. Archies connects to Boneyard, which dumps out on the service road just south from the lift. The ride to Scotts Pond and around Archies Loop is about 4 miles.
Cruising past Scotts Pond.
Getting there: From I-15, take the Orem 800 North Exit and drive straight east (towards the mountains) to the mouth of Provo Canyon. As 800 North divides, take the left fork up into the canyon on US-189. Five miles up the canyon, turn left at U-92 and drive two miles to Sundance. Lift passes are sold in the bike rental shop at the northwest corner of the building closest to the parking lot. Ray's lift is 100 feet west of the bike shop.