View of trails in the rolling hillside of Soldier Hollow. Photos May 12, 2003.
Soldier Hollow was the site of the 2002 Olympic cross-country ski competition. In the summertime, this nicely-built trail system is available for mountain biking. There are about 12 miles of trails located in a semi-circle on the rolling hills west of Heber. Although the total altitude gain isn't great (around 300 feet), the up-and-down riding can add up to a substantial bit of vertical. Base altitude is 5800 feet. Trails are easier-intermediate in technical requirement.
There are trails all over, following and jumping between the cross-country ski routes. Soldier Hollow is the site of an Intermountain Cup race and the Wednesday night Sundance/Soldier Hollow series. If a race route is marked (and it usually is), that's a good riding plan. Just follow the signs. The map below is for the 9-mile Intermountain Cup race loop. For the ICup race, climbing will be about 1200 per loop.
Looking down towards the competition building, with the biathlon shooting targets behind it. The brown area is now a golf course.
Ben Hutchings carves a turn during the 2006 Intermountain Cup race.
Beginning riders will want to stay on the mellower trails that follow the ski tracks. Just find a path and wander around.Soldier Hollow is a fee area within a state park. There's no fee gate, but officially you should pay to ride (2007 = $3). And, you'll need to sign a waiver. Stop at the main lodge to register.
Soldier Hollow is a good spot for a riders of varying ability. The higher portion of the ICup race loop has some nice semi-technical singletrack. If you're not following a marked race course, the navigation to this section can be tricky as you meander over, under, around, and through the cross-country ski tracks. But you can't get completely lost. You can see the observation tower from 90% of the trail area. Just head downhill, back to the central track.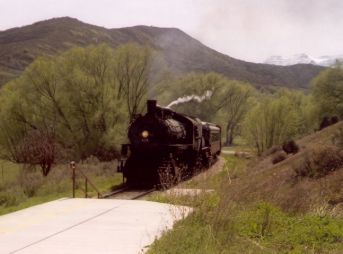 Nearby, you can catch the Heber Creeper.
From US-40, turn north on U-113. Zero your odometer. Drive 2 miles, then turn left immediately after crossing the railroad tracks. Turn left at the stop sign 1/2 mile later. At the intersection 3.8 miles from US-40, turn R and drive up to the lodge. Go inside, pay your fee, and sign the waiver. The trails start downhill by the competition building (tower). Grab a paved road until you see singletrack forking off. This map shows the Intermountain Cup race loop (about 9 miles riding per loop within this 1 square mile area, believe it or not).