View of Shadow Lake from the Dead Tree Trail. Photos and trail description from a ride by Bruce on 9/7/2011.
to to to to to to to to to Here you go. The ride to Scott's Pass via the Dead Tree trail has 3700 vertical feet of climbing. The ride is 19.5 miles. It's not particularly technical. Like a lot of Park City riding, navigation is complex due to multiple interconnecting trails.
The ride incorporates 11 singletrack trails plus four short pieces of dirt road. There are three "crossovers" within the course where the return path joins and then diverges from the climbing route. This route requires some navigation skill, even with an accurate map. Of course, if you follow my GPS track, you're golden.We'll start from the Park City Mountain Resort (PCMR) parking lot and take Silver Spur over to Spiro. This first flattish half-mile is a good warm-up.
Early on Silver Spur, we're following the First Time lift uphill.
Silver Spur joins Spiro just a little uphill from the Armstrong Trail fork.
There are other ways to get there. When I rode with Rob (of Rob's Trail fame) many years ago, we went from Sweeney's to Steps to Thayne's Road to Apex.You can also do my loop the opposite direction -- but substituting the one-way uphill lower Jenni's for the one-way downhill CMG. In fact the climbing is less brutal that way. Just reverse the GPS track file to navigate, remembering to detour off the track to climb the first mile of Jenni's.
After forking left uphill onto Spiro, climb to mile 1.7 on Spiro's switchbacks. Now fork hard left onto Eagle. Eagle is a narrow singletrack with a granny-gear grade. With a full day's load of water on your back, it's going to be hard work getting up the hill. Now you're climbing.
The tread on the Eagle Trail is fairly narrow. I rode the day after a rainstorm, so the traction was excellent. It would be a tougher climb when loose.
From the Eagle Trail, we're looking northeast over the golf course. We're at about 7700 feet already.
Eagle rises 350 vertical feet in just 1/2 mile. The tread was smooth and I had no problems grunting it out. But I stopped to snap a photo while catching my breath.
Eagle joins the Crescent Mine Grade (CMG) trail at mile 2.3 of the ride. Keep straight and climb southwest up a gentle grade. CMG follows an old mining trailcut. It's fairly straight and only a 7% grade. This section is easy riding.
Cruising the buff singletrack of the Crescent Mine Grade Trail, heading southwest.
The CMG trail follows an old trailcut, probably for a narrow-gauge rail track to haul ore.
At mile 3.4, join the Midmountain Trail. CMG comes in from below MM as you cross a dirt road. Keep straight and uphill to enter the combined CMG and MM. You'll descend a little -- about the only time you'll go downhill during this climb. On a ski slope 0.1 mile later, fork left uphill as CMG leaves Midmountain.
At mile 4.5 CMG ends on Thaynes Road. Make a hard left turn uphill. Follow Thaynes road about 1/2 mile as it curves south around the mountain. As you traverse a ski slope, look for uphill singletrack on your right. Make a hard right turn onto Apex.
Near the junction with Thaynes Road, we're looking down the canyon on the ski slope.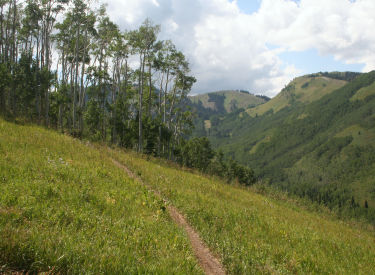 Doing the twisty singletrack of Apex after leaving Thaynes Road.
Apex twists uphill on the ski slope through a few turns, then heads into the aspen forest as it continues to zigzag uphill. At mile 5.5, Apex will cross Keystone (your way down). Aim straight ahead and climb on.
After another quarter mile of switchbacks, Apex begins a long gentle climb southwest through aspen and fir forest. Good cruising here.At mile 6.7, cross the Jupiter Access road. The trail's going to get steep now. Many riders heading for Dead Tree turn left off Apex here and climb on the easier Jupiter Access, saving Dead Tree for the downhill return on an out-and-back ride. Take Jupiter around the mountain if you want. Otherwise, head across the doubletrack and keep climbing.
Apex heads in and out of forest as it climbs toward Pioneer Ridge and the Dead Tree Trail.
On Dead Tree, we're close to the timberline. We're looking west toward Scott's Pass. Still a bit of climbing to go.
At mile 6.9 pass the Perrier Ridge trail (on your left) and keep climbing. At mile 7.1, a faint singletrack joins on the left. Keep straight, and you're now on the Dead Tree Trail. Ahead to your right you'll see the notch in the mountain that's Scott's Pass.
High-altitude climbing hint! When you breathe out, purse your lips to increase the resistance to air flow and to slow expiration. This raises the pressure in your lungs. Increased pressure in the lung raises the hemoglobin oxygen saturation. It also helps keep the CO2 level up, which improves oxygen unloading at the capillary level.
The narrow trail hugs the slope as you head southwest. At mile 7.7 and 9700 feet elevation the trail turns left over a rise and hits the Jupiter road. The Dead Tree used to be here, but I couldn't see it. So I guess it's gone now.Head downhill a few feet on the doubletrack then drop left onto a sharply descending twisting singletrack. This will take you down to the dirt Guardsman Road.
Almost to the ridgeline on Dead Tree.
We're leaving Guardman Road at the pass, heading north on doubletrack to catch Scott's Bypass Trail.
Keep right and climb to Guardsman Pass. Fork right on doubletrack (the continuation of the Jupiter Access road you left earlier) right at the pass. Climb 1/4 mile to mile 8.6 then drop left onto the singletrack Scott's Bypass Trail.
Scott's Bypass heads west, drops through some switchbacks, then descends north to Scott's Pass at mile 9.6.As you roll downhill to the pass, downhill left is the doubletrack to Guardsman Road. Uphill straight is the route to Puke Hill and the Wasatch Crest. Straight ahead on doubletrack is the route to Shadow Lake. (There's also a singletrack heading downhill east. This plunges to the Shadow Lake trail but isn't the official route.)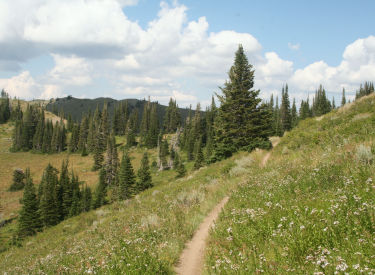 Westbound on Scott's Bypass.
Traversing through fir forest above Shadow Lake on the Shadow Lake Loop trail.
Cross Scott's Pass and veer right to approach the Powerline doubletrack. Fork right onto the Blazing Saddle singletrack. After 1/2 mile, turn hard right to go south on the singletrack of the Shadow Lake trail. The trail will angle downhill as it traverses the glacial bowl around Shadow Lake.
About 1/2 mile later, you'll pass the lake itself. At mile 10.7, keep straight and cross the Jupiter Access road as you enter the Keystone Trail. (Left on Jupiter takes you down to the shore of the lake.)
Shadow Lake as seen from the trail.
Zooming across a ski slope on the Keystone Trail, heading northeast.
Keystone is a fairly straight, high-speed trail. As it zooms northeast, you'll cross the connecting road to the Powerline Trail at mile 11.2. At 12.0, you're back where Apex crossed Keystone.
If you don't have a GPS track -- or a great sense of adventure plus a map and a general knowledge of the area's trails -- I suggest you head downhill here on Apex and backtrack the way you came.My track continues on Keystone. At mile 12.5, you'll cross Meadow Road. (If you head downhill here, you'll arrive at the Yurt at the top of Steps.) 1/4 mile later, the trail dumps onto dirt Webster Road for one switchback, then re-enters singletrack.
Mine tailings below Keystone.
We're back to views over the city on CMG. I can see my lonely car in the parking lot where the ride started.
The singletrack curves back northeast to Thaynes Road at 13.7. (You can climb to the top of Steps here, either by road, or by the faint singletrack connector across the road. Note that in 2011, the singletrack was kind of "primitive.") Turn right downhill on dirt road. Take the next left. Pass some buildings. Watch carefully for the Midmountain Trail crossing the road at mile 14.3. Fork left onto the trail.When Midmountain hits doubletrack after passing mine buildings, turn uphill left. After 100 yards, fork right. You're at 14.7 and northbound on Midmountain.
At mile 16.4 Midmountain crosses a dirt road. Don't. Turn hard right downhill on the road. Pull right onto the singletrack CMG to reverse direction.When you hit the junction of CMG with Eagle at 17.4, keep right on CMG. Descend to 18.5 on the singletrack then fork left downhill on gravel road. (The lower portion of CMG has been converted to one-way downhill in 2017.) At the road fork at 18.8, either fork will take you back to the parking area.
CMG skirts a rock outcrop on the way downhill.
Dead Tree to Scott's Pass trail directions: 0.0 West side of parking, head south. DT southwest between buildings and ski slope N40 39.214 W111 30.541 0.2 R on ST, climb along edge of ski slope N40 39.093 W111 30.528 0.7 L uphill on Spiro N40 39.307 W111 30.899 1.7 L uphill on Eagle N40 39.143 W111 31.154 2.3 Join CMG, keep straight N40 39.007 W111 31.286 3.4 Cross DT uphill to join Midmountain N40 38.261 W111 31.447 3.5 L uphill on CMG N40 38.182 W111 31.513 4.5 Hard L uphill on Thaynes Road N40 37.829 W111 32.012 4.9 R uphill on Apex N40 38.015 W111 31.756 5.5 Cross Keystone, stay on Apex N40 37.782 W111 31.867 6.7 Cross Jupiter Access Rd N40 37.160 W111 32.302 6.9 Perrier on L, keep straight N40 37.073 W111 32.358 7.1 Trail on L, keep straight N40 36.960 W111 32.444 7.7 Road, downhill then L on ST N40 36.589 W111 32.836 8.0 Guardsman Road, R uphill 8.2 R on DT uphill N40 36.408 W111 33.291 8.6 L on Scott's Bypass N40 36.716 W111 33.393 9.6 Scott's Pass, R on Blazing Saddle N40 36.992 W111 33.511
9.9 R on ST Shadow Lake Loop trail N40 37.004 W111 33.278 10.7 Cross Jupiter Rd to Keystone N40 37.074 W111 32.733 11.2? Powerline Tr on L, keep straight 12.0 Apex crossing, straight on Keystone N40 37.783 W111 31.866 12.5 Cross Meadow Road (L = Steps) N40 37.640 W111 31.482 12.7 Join DT downhill N40 37.522 W111 31.553 13.0 Straight onto ST N40 37.372 W111 31.706 13.7 Downhill R on Thaynes N40 37.572 W111 31.205 Then L past buildings N40 37.537 W111 31.187 14.3 L onto Midmountain singletrack N40 37.787 W111 30.793 14.7 L uphill N40 37.905 W111 30.842 Then R to stay on Midmountain N40 37.877 W111 30.916 16.4 Hard R onto DT, immediate R onto ST (CMG) N40 38.261 W111 31.448 17.4 Keep R on CMG N40 39.006 W111 31.289 18.5 L downhill on gravel road N40 38.601 W111 30.662 18.8 Stay L N40 38.828 W111 30.628 Climb past lift, descend road 19.5 Back at parking
In Park City head south on Main Street, following the signs toward Park City Mountain Resort. At the stop light, turn right and keep right on Silver King Drive. As you see the first parking area, turn in and park there. The trail starts by heading southwest on doubletrack between the buildings and the "First Time" ski slope.Bike services: Many in Park City, including rentals. Camping: Recommend Jordanelle Reservoir on US 40. Water: None on the mountain. Bathrooms: Resort.