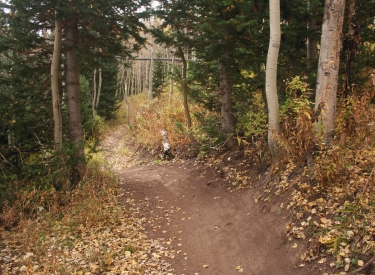 A whoosh and a table jump on Payroll. The jumps are low and flat, easily handled by nervous beginning table jumpers. Photos and review by Bruce on October 1, 2015.
Payroll Trail
with Corvair and Drift Trails
Payroll is a downhill-only trail in Empire Canyon in the Deer Valley area of Park City. The trail is 0.7 miles in length with 300 vertical feet of elevation loss, dropping from the Corvair Trail to the Midmountain Trail . It's recommended for advanced riders, or upper-intermediates who won't be frightened by a couple of steep plunges. The trail can be done via shuttle or by loop.
The shortest loop ride of this trail will be 2.6 miles in length with 400 feet of total climbing. (One of the tracks below does this loop before heading to
Tidal Wave
at Deer Valley.) If you do multiple laps -- and you should -- it's exactly two miles per lap.
This loop starts from the paved roadside parking just above the lodge on Highway 224 in Empire Canyon. Drop downhill about 200 feet and fork left on the Midmountain Trail where it crosses SR 224.
Heading west through the aspens of the Midmountain Trail from the parking on SR 224.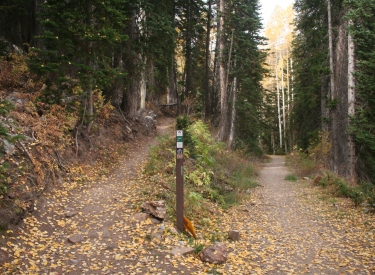 Trail fork of Midmountain and Corvair in the area south of the lodge.
Descend gently on the Midmountain Trail. Immediately after dropping from the road, the trail to your left is Drift (unsigned in Octover 2015). Keep right. The next unmarked fork at mile 0.3 is Payroll coming in on your left. Again, keep right.
At mile 0.4, just after crossing a service road, you'll reach the fork for the Corvair Trail. Head to the left uphill. (The Corvair Trail is also discussed on the Ruby Lift Loop page.)
Corvair will climb generally southwest through one set of switchbacks, then will turn to the east around 0.6 miles from the trail fork. At mile 0.8 from the fork, the Corvair Trail will bump into the
TG Trail
Stay to the left. TG is the uphill trail both coming and going. The trails touch but don't cross. (If you elect to take the more-technical climb on TG, you'll need to backtrack a bit on Corvair from the upper end.)
A rider heading downhill on Corvair from TG.
Trail fork between Corvair and Payroll, from the uphill end (looking north, as though we'd descended from the pass)
At mile 1.6 from parking (1.2 miles since starting the climb on Corvair), Payroll forks hard left downhill. In October 2015, Payroll isn't marked.
If you're doing the shuttled ride -- or a bigger loop -- from uphill, this will be your first trail fork since the uphill end of Corvair. The Payroll trail fork is about 1/4 mile from the spot where you leave TG to drop downhill on Corvair.
The trail descends through some table-top jumps. These jumps aren't anything to be nervous about. At moderate speeds, they're simply rolling trail.
Turns are wide and swooping with solid berms. The trail is designed for riding at higher speeds.
Wide banked turn, looking north. Note bike at apex of turn for scale.
This rock drop awaits at the exit from a shallow turn. Pick your height by adjusting the riding line.
As you get a bit lower, there are a couple of spots where the riding line will take you over a drop. These drops aren't big, and intermediates can simply roll right over them. Or, you can dodge the drops entirely by steering to the side.
You'll pass the old mine (to your right uphill) as you emerge from the trees. Look but don't climb or enter the structure.
After crossing a flat open spot on the old mine tailings, you'll drop a steepish plunge. The trail then turns parallel to the retaining wall of the road.
Looking south from the trail toward the old mine structure.
Looking back uphill toward the fork between Drift and lower Payroll.
At this point, 0.4 miles down Payroll, you'll reach a trail fork. The straight trail to the right is the Drift Trail, following the path of the old Drift Road. Downhill to the left is the continuation of Payroll. As of October 2015, this fork is also unmarked. For about 20 feet, the riding is rough as you bang through through a rock garden designed either as erosion control or newbie extruder. Possibly both.
The trail will head over to a ravine, where it will take a couple of fun hairpin turns as it whoop-de-dos from one side of the ravine to the other. Speed is critical here. You need enough to get up the steep sidewall, but not so much that you can't control the turn at the top.
Payroll rejoins Midmountain at mile 2.3 of your ride. To return to the parking on SR 224, fork right and go 1/4 mile to the road. But now that you know what's waiting for you, why don't you head back to Corvair and climb up for another two-mile loop?
Looking from the top of one sidewall hairpin turn to the next.
Looking north downhill on the Drift Trail.
The Drift Trail is an alternate to the lower 1/3 mile of Payroll. Drift extends from the fork below the roadway retaining wall to the Midmountain Trail just a few feet west of the road crossing of SR 224. If you're doing laps or shuttled runs, it's worth checking out just so you can say you've been there. Otherwise, it's just a faster way of getting back to your car if you're being pelted by hail.
The Drift Trail is 0.3 miles long and is relatively straight and fast. There are a couple of armored seep-crossings where you'll need to bang over some slab rock. On the loop route, it will cut about 1/4 mile of distance and 50 feet of climbing from the return on the Midmountain Trail.
This rock garden protects a wet area from turning into a mud hole.
Payroll "Laps" Loop (2 miles/lap):
0.0 Downhill from SR 224 parking
N40 36.948 W111 30.444
0.05 L on Midmountain
N40 36.979 W111 30.448
Keep R (L = Drift)
0.3 Keep R (L = Payroll return)
N40 36.825 W111 30.490
0.4 L uphill on Corvair
N40 36.820 W111 30.595

1.2 Keep L (upper trail = TG)
N40 36.711 W111 30.473
1.6 L downhill on Payroll
N40 36.583 W111 30.633
2.0 L downhill (R = Drift)
N40 36.643 W111 30.883
2.3 Midmountain Trail
N40 36.825 W111 30.490
L for another lap (2.0 miles)
R to parking at 2.6
Downhill from Empire Pass:
0.0 Top of SR 224 parking
N40 36.377 W111 30.541
West on Empire Express DT
0.1 R downhill on ST
N40 36.400 W111 30.651
Keep L as DT goes R
0.4 Keep R (L = shortcut to TG)
N40 36.622 W111 30.741
0.8 L on TG (R = out to SR 224)
N40 36.436 W111 30.488

1.1 R downhill on Corvair
N40 36.584 W111 30.651
1.2 R downhill on Payroll
N40 36.583 W111 30.633
1.6 L downhill (R = Drift)
N40 36.643 W111 30.883
1.9 Midmountain Trail
N40 36.825 W111 30.490
L for Payroll lap (2.0 miles)
R to parking at 2.2
Map of Payroll area
Getting there:
As you enter Park City, follow the signs for Deer Valley and Guardsman Road. Get on Bonanza Drive heading south uphill. At the roundabout, turn toward Empire Canyon (SR 224). Stay on that road for about 3.5 miles. Go through the roundabout in front of Empire Canyon Lodge and head uphill on 224. Just after the turn to the right, park on the left side of the road. The Midmountain Trail is back downhill just above the turn. Head left (west).
Shuttle:
Leave the return vehicle in the parking strip as above. Drive the shuttle to the top of SR 224 and find a spot to park on Empire Pass in the broad gravel area. Start riding west on the gravel road on top of the ridgeline. After about 1/10 mile, find a trail on the right. This is Upper Corvair. Follow this trail to TG near the hairpin turn in the road, then take TG down to Corvair and on to Payroll.
For another good loop from the SR 224 parking, see the Ruby Lift Loop.