On August 10, 1998, Dehn, Rob, and Mike arrive at Shadow Lake with Jasmine, Mike's energetic Jack Russell terrier. This ride was first published in 1998 on the website and moved to UtahMountainBiking in 2000.
Shadow Lake Loop
Park City Mountain Resort
The ride to Shadow Lake is a classic route in Park City. The trails you're likely to choose have changed over the years. For the better. Long stretches of steep service road have been replaced by nice singletrack. What's constant is, you'll end up at Shadow Lake, it's a lot of work to get there, and it's a very pretty ride.
NOTE! This is a complicated route, and it's become even more confusing to first-timers as new trails have been added. Careful planning, and an on-trail navigation system, are highly recommended!
Shadow Lake is at 8900 feet elevation, so it won't clear of snow until mid to late June. The ride requires intermediate skills but good aerobic capacity. You'll gain 1500 feet of elevation, starting at 6900 from PCMR parking. Tourists from lower elevations will find the climb difficult. Because you'll need to find multiple trails within a complex trail system, a navigation app is highly recommended. The route I describe here will be 19 miles with 2400 overall feet of climbing, so it's only for strong riders.
View of Shadow Lake from the Shadow Lake trail.
Heading uphill from Midmountain on Tommy's Two Step.
There is no single trail to get there. You'll need to connect several trails, both uphill and down. Because the
Midmountain
Trail traverses the hill around the middle of the ride, it's possible to select amount several climbing routes on the lower mountain then take Midmountain to reach your climbing route for the second half. In the same way, you can select among downhill options. This page will describe the "new version" of the classic loop:
Sweeney's, Johns
, Midmountain,
Steps (or Tommy's Two Step)
, Three Candles, Keystone, and Shadow Lake uphill, then Blazing Saddles to
Charlie's 9K
, Apex and
CMG
downhill.

Classic route: Sweeney's Switchbacks then Johns Trail
Bruce heads up the Sweeney Switchbacks in 2001.
This climbing option has 1100 vertical feet of climbing over 3.7 miles to the Midmountain trail. (This is one mile less than climbing Jenni's trail, for a significantly steeper rate of ascent. See below.) Note that Sweeney's begins from a different trailhead about 1/2 mile south of Park City Mountain Resort's base, and you'll need to link up via city streets if your downhill route puts you at PCMR parking.
#1 Sweeney Switchbacks
Sweeney's is 2.1 miles long with 650 feet of elevation gain. It ends on the Tressle Trail, but we'll only do the first 1.8 miles of it because we'll switch over to John's Trail at the Kings Road connector. (See below for "getting there" info.)
Sweeney's has some expert-class stretches when done as a climb. It's one of the older trails in Park City, built with a fairly stiff slope and no modern run-off control. So it's had plenty of time to erode and expose lots of rocks.
A bit of trail on Sweeney, with my bike for boulder size comparison. It can be a bit rough.
Breaking out of the aspen forest as we approach the junction with Johns trail.
Sweeney's zigzags up the mountain through fir, oak, and maple forest with occasional breakouts for views. Pass the Sweeney Shortcut, Sweeney Cutoff, and Flat Cable on your right. Next pass two connectors to Sweeney South forking to your left. Pass the uphill connection to Flat Cable on your left. Then at mile 1.8, turn to the left on the Kings Road connector and quickly turn to the right uphill on lower Johns.
#2 Johns Trail
From Sweeney's begin the climb through the forest at the Johns trail fork. Johns Trail is 1.9 miles long with a bit over 400 vertical feet of climbing. This trail also requires upper-intermediate skill because of tight riding in the trees with many roots to bump over.
Handlebar view of Johns dense aspen forest.
The trail twists and turns, bouncing over horizontal aspen trunks.
After 1/3 mile, pass the 4:20 trail. (To the right connects to Sweeney, left is 420 to King Road. A second connector to 4:20 is on your left at the next right-hand switchback uphill. From here, just keep rolling the countless turns through the aspens.
At the top, you'll come to an open area where several trails and Drift Road come together.
Jenni's
arrives from downhill, Johns 99 from the south. Keep straight and find the connector to
Midmountain
It will be 0.2 miles on the connector to reach Midmountain. Now you'll turn to the left if you'll be climbing
Tommy's
, or right if you intend to follow the classic route up Steps.
Here's a sample of the trail surface on Johns. Narrow squeezes and turns in the trees.
Easiest alternative climbing option: Jenni's Trail
Looking uphill on Jenni's trail as we cross a ski slope to the next aspen grove.
Jenni's trail starts at Park City Mountain Resort's main parking and climbs to the Drift Road area where you can make connections uphill. It's suitable for all experienced riders. Jenni's is a one-way uphill trail, so plan another route for your return to base. Jenni's trail is 4.7 miles to the Drift Road connection area (with another 0.4 miles around the hill to the ski lift). You'll climb 1200 vertical feet.
Jenni's trail has a gentle rate of climb and -- unlike the
Sweeney's/Johns
combo -- the trail surface is mostly free of bumps and large roots. It's an easy way to save your energy for the higher elevations.
At the top of Jenni's, veer to your right to find the connector to the Midmountain trail. Assuming you're looking for the easier way up, when you hit Midmountain in 0.2 miles, fork left (south) and you'll quickly reach Tommy's Two Step.
Jenni's lies in maple and aspen forest, with occasional fir trees.
Easy alternative climbing option: Mother Urban
Mother Urban is a one-way climbing trail. It starts in the same area as Sweeney's. See the
Mother Urban
trail page for details.
Intermediate alternative climbing option: Armstrong
Looking back at a climbing turn on Armstrong. Most of the ride is in heavy forest or maple, aspen and fir.
The
Armstrong Trail
and
Spiro
start uphill just north of the Park City Resort main parking. You can connect via the 0.8-mile Silver Spur trail. (When Silver Spur hits Spiro, you'll need to go downhill a bit to get on Armstrong.
Spiro is a shorter, faster, and steeper option to Armstrong, but it's heavily used by downhillers and hikers. So I recommend Armstrong.
Armstrong is a one-way uphill-only trail, 4.5 miles long with 1250 vertical feet of climbing. Pass the Ham trail on your left as you near the top, then fork to the left on Midmountain. You'll need to ride Midmountain 4.6 miles to reach Tommy's or Steps, passing the top of Spiro after 1.8 miles and crossing CMG in 2.8. Pass the downhill end of Mojave on your right. The Armstrong option is a bigger-mile ride with a total 9.1 miles before you start the second part of the climb. The Steps trail, then Tommy's, will be on your left.
Near the Ham trail intersection, we're looking across the valley from Armstrong at the resort ski slopes.

Connecting at Midmountain
The Silver King mine at the top of Johns.
The Silver King area is the staging spot between the lower climb (to Midmountain) and the final climb to Shadow Lake. Unless you're already on Midmountain, find the "trail confluence" on Drift Road and take the 0.2-mile connector trail uphill to the Midmountain trail.
Midmountain to Shadow Lake

Classic route: Steps (segment #1)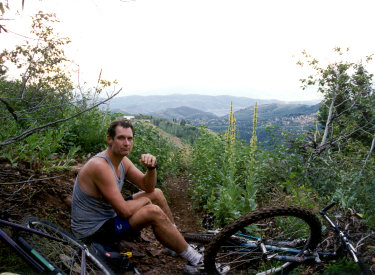 It's 1998. We haven't even made it up Steps yet, and it's time for another break. A younger version of Bruce sits next to old-fashioned hardtail bikes.
Steps begins on the Midmountain Trail just north of the connector from Silver King (a right turn from the connector). On some maps, the first portion is titled as "Steps Connector." There's also a connector from Tommy's to Steps if you want to change climbing routes mid-way.
From Midmountain to the Yurt, Steps is 1.2 miles long with around 450 feet of elevation gain. That's a moderately stiff rate of climb, with a fairly continuous grade. Steps is an older trail, so there will be some areas of embedded boulders to bang over.
Rolling through aspen forest on Steps.
View down toward the Silver King area from Steps.
The trail will alternate between low scrub and aspen forest. At the top, Tommy's Two Step will join on your left. Continue to the open area where two gravel roads cross near the yurt restaurant. Veer right uphill and find the Three Candles trail leaving Thaynes Road.
New easier route: Tommy's Two Step (segment #1)
The entry to Tommy's from the Midmountain trail.
Tommy's Two Step
is 1.5 miles long and it's an uphill-only trail. (
Mojave
is an alternative for the downhill.) Tommy's is a newer smoother trail than Steps, and it spreads the 450 vertical feet of climbing over an extra 1/3 mile. It begins on the Midmountain Trail around 0.2 miles south of the connector from Silver King.
Tommy's Two Step is also a more interesting trail to ride than Steps. The trail rolls in and out of an aspen and fir forest strip that lies between two ski slopes, then crosses the ski slope into forest.
Crossing a ski slope and re-entering the forest.
Passing across the ski lift corridor with breakout views to the northeast.
The terrain is mostly aspen forest, with an occasional fir and maple. The trail is mostly smooth dirt. There will be downhill views whenever the trail happens by a ski slope.
When Tommy's reaches a broad ski track, curve to the left and join the Steps trail as you head 100 feet uphill to the intersection of gravel Thaynes Road and Meadow Road. There will be a restaurant yurt to your right. Keep left of the yurt and cross the intersection of the two roads heading uphill. Find Three Candles on the far side of Thaynes Road.(Mojave, a downhill-only trail, is on the right side of the yurt off Meadow Road. This is one of several options for your downhill return.)
Almost to the top.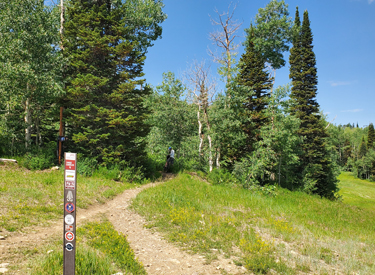 Three Candles as seen from Thaynes Road.
Three Candles begins on Thaynes Road at the yurt. It's 0.8 miles long, with around 250 feet of elevation gain.
Three Candles is a newer trail with plenty of wiggles as it climbs on smooth dirt surface. It's a fairly easy ride with barely perceptible climbing. The trail will cross a ski slope or two, with more open views than what you found lower on the mountain.
Two riders head across the ski slope as I climb Three Candles.
Looking back at Three Candles from the Keystone trail intersection.
Three Candles ends on the Keystone Trail. Fork to the right. You've now done 99% of the climbing to Shadow Lake, so enjoy the cruise for the next couple of miles.
Keystone is a very easy trail to ride. And it's pretty.
Keystone is 2.9 miles in total length, but we'll only ride the 1.7 miles from Three Candles to the Jupiter Access gravel road near Shadow Lake.
This portion of Keystone is a traversing trail, following an old cut on the side of the slope. There's little change of elevation as it heads straight toward Shadow Lake.
The riding surface is smooth and easy. There will be an occasional breakout view into Thaynes Canyon below. Be sure to spot the old mine.
Looking down from Keystone into Thaynes Canyon.
Cruising on Keystone.
When you hit the Jupiter Access road, turn right downhill on the doubletrack if you plan to visit the lake itself. It's only around 100 yards away, although you can't see the lake from the road intersection.
If you're heading uphill around the lake, connect to the Shadow Lake singletrack trail on the other side of the road.
Doubletrack spur to Shadow Lake and connection uphill
Shadow Lake lies just off the Jupiter Access road. When the Jupiter Access road turns downhill into Thaynes Canyon, there's a doubletrack that climbs north of the lake. It will connect to the uphill end of the Shadow Lake trail, the downhill end of Blazing saddles (which is your route to Charlie's 9K trail), and Scott's Pass on the Wasatch Crest .
You can ride the Crest access doubletrack, or backtrack to the Shadow Lake singletrack on Jupiter Acess for your return trip.
Bruce at Shadow Lake in 1998. Hardtail, soft body.
Downhill Route from Shadow Lake

Shadow Lake and connections uphill
The lower end of Shadow Lake on Jupiter Access road.
The old classic route used Jupiter Access to climb to the Apex trail for the descent. You can still do that. But I suggest you take the singletrack route on Shadow Lake, Blazing Saddles, and 9K over to upper Apex.
Segment #1: Shadow Lake singletrack
From the Jupiter Access road, head west on Shadow Lake. Shadow Lake is 0.8 miles long, with 250 vertical feet of climbing to an elevation of 9300.
The Shadow Lake trail will curve around the lake as it climbs. The trail is fairly smooth and non-technical with a gradual rate of climb. There will be only one spot where you can see the lake, so get your picture.
View of Shadow Lake from the trail.
Lush greenery as we curve around the lake at 9000 feet elevation.
Ignore the steep trail on your left as you approach the end of Shadow Lake. When you hit the old (overgrown) doubletrack from Thaynes Canyon to Scott's Pass, make a hard 180 degree turn to get on Blazing Saddles uphill.
Blazing Saddles (segment #2)
The lower trail here is Shadow Lake while the upper is Blazing Saddles. I'm standing on the doubletrack Crest Connector.
Blazing Saddles is 0.6 miles long, running from Shadow Lake up to Scott's Pass. Go up and back if you want to. We'll ride only the first 1/4 mile, veering to the left at the trail fork for Charlie's 9K.
Charlie's 9K (segment #3)
Looking east as the trail skirts the Little Belle ore bin.
Charlie's 9K trail is 5.7 miles long, with 400 feet of climbing to Empire Pass. And you're welcome to ride most or all of it for a monster return downhill. But our "classic" Shadow Lake loop ride will fork away at the Apex trail intersection, so we'll ride only the first 1.7 miles of the 9K trail.
At mile 1.7 from Blazing Saddles, the Apex trail crosses. (FYI, the uphill portion of Apex gets steep and will merge with the Dead Tree trail to Jupiter Peak.) Veer to the left downhill and begin the descent on Apex.
We're at the Apex trail intersection. Fork left downhill.
Rolling across a ski slope on Apex.
From Charlie's 9K the Apex trail will descend 1.8 miles and 550 vertical feet. It will cross several ski runs on the way down as it weaves in and out of aspen and fir forest.
Shortly after leaving 9K, Apex will cross the Jupiter Access road. At 1.2 miles down, it will cross the Keystone trail. (Keystone and its connecting trails are another alternate descent. Three Candles is just a little bit away on Keystone to your right. This can take you to the top of Mojave.)
Apex ends on the Thaynes Road. Turn hard left downhill on the doubletrack and coast down to the entry to the CMG trail 0.4 miles later.
Apex reaches Thaynes Road. A hard-left turn on the doubletrack will take us down to the top of the CMG trail.
CMG -- Crescent Mine Grade (segment #5)
Entry to CMG (where the camera is placed) from upper Thaynes Road.
The
CMG
is 4.5 miles long, descending 1600 vertical feet. Part of the trail is one-way downhill. It will end at the main Park City Resort parking. On the way down, it will temporarily join the Midmountain Trail for around 100 yards. The trail signs are there, but small. It's a good habit to always read and understand every trail marker as you ride.
CMG follows an old ore-wagon grade, so it's a fairly smooth ride with a gentle slope. It's an easy-intermediate ride overall. The trail will cross several ski slopes but spends much of its time in fir and aspen forest.
This photo shows the CMG trail lying in the middle of an old bench-cut mine grade in aspen forest.
Meandering trail crosses a flat.
If you don't want to take CMG all the way downhill, you can traverse on the Midmountain trail to your target trail. There's also a connector called Eagle that joins lower CMG to lower
Spiro
.
Spiro alternate descent from Midmountain (segment 5-B)
Bruce heads downhill on Spiro in 2003.
Spiro
is the most popular alternative descent. You'll first need to descend to the
Midmountain
Trail. Make a hard left turn from CMG onto Midmountain and pedal 0.9 miles north. Now turn right downhill on Spiro. You'll drop 1200 feet over 3.2 miles to a spot just north of the PCMR parking. Turn right on Silver Spur for a singletrack connection back to the resort base.
Bottom Line!
This is a satisfying ride for strong intermediate riders or experts. Using the less-steep options on the loop described above and riding above Shadow Lake to Charlie's 9K, the ride will be 19 miles with 2400 feet of overall climbing. You'll hit some of the prettiest trails in Park City without gnarly technical challenges.
View from Steps down toward the ski lifts near the top of John's Trail.
Getting there:
Jenni's Trail uphill, Crescent Mine Grade down. On Park City's main drag, turn towards Park City Mountain Resort (PCMR). Turn right on Empire then veer right again at Silver King Drive. Pull into the big parking lot. Pedal southwest across the parking lot, toward the Payday lift and the Alpine Slide. Find the gravel road on the edge of the parking lot, heading southwest between the First Time ski slope and the buildings.Continue uphill.
Mike, an emergency physician living in Park City, cranks past the ruins of the Jupiter mine. August 10, 1998.
Armstrong/Spiro Trail. On Park City's main drag, turn towards Park City Mountain Resort (PCMR). Turn right on Empire then veer right again at Silver King Drive. Pull into the big parking lot. Start pedaling. Go north out of the parking lot onto Silver King Drive and turn left toward the mountains. Turn right onto Three Kings. The next left will be Crescent Drive. Pedal about 1/4 mile uphill on Crescent. The trail is the singletrack at a blocked-off paved area on your right where Crescent Drive turns left. N 40° 39.390' W 111° 30.895'
b>Sweeney Switchbacks. On Park City's main drag, turn towards Park City Mountain Resort. Turn right on Empire then veer right again at Silver King Drive. Turn left on Lowell, then pull right into the parking area. Park. Pedal back out of the parking lot onto Lowell and turn right, uphill. Keep straight past the resort. When you reach the spot where the road turns around in a loop, the doubletrack straight ahead is the trail. (Do NOT park in the neighborhood!)
Map of the Shadow Lake ride
Only those trails that would be of interest to most riders to Shadow Lake are labeled on this map.
Park City has a huge and very detailed map showing almost all of the complex interconnecting trails in the area. It's free (at least for the years 2002-2011) at Park City bike shops. A $10 donation is appreciated to support this important service.
An on-trail app such as Trailforks (a subscription is a bargain) can be very valuable when navigating the complex Park City trails.