Although the ride is mostly in forest, there are occasional eye-popping views of the Wasatch peaks. Here we're looking south. Original review June 16, 2002 by Bruce, with additional photos and new trail information July 2022.
Mill D North Fork
The Mill D North Fork trail is a tad on the technical side, with many roots and embedded rocks. It's also a fairly stiff rate of climb. So it's best for strong-intermediate or advanced riders. It's a great downhill, but a bit of a beast to climb up.
Most riders ride Mill D North Fork by dropping off the Wasatch Crest trail above Desolation Lake. This is a popular option on odd-numbered days, when upper Mill Creek is closed to bikes.
But the uphill is nice and has some fun riding options -- for example the little loop on the Big Cottonwood side of Dog Lake -- if you've got the leg for it.
Descending Mill D through luxurious ferns and wildflowers.
View uphill as Mill D hits a meadow. We're between the two Dog Lake connector trails.
The top of Mill D North Fork is at 9100 feet elevation on the Wasatch Crest trail. Although much of the trail faces south, it's deeply forested and doesn't clear of snow until mid-June. The usual riding season is July through early October.
Trailside view to the south at the Cottonwood Ridge.
The Mill D North Fork trail starts at a trailhead at Reynolds Flat in Big Cottonwood Canyon. The parking is on the left side of the road at mile 8.8 from the traffic light at the bottom of the canyon. The trail starts on the downhill side of the parking strip.
The lower half of Mill D is a forested ride, in quakies with occasional fir. The upper half rolls past a few meadows, with occasional views of nearby mountains. There are lots of wildflowers in summer. It's a very pretty ride.
Mill D North Fork is very popular with hikers. On a Saturday, you'll need to be extra careful. Be considerate of other trail users.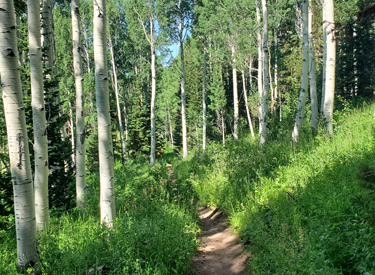 Looking west downhill on a mellower section of Mill D.
Looking up at the ridge of the Wasatch Crest, our ultimate destination on a bigger ride.
As you get higher in elevation, more of the forest becomes fir, with a few open meadows. During the first 1.9 miles up to the Dog Lake trail fork, you'll climb around 950 vertical feet.
At mile 1.9, you'll reach the trail fork for the Dog Lake to Mill D Connector trail. This trail climbs 0.8 miles up to Dog Lake with 400 vertical feet of elevation change.
Keep to the right to climb higher on Mill D.
At the first trail fork. Straight ahead is Mill D; to the left of my bike is the Dog Lake to Mill D Connector.
Smoother trail sections give you a breather. Here we're crossing a shallow creek in typical aspen and fir forest.
There will be some steep and moon-dust slippery stretches, with embedded rocks and logs as water-control bars. Depending on recent maintenance and your leg strength, there may be some brief hike-a-bikes.
At mile 2.7, you'll hit the trail fork for the Dog Lake to Desolation Connector trail. Keep right to continue climbing Mill D.
The Dog Lake to Desolation Connector is 0.9 miles long with 100 feet of climbing. It can take you to the southeast corner of Dog Lake, where it joins to the Dog Lake to Mill D Connector trail.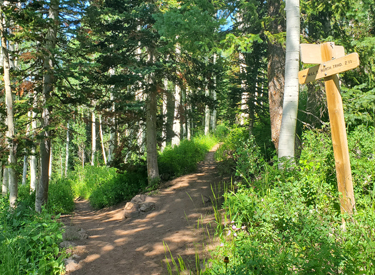 The trail fork for the Dog Lake to Desolation Connector, seen from uphill.
Here we are at Desolation Lake. Take a victory lap. Desolation Lake is an example of a glacier lake, formed within a cirque dug by the moving glacier. When the glacier melted (around 10,000 years ago), the depression filled with water.
At mile 4.0, you'll pass the northern shore of Desolation Lake. This is one of the highlights of the ride.
If you continue uphill past Desolation Lake, it's a bit less than 1/2 mile up to the Wasatch Crest trail at mile 4.4 from the trailhead. You will have climbed 1900 total vertical feet.
Here's Dominic around the year 2000 on the Spine of the Wasatch Crest above Desolation Lake.
Rolling through aspen and fir forest
On your way back down, consider a side trip via the Dog Lake to Desolation Connector to visit Dog Lake, then drop back via the Dog Lake to Mill D Connector before continuing on down to the trailhead.
The trail is a great downhill ride, but a little rough in spots for beginners.
Loop 1: Most bikers ride a loop by climbing the paved road from the trailhead. Turning left onto the Guardsman Road, they ride to the Wasatch Crest trailhead and climb Puke Hill. Just past the Desolation Lake overlook, the trail forks left to drop down past the lake. Keep left at the Dog Lake trail intersection. This gives 4 miles of kick-butt downhill. Total climbing is 2700 feet, distance 16.7 miles. To avoid the road ride and 1700 feet of climbing, you can leave a shuttle at the Mill D trailhead and drive up to the Wasatch Crest trailhead. [ GPX Track ]
Loop 2:
A fun but challenging loop option is to ride Mill D uphill, climb to the Wasatch Crest, then turn left and ride down the Great Western in North Mill Creek. After descending a few miles, we keep left at the trail intersections to climb up past Dog Lake. Here are two options: left for 1/2 mile steep and gnarly, or right for a mile of nice trail to Mill D North. We turn downhill on Mill D to complete the loop. The climb to the Crest is 2400 feet. Add another 400 feet of climb to get back past Dog Lake. Distance 12.5 miles. [
GPX Track
] NOTE: Upper Mill Creek trails are CLOSED to bikes on odd-numbered days!
Here's a bit of that rough trail. Log water-bars, roots, and rocks make it interesting.
Descending Mill D North as the trail approaches a log waterbar.
Out-and-back:
As an out-and-back to Desolation Lake, the trail is 3.8 miles each way, with a gain of 2000 feet. Starting elevation is 7300 feet. Add in a ride around the lake, and you've got a total of 8 miles. This option, and the Mill Creek loop option, are for strong climbers with good root-hopping skills. [
Mill-D-N Track
]
Epic Loop:
For a truly worthy ride, head up-canyon on pavement to the Wasatch Crest as in Loop 1 above. But instead of dropping down the Desolation Lake Trail, continue north on the Wasatch Crest. Descend down the north side of Mill Creek, and when you hit the Dog Lake trail. Climb 400 feet back uphill. Ride past Dog Lake, then descend the Dog Lake to Mill D Connector. Turn right on Mill D after descending from the lake. Distance 21.5 miles. [
GPX Track
]
NOTE: Upper Mill Creek trails are CLOSED to bikes on odd-numbered days.
Arriving at Dog Lake from the Connector trail.
Riding Notes, Desolation and Dog Lake Loop:
0.0 From parking north up ST Mill D North
N40 38.672 W111 38.412
1.6 Stay R on Mill D North (L = Dog Lake)
N40 39.759 W111 37.791
3.9 Pass Desolation Lake
4.1 L on Wasatch Crest
N40 39.507 W111 35.794
6.5 Keep L, downhill on Mill Creek Trail
N40 41.224 W111 36.087

(R = to Midmountain Trail)
7.6 Keep L N40 40.975 W111 37.177
9.5 L uphill at 4-way (to Dog Lake)
N40 40.694 W111 38.514
10.4 Pass Dog Lake
11.0 R downhill on Mill D North
N40 39.759 W111 37.791
12.5 Back at parking
Simplified map showing loops described above.
Getting there: Go to Big Cottonwood Canyon (Wasatch Blvd and 72nd South) and drive 8.8 miles up from the traffic light. Park near the trailhead on your left. GPS N 40° 38.976' W 111° 38.884'.
Guardsman Pass trailhead: Ride up the road past Solitude Resort (about 6.5 miles). Just before you reach Brighton, the road to Guardsman Pass turns off on your left. Exactly one mile later (1.8 miles from the fork in the road), you'll see a dirt road on the left. GPS N 40° 36.817' W 111° 33.532'. Park along the hairpin turn and bike up the road.