Heading northeast through tall oak groves while climbing the Longview trail. Photos and trail review by Bruce on May 27, 2021.
Longview Trail
with Turkey Road and Peacemaker
The Longview trail lies on the Alpine side of Draper's Corner Canyon /Traverse Ridge trail system. Longview extends from the lower Hog Hollow trail (right at the end of Fango and Achtung Baby ) up to the newer Peacemaker trail. Most riders are using Longview (and Peacemaker) to climb to the Peakview trail . The expected riding season is late May through November.
New in late 2020, Longview is primarily used as a climbing route, often combined with Porcupine and Achtung Baby for a loop ride.
The elevation at the bottom of Longview is 5250 feet. It climbs at a gentle pace to end on Peacemaker (see below) at 6250. Longview and Peacemaker are suitable for strong beginners, but loop rides and further exploration at the top require intermediate skill or better.
Entry to Longview from the Hog Hollow trail. It's a 150-degree turn to your right when climbing Hog Hollow, but a straight shot if you're coming from uphill (from Fango or Achtung Baby).
Early in the climb. That's Timpanogos just behind the first row of Wasatch Front hills.
From the valley, Longview can be reached by climbing
Hog Hollow Creek to Hog Hollow
(Or starting at Angel Gate trailhead for Hog Hollow.) Or, you can traverse from the south Maple Hollow trailhead via
Woods Hollow
then
Fango
Or descend from Peakview via Achtung Baby. Longview begins just across Hog Hollow from Fango and
Achtung Baby
.
You can arrive at the top of Turkey Road and Peacemaker by climbing Peakview from Corner Canyon. These trails connect to Longview just downhill. The closest trailhead in Corner Canyon is the Peakview trailhead where the Peakview Trail starts. Or you can get there by climbing Three Falls from Alpine.
Longview is 3.2 miles in length. The singletrack is a smooth bench-cut with a gradual but steady rate of climb (around 200 vertical feet per mile). At mile 3.0 of Longview, you can continue the climb on the Turkey Road trail, which is an old abandoned dirt road, or you can veer left and stay on Longview for another 0.2 miles to reach Peacemaker. (Peacemaker connects to Porcupine on the west and to Peakview on the east.)
Heading northeast toward Lone Peak and Ram's Horn.
Looking southwest. The little white strip next to the water storage reservoir is Angel Gate parking. At the top of the photo are Utah Lake and Lake Mountain.
The Longview trail is an easy ride and is suitable for beginners. Most true beginners will want to do Longview as an out-and-back, as other descending routes require intermediate skill.
The terrain is groves of oak with small meadows. To the northeast, there will be frequent views of Lone Peak. To the east is Box Elder peak. The view southeast features the Wasatch Front with Timpanogos just behind. To the south is Utah Valley, with views over the lake.
The rides you'll find at the top require at least intermediate skills. From the top of Longview, Turkey Road and the eastern side of Peacemaker end at the same spot on Peakview. Here a right turn will take you to the Jacob's Ladder access trail and to the Three Falls trail.
Near the top, with around 1/2 mile to go before Turkey Road. The trail winds in and out of multiple small canyons.
On the new (2021) upper end of Longview, heading toward the Peacemaker trail.
A left turn on Peakview offers lots of ride options. Many riders are choosing a loop ride, descending Peakview to take Porcupine downhill, then crossing upper Hog Hollow to Achtung Baby for the rest of the descent back to the bottom of Longview.
If you're descending Peakview and bypass Porcupine, it will deliver you to the big Peakview trailhead (bathrooms, tools, etc!), where you can connect to Clark's , Canyon Hollow , Rush , and Ann's trail .
Another (fun but longer) loop option goes to the east. This loop combines Hog Hollow Creek, Longview, Three Falls, Fort Canyon, and
Vista Ridge
At the bottom, there's a 2.1-mile road return on city streets in Alpine to tie Vista Ridge back to Hog Hollow Creek (the entry on Westfield Road is unmarked but easily spotted).
View from the top. That's Box Elder Peak on the right; Lone Peak, Ram's Horn and Chipman Peak on the left.
Here's Turkey Road. Pretty mellow at first, but it gets steeper!
Turkey Road is an alternate trail at mile 3.0 of Longview. This final 0.5 miles of the climb to Peakview is singletrack on the grade of the old dirt road called Turkey Road. (Vehicles are no longer allowed here.) If you elect to use Turkey Road, your climb will have steeper sections of around 10% slope. Not horrible at all, but you might have to hit your granny gear.
Turkey Road reaches Peakview at the same spot as Peacemaker. It's a shorter option (0.5 miles vs 0.9 miles), but at the price of stiffer climbing.
Looking east at Peacemaker from the Porcupine trail.
The Peacemaker Trail is 1.0 mile in length, with 250 feet of elevation gain from west to east. The trail is a smooth bench-cut suitable for beginning riders. The trail is new in 2021.
If you're coming from the Peakview trailhead, Peacemaker forks left from Porcupine at mile 0.2 after Porcupine's uphill origin on Peakview.
After climbing to the top of Longview from Hog Hollow, a left turn will take you 0.3 miles on Peacemaker directly to Porcupine. This offers a shorter version of the Achtung Baby loop ride with 250 vertical feet less climbing. At this time -- July 2021 -- most riders are still choosing to climb uphill to Peakview instead of doing the shorter loop that bypasses the Peakview trail.
Typical trail surface: undulating bench-cut in a forest of scrub oak.
Looking east from Peacemaker at the trail fork where Longview ends.
A right turn at the top of Longview onto Peacemaker leads you to the Peakview Trail near its highest point. It will be 0.7 miles and a bit over 200 vertical feet of climbing.
From this spot, Three Falls and the Jacob's Ladder connector are reached by turning right (east).
A left turn puts you westbound on Peakview, where you'll immediately hit the last little bit of climbing. Then the Peakview trail descends west either to the Porcupine trail or the Peakview trailhead.
Much of Peacemaker is shaded with tall oak.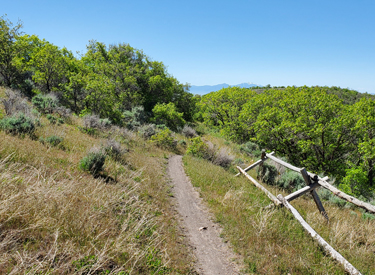 On the bigger version of the loop ride. We've descended the first half of Peakview to reach Porcupine. We're headed for Achtung Baby -- right across Two Hollows from the lower end of Porcupine -- for the loop ride.
Bottom Line!
A great addition to Draper's south-side trail system, nicely built and easy to ride. Intermediate riders will enjoy the Longview-Achtung Baby loop.
Riding notes, Longview to Achtung Baby loop from Angel Gate:
0.0 Exit parking northbound on Hog Hollow Creek
Quickly turn left in the dip
0.1 Left on Hog Hollow
0.4 Hard right onto Longview
3.5 Straight on Turkey Road = faster climb
4.0 Left on Peakview
4.8 Hard left onto Porcupine
5.7 Cross Hog Hollow to Achtung Baby connector,
150 feet, then left to descend.
6.0 Hard R on Two Hollows
6.1 Left on Achtung Baby
7.4 R on Hog Hollow
7.8 Back at trailhead
Map of the loop ride
Area map
Getting there:
On Westfield Road, turn uphill (north) on Beacon Hill Blvd. Drive 0.5 miles, then as Beacon Hill turns to the right (east), turn left on Lighthouse Drive to continue straight north uphill. Lighthouse will become Angel Gate. Keep straight until you pass the irrigation facility, then park. At the northeast corner of the fence, a doubletrack descends east across the hollow. Immediately after crossing the creek, turn left on Hog Hollow.No water or restrooms at Angel Gate.
For other nearby trailheads, see the pages for Woods Hollow , Eagle Crest , Peakview , and Fort Canyon .