From the top of the ridge, we're looking west from Baby Steps at the upper end of Little Salty. In the distance are the Blue Hills. Photos and ride description November 3, 2011 by Bruce.
Little Salty
Little Salty is part of the Klondike Bluffs area trail complex . It's a 1.7 mile up-down route. Altitude is 5000 feet at the ridge. At the top, it begins on Baby Steps on a saddle of the ridge. The EKG Trail transects it about 0.7 miles from the bottom, where it ends on the Copper Ridge Road.
Most riders will do Little Salty as a downhill. After reaching the saddle 8.7 miles into the Baby Steps Loop, riders will think about the ugly continuing climb to the top of Baby Steps. Then they'll decide that Little Salty is a very attractive trail.
The upper trail is a flattish flood zone. Note the water channels. As you might guess, this may not the best way dowhill in a cloudburst.
Shortly after reaching the slickrock, the trail has meandered south and we're looking across the ridge toward the La Sal Mountains.
The downhill starts with an in-and-out ride down a wash and flood area. The first half-mile isn't exciting. Depending on recent weather, it can also be a boulder and gully dodge. It's also a little harder to be sure you're on the trail in this area.
Once you get out of the flood area and onto the slanted sandstone, it gets very nice. The trail is well-marked with stripes of yellow paint.
The trail descends at about 300 feet per mile (6% grade). It meanders around the tabletop, with some uphill spots during the descent.
A trail called UFO hits Little Salty from the left at around mile 0.3 to 0.4 from the top.
The trail slopes down toward the Copper Ridge road.
We interrupt the downhill to meander up and around. The trail is well-marked with yellow paint stripes and rock cairns.
The riding isn't too technical. It's easily within the abilities of the typical intermediate rider. But if you like, there are plenty of spots where you can take a more aggressive line. Ledge drops and some trickier uphill attacks.
At mile 1.0, you'll cross the
EKG Trail
Many riders choose to skip the last 0.7 miles of downhill and head east (left) on EKG. This is a significantly more technical way to do it, and gives you a little more workout. This route will take you over to
Baby Steps
south, where you can turn downhill to complete your loop.
We've just crossed the EKG trail and are on the last section of the downhill.
Little Salty ends on the Copper Ridge road. Just a bit north (to your right as you reach the road when descending Little Salty) is a connecting trail heading west from Copper Ridge. It first connects to the Jurassic Trail southbound. A bit up the little hill, it connects to the south end of the Jasper Loop . These connections offer you additional singletrack that will take you to other riding options.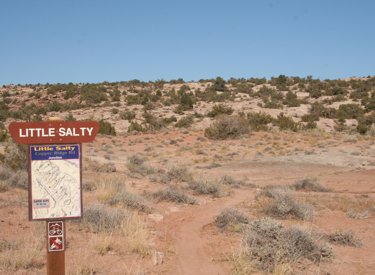 From Copper Ridge Road, the trail is marked by this sign.
As an uphill, Little Salty forks off the Copper Ridge dirt road 2.6 miles from the cattleguard and parking area of
Klondike Bluffs
Road. It starts with about 1/10 mile of dirt and sage, then it hits the slickrock ramp and starts climbing.
The climbing grade is reasonable, mostly middle chainring stuff. It meanders a bit to give you an occasional break from the slope. The altitude change is 400 feet over 1.7 miles. There will be an occasional ledge with a rock ramp -- nothing tricky.
The grade is sustainable, and the pedaling is easy.
Sample ride Baby Salty Loop, counterclockwise:
0.0 East across cattle guard
N38 46.417 W109 42.735
0.8 Veer L on Copper Ridge Rd
N38 46.997 W109 43.072
1.7 R uphill on Baby Steps
N38 47.545 W109 43.603
Follow rock cairns up slickrock
2.1 Straight uphill (L = EKG)
N38 47.741 W109 43.285
2.6 Trail veers R N38 48.02 W109 42.88
3.5 Fork L (R= to Klondike) N38 47.958 W109 42.584
3.9 L on ST N38 48.28 W109 42.69
5.1 Back at DT, fork L N38 48.41 W109 42.77
6.1 Fork L to join Klondike trail
N38 48.578 W109 42.373
6.2 Keep straight N38 48.656 W109 42.260
6.6 Keep R and descend
N38 48.817 W109 42.085
6.8 Fork L in valley N38 48.811 W109 41.871
8.2 Fork L and climb hill N38 49.310 W109 43.045
8.8 Top of hill, L on ST Little Salty
N38 49.102 W109 43.371
9.0 Future UFO Trail, keep L if fork
9.8 R on EKG Trail N38 48.589 W109 43.922
11.5 R downhill on Baby Steps South
N38 47.741 W109 43.285
11.9 L on Copper Ridge Rd
N38 47.548 W109 43.605
12.9 Keep R at road fork
13.6 Back at parking
Klondike riding area
Getting there:
Starting at the Colorado River, drive 15 miles north from Moab. Look for a turnout with parking on the right and a sign for Klondike Bluffs Road. There will usually be cars parked there (GPS N 38° 44.452' W 109° 44.037'). For a longer ride, park here and ride up the road. Most cyclists will choose to go through the gate and drive 2.7 miles. Keep left at the fork. At 2.8 miles, park your car in the broad parking area by the fence. Go eastbound across the cattleguard through the fence and begin your ride.
Note: Trails are color-coded to show individual named trails. The Baby Steps route in red does not correspond to the loop ride above.
Northern Klondike TH:
On Highway 191 8.5 miles south of I-70 and 6.5 miles north of the southern Klondike Bluffs road (about 5 miles north of the airport), watch for a "Northern Klondike" sign at N38 49.504 W109 46.893. Turn east (toward the sandstone bluff). Keep to the right as the road winds south around a small hill. 1.2 miles from the highway as the road is heading east toward the bluff, fork right on a fainter jeep road N38 49.103 W109 46.061, as the main road continues to the dinosaur tracks. (Park here if the road is in bad shape.) At mile 1.6, you'll come to the TH for the
Jasper and Agate loops
(N38 49.087 W109 45.625) on your right. At 2.0 miles, you're at the bottom of
Mega Steps
at a larger parking area N38 49.179 W109 45.417. To reach the bottom of Little Salty, ride south on Copper Ridge for about 2 miles. The top of Little Salty lies on the uphill side of
Baby Steps
.