Chad in the Fisher Valley. Photos are by from various rides 1998 through 2015. Page compiled 2016.
Kokopelli Trail Epic
The Kokopelli Trail is a series of dirt roads and doubletrack trail from Loma Colorado to Moab Utah. The Kokopelli route is 142 miles with around 14,000 vertical feet of climbing. Most riders do only a small section of Kokopelli as part of another ride. The entire trail can be done as a multi-day camping ride, or as a monster one-day event.
Much of the ride will be exposed to hot sun at around 5000 feet elevation, but the route goes over the La Sal Mountains at 8500 feet, where severe storms can erupt suddenly. Plan for extreme temperatures and weather. Riding season is mid-June through September, depending on snowmelt in the higher elevations.
Looking east over the Colorado near Westwater. Around mile 30 on Kokopelli.
The trail skips between rough-and-tumble jeep path and improved gravel roads. We're heading towards a picturesque Entrada sandstone butte on the eastern half of the ride.
There are towns at each end of the trail (Fruita on the east and Moab on the West). But while on-trail, there's no nearby option for re-supply. Riders will need to (1) go as part of a commercial group, (2) arrange meetings with a support vehicle, or (3) stash supplies along the trail before the ride. (See the topo map link below for suggested re-supply stash locations.)
There are a couple of shortcut or bailout options. These should be obvious from the map. For example, some riders bypass a particularly nasty rock-and-sandfest section (Yellowjacket Canyon area) by turning onto Highway 128 where the trail crosses the highway. The reconnect spot is at the Dewey Bridge after crossing the Colorado.
Mike, Chad, and Matt crank up Kokopelli. Get used to juniper and sage brush. There's a lot of it. The upside to dirt road is, the views are better and you can look around while you pedal.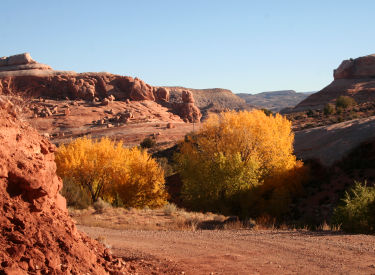 Southbound a few miles past the Dewey Bridge. While much of the trail is rough and remote, a fair portion of the Kokopelli is family-sedan type improved gravel roads. If you hate long scrunching crankfests on washboard road -- like I do -- well, maybe this isn't your thing.
Highway 128 at the Colorado also functions as a bailout for westbound riders, connecting to Highway 191 at the north end of Moab. Another bailout is the paved La Sal Loop road. Eastbound riders can bail by transferring to paved road in Coal Draw (just southwest of Westwater), crossing I-70 to Highway 6 for a road return to Loma.
Most riders go westbound from Loma to Moab. This puts much of the climbing later in the ride as you tackle the La Sal Mountains. But in exchange, the final stretch is less technical and is easier to manage when you've run out of daylight.
When driving out from Moab, you can stop at your planned "stash" spots along the Kokopelli trail. There's some dirt road involved in reaching these spots, as well as potential for confusion. So add a couple of hours to your usual Moab-to-Fruita drive time.
Matt cruises Kokopelli heading towards Fisher Valley above Onion Creek. We're below the Wingate sandstone cliffs at this spot. There's a long climb after crossing the Colorado, followed by a descent back to the Fisher Valley, then another long climb to 8500 feet. These two "bumps" on the second half of the Fruita-to-Moab ride are around 2500 vertical each.
Heading uphill into the La Sals, as the trees change from sparse juniper to longleaf pine and pinion. Late June or early July are the best times to ride, both for longer days and less chance of a nasty afternoon thunderstorm in the La Sal Mountains.
Most riders do the ride as a 3- to 5-day camping trip using a support vehicle between overnight stops. There are small campgrounds with bathrooms (but usually no water) along the trail, and a couple of major campgrounds just off trail. Significant research will be required on your part!
For multi-day riders, there will be opportunities to hit other trails, such as the
Western Rim
,
Top of the World
,
Jimmy Keen
, and
Porcupine Rim
, either as an add-on or as a substitution for a section of the Kokopelli.
The trail is fairly well-marked, usually with large signs. But unless you're on a guided trip, you'll need to do a bit of homework. It takes careful planning to make this ride fun and safe.
Looking west on Kokopelli as we descend from the La Sals. We've just left the La Sal Loop road.
Looking west as we reach cliff edge. We're approaching the Porcupine Singletrack -- a nice option if you've got the time.
If you aren't using stashes or a support vehicle, hydration will be a challenge. There are a few water sources near the trail. You'll need a water purifying system. East to west, water can be found at Westwater Ranger Station (about 1-1/2 mile off trail), Cottonwood Creek (5 miles after crossing Colorado), Hideout Campground, and Fisher Creek at the Castle Valley Road.
It's possible to hammer the ride in a single day with a cranking time of around 16 hours. This is a monster ride reserved for only the fittest of expert riders. If you're not using a support vehicle, stash supplies and as-needed gear (such as lights) along the trail as you drive from Moab to Colorado.
Mike and Chad descending lower Kokopelli to the Sand Flats Road. The Slickrock parking lot is now just 13 miles away.
Sorry, I don't have a by-the-mile ride instruction for you, because I haven't done the whole thing in one gulp. Yet. Good luck, Bruce.
Kokopelli
Because of the logistic difficulties, isolation, and hazards of doing the entire route, riders are encouraged to make their first full-length Kokopelli ride with an experienced group or as part of a professionally-supported ride.
Pages on this site that use portions of Kokopelli:

Fruita
Onion Creek
Top of the World
Western Rim / Westwater
Whole Enchilada