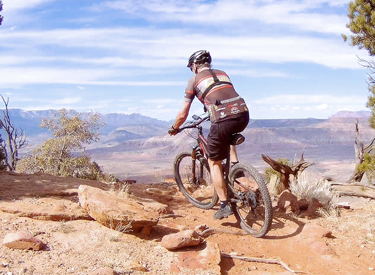 Retired Doctor Bruce rides the cliff of the North Rim in March 2020. Original trail review published July 1998.
Gooseberry Mesa
Classic South Rim to North Rim Loop
Gooseberry Mesa is a tabletop mesa just west of Zion National Park. The Gooseberry Mesa slickrock singletrack is absolutely world-class. Several trails allow you to pick your own brand of awesome. Once you've done it, you'll keep going back. This page covers the classic loop ride of the south and north rims. See also Goose Northeast , Secret Trail , Windmill/Bowls & Ledges , and White/Slickrock 101 pages.
Gooseberry Mesa mixes slickrock and firm dirt among pinions and junipers. The South Rim slickrock areas are advanced-level technical. While there's no sustained climbing, you'll expend a lot of effort on the uneven rock. The 0.5-mile Yellow Trail and the 2-mile Hidden Canyon Trail are advanced technical. The North Rim Trail is considered intermediate.
Vincent Bria (age 12) finds plenty to like. November 2003.
Bruce tackles a climb. The uphills are quick hit-em-hard sprints -- no long grunts. March 2003.
The deeply-eroded, alternating bands of red and white that form the north and south borders of Gooseberry Mesa are mudstone of the Moenkopi Formation, laid down during the Triassic Era (about 240 million years ago). As the ocean receded, gravel and shoreline deposits formed the hard Shinarump conglomerate, which begins the cap of the mesa. As the area rose further, forest left behind petrified wood, which can be found lying on the mesa surface.
This rock marks the boundary between the Triassic (reptiles, mammal-like reptiles, and early bipedal dinosaurs) and the Jurassic (bipedal carnivores such as allosaurus, four-legged plant-eaters such as stegosaurs and camarosaurs).
Unlike Moab's Slickrock Trail, there are no brutal hill-climbs. Instead, the ride is a test of balance, burst strength, and reaction time: short ups, brief downs, and quick turns. You can rarely see where you're going to put the bike 20 feet later.

Photos from our first visit to
Gooseberry in 1998 and the creation
of the first web page for the trail.
The trail is periodically re-marked with paint spots showing the path through the slickrock. For navigation, you'll want up-to-date trail software downloaded to your phone. At a minimum, use a current overview map that shows the trail forks and doubletrack intersections.
It's obvious that a lot of thought went into making this trail fun. This route was built by the local Harris brothers as a mountain bike trail, not as a horse or jeep trail.
Up and down, thread-the-needle, quick turns. A tech rider's dream!
Bruce cruises the cliff edge. The trail flirts with "Not Rock" countless times.
The loop using the South Rim to The Point, including the Yellow Trail, and returning via the Damn Trail and Slickrock 101 is 12.5 miles in length. We usually spend about 3 to 4 hours goofing off on this loop.
Altitude change from the trail's beginning to The Point is around 100 feet. If you take the mesa road for your return, it will be slightly downhill on the trip back. For the beginner, the "Practice Loop" also known as Slickrock 101 features easy slickrock with no tricky stuff. Many bikers just head down the central road of the mesa (see map) -- it's a pretty good ride all by itself.
For bikers who want to see just how much abuse a bike can take, well, there's an opportunity every few yards. In God's Skateboard Park, you'll find stunts ranging from the merely difficult to the truly insane. But -- here's the beauty of Gooseberry -- a good intermediate rider can take these same trails without feeling he's endangering life and limb.
Matt Flygare takes a shortcut on the South Rim Trail. Photo August 5, 2000
Lots of rock stunts to play on. Quick ups, downs, and thread-the-needle.
The mesa is very pretty. In the fall, there are pine nuts everywhere. And of course, there are gooseberries. You'll run across cottontails, squirrels, chipmunks, deer, and very large lizards. Cactus of all sorts bloom from spring into early summer. And if you look in the right places, you'll see dinosaur footprints and fossilized wood.
There's no water at the available on the mesa. There's a toilet at the fork in the road about a mile from the Cattle Grate trailhead. There's a bike shop in Springdale (10 miles away), where bike rentals, repairs, and maps are available. Rough camping is allowed on the mesa (no formal campsites). Yurt camping is available on the north rim, click [ here ] for information.
Rolling along the edge of the mesa. The Moenkopi Formation skirts of the mesa are visible on the right.
Lots of rolling Shinarump rock to play on.
Where the trail hugs the cliff edge, there are incredible views from the south and north rims of the mesa. The temperature up on the mesa is pleasant even in the summer. Expect snow in the winter. At 5400 feet elevation, the mesa top is much cooler than the valleys below, and has an almost constant breeze.
Rejoining the road, we turn L. 1/2 mile later, we reach the Rattlesnake Rim - The Point intersection. After doing the Point, we head east on Rattlesnake Rim. When we reach the Hidden Canyon fork, we go L to do the H.C. trail again! At the mesa road, we hit the North Rim Trail, but turn R (east) this time. We follow the North Rim back to parking for a 16.6-mile riot.
Chad drops his back wheel onto rock as he jumps across a deep fissure. Whew! August 5, 2000. (Don't sweat it -- the trail is actually in the safe spot where I'm standing.)
Outline of the classic loop.
Gooseberry Classic Loop

This is the ride described below. We started doing this loop during the previous century! You get the Cattle Grate, God's Skateboard Park, Rattlesnake Rim, the Point, Yellow, and the North Rim. Nice fast ride. See resources at bottom of page for track files!
Trail Notes, Gooseberry Classic, clockwise
Begin South Rim
0.0 ST south (right as you enter parking)
Cattle Grate Trail
N 37° 08.498' W 113° 10.304'
1.4 Trail touches mesa road, turns away
N 37° 08.492' W 113° 10.884'
1.7 Trail touches road again
God's Skateboard Park
N 37° 08.444' W 113° 11.022'
3.2 Merge R onto small DT
N 37° 07.991' W 113° 11.270'
3.4 L off DT onto ST
Rattlesnake Rim
N 37° 08.078' W 113° 11.336'
4.2 Keep L (R to Hidden Canyon)
N 37° 07.792' W 113° 11.712'
6.5 Straight for Point (R on DT = N Rim)
N 37° 08.440' W 113° 13.047'
Side Trip to Point
7.0 The Point (view, turn back)
N 37° 08.533' W 113° 13.312'
7.5 Back at fork, go L on DT

Begin North Rim
8.0 R on ST = Yellow Trail
N 37° 08.354' W 113° 12.686'
8.5 R on DT for 100 feet,
then L on ST (That Damn Trail)
N 37° 08.303' W 113° 12.478'
10.0 Fork L (R goes to road)
N 37° 08.337' W 113° 11.667'
For Hidden Canyon, R to road,
L on road 0.2 mi, then L on ST
at N 37° 08.318' W 113° 11.770'
10.6 Keep R (L =Bowls & Ledges, Windmill)
N 37° 08.555' W 113° 11.248'
10.9 Fork L @ N 37° 08.508' W 113° 11.077'
Slickrock 101
(R = road @ N 37° 08.508' W 113° 11.077')
11.5 Keep L (R = Windmill Loop)
N 37° 08.669' W 113° 10.626'
30 ft later, L=hard, R=easier
11.7 Trails rejoin, soft turn ( to SE)
N 37° 08.774' W 113° 10.518'
12.2 At road, turn L
N 37° 08.473' W 113° 10.594'
12.5 Back at parking
Here's another great option: Add Hidden Canyon TWICE to form a 16.6 mile figure 8! Begin the South Rim, but jump off Rattlesnake Rim at mile 4.2 by turning R on Hidden Canyon ( N37 07.791 W113 11.713 ). Arriving at the Mesa Road 2 miles later, we jog R 200 feet, then turn hard L on ST to head west on the last section of the North Rim Trail. Back at the road, we go 100 feet west, then turn left on the Yellow Trail.
Getting there -- South: As you pass through Hurricane heading east on Highway 9, turn right at the Highway 59 sign. One block later, turn left and drive out of town. About 15 minutes later, you'll pass a gas station on the left-hand side, then some fields. Watch for a "Scenic Byway" sign, and turn left onto a dirt road (14.8 miles from the turnoff in Hurricane). Two miles later, just as you reach the mountain, the Gooseberry Mesa road turns off on your left. Another 3.6 miles after the turnoff, take the left fork. Now stay on the bigger road, ignoring any forks. 1.1 miles later, you'll cross a cattle guard. Park there. The South Rim trail begins along the fence on the left side of the road. Trailhead GPS: N 37° 08.491' W 113° 10.299'
Getting there -- North: As you approach Zion National Park in Rockville, turn south (right) on Bridge Road. Cross the Virgin River and continue straight until the road turns right (west) and turns to gravel. Keep left at the fork at 1.5 miles. Continue to a total of 6.2 miles to the top of the mesa, watching for a road going through the fence on your right. (There may, or may not, be a small sign "Gooseberry Mesa.") Another 3.6 miles after the turnoff, take the left fork at the outhouse. Now ignore any smaller branching roads. 1.1 miles later, you'll cross a cattle guard. Park there. The trail begins along the fence on the left side. Trailhead GPS: N 37° 08.491' W 113° 10.299'