View to the south as we ride through maples and oak in grassy meadows. Original photos and ride description by Bruce on June 13, 2015. Latest update June 2021.
Forebay Trail System
Payson Canyon
The Forebay system in lower Payson Canyon has around 16 miles of singletrack trail. There are 18 named interconnecting trails in the system. The loops allow you to select a ride of the desired length and difficulty. Most trails are narrow hand-cut singletrack and easier-intermediate in skill level.
The trail system lies at an average 5600 feet elevation in maple and oak groves. The expected riding season will be mid-to-late May through mid-November. The trails are marked with permanent trail signs, but there are many entangled riding routes. If you're new to the area, I suggest you ride with a printed map or a GPS-enabled navigation app.
This page contains general information. Specific trail details are found on the Forebay Lower Trails and Forebay Upper Trails pages.
Trail sign at a 4-way where JMC continues uphill as Favorite.
Toilet at the main Forebay parking area. This photo thanks to Kris Nosack.
The trail system is also used for fat biking during the winter. Following major snowstorms, a few trails are usually groomed to compact and smooth the snow. As with all lower-elevation fat-biking areas, conditions are highly variable. It's best to check with a local bike shop for current conditions.
The new paved parking area off the Nebo Loop Road. A toilet building has been added since this photo.
Forebay Trailhead
New in 2021 is a large paved parking lot with a bridge crossing the river. There's a picnic table and a bathroom here. The parking area is on your left as you approach the border of the National Forest at mile 4.6 since turning off Highway 198 in Payson. On your bike, cross the bridge and take the trail as it follows the creek north. The trail fork in 0.1 miles is Little Shawny. A right turn takes you to JMC just above the old entry.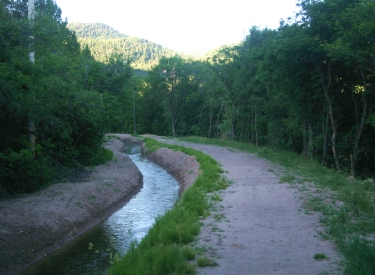 Looking back south toward the Maple Dell parking area on the Canal Trail.
There are four other access points to the trail system.
Maple Dell parking, via canal trail
Some riders park in the paved lot across from Maple Dell scout camp and ride the Canal Trail to the reservoir. Many riders pick the Maple Dell parking because there's a bathroom there. Another advantage to this location is that you start at higher elevation and avoid climbing. However, the Forebay system wasn't really designed to receive riders from the Canal Trail, and you might find yourself wondering where the trails are when you arrive at the reservoir. See the specific info on the Canal Trail in the Forebay Upper Trails page. Note that the Pine Forest trail across the road from Forebay can be used to complete a loop back to Maple Dell.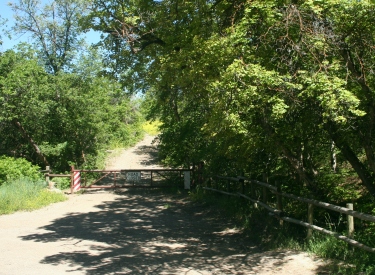 Roadside parking on the Nebo Loop. This gate is one possible Forebay access, with a duck-under on the left to keep out the motorcycles.
Orange Gate reservoir Access Road
About 1/3 mile below Maple Dell there's rough trailside parking with a log fence and a gated gravel road. The reservoir access gravel road takes you up to the singletrack trails. If the dirt parking is full, there's a paved lot just 100 yards up the road. This access is the least complicated route to the upper trails. Just pedal up the road and you'll find the first trail after passing around the second (orange) gate uphill.
Looking south up the canyon as Bruce hits the Overlook trail.
JMC gate (old entry)
About 1/10th mile up-canyon from the main Forebay parking lot, on the east side of the road just past the creek crossing, there's a gate with a wide spot on the shoulder with room for perhaps 2 cars. This is the old entry, and starts you uphill on JMC. You can pedal up the road from the new parking lot to catch this trail, which is the most direct climb uphill.
Elk Ridge (via Broken Collar Bone)
The Broken Collar Bone (BCB) trail starts in Elk Ridge, then continues as Rattlesnake Tree. It joins Kaya at the top of the Forebay trails. Go to the western dead-end of Salem Hills Drive and park. Pedal around the metal gate to the wide gravel road and find singletrack on your left about 100 yards downhill.
Mules Ear blooms at trailside.
The trails are, for the most part, smooth and narrow dirt ribbon. Because this area isn't overgrazed, you'll enjoy deep grass and trailside flowers. There will be frequent views at the forested ridges south up Payson Canyon, and of Utah Valley with Lone Peak and Timpanogos in the distance to the north.
Most of the trails are in maple forest with occasional grassy meadows. Dryer areas will have sage and scrub oak.
The trails are hand-built, with constant swooping turns. This is a nice change from long machine-cut grunts and groomed bike park DH runs. If you like more "natural" riding, you'll really enjoy these trails.
Cruising through scrub maple forest.
Cruising through tall trees on Favorite.
JMC is the most direct route uphill. It has a few side-trails that offer a bit of meandering or more-advanced riding. Ezra is an easy little loop in the middle. Little Shawny is a winding route that's good either up or down, offering a longer, less-steep alternative to the lower half of JMC. Just uphill from the top of Little Shawny, Noah is a further climbing or descending route that's a bit less steep than second half of JMC. Favorite continues to the upper trails from the top of JMC or Noah. K-Launi is a more technical descending trail forking off JMC.
The upper trails are usually reached via the Overlook Trail, which you can get to from Favorite or Trotter. Not to be missed is Round Top, a 0.6 mile lariat loop. This loop is dryer and more open than most Forebay trails, with some rough granite rocks. It offers 360-degree views up Payson Canyon and down into Utah Valley. Wakara is a long cruise off Round Top. Another nice loop -- with a bit of climbing -- is the combination of Kaya and Ray Gun.
View south up Payson Canyon from Round Top.
Map of the lower Forebay trails
Lower trails (below the reservoir Access Road)
Ezra: 0.5 mile loop off JMC in lower canyon
Favorite: 0.4 miles from JMC and Noah to Access Road near reservoir, connection to JR Devo
JMC: 0.8 miles main route from Nebo Loop road to 4-way with Favorite, Noah, and Orange Gate. Connections to Little Shawny, Ezra, Little Shawny, Noah, K-Launi
JR Devo: 0.5 mile loop off Favorite extending to Access Road at Orange Gate
K-Launi: 0.4 mile downhill route from JMC, ends on JMC
Little Shawny: 0.8 miles begins and ends on JMC
Noah: 0.7 miles from lower Trotter to top of JMC (joins JMC briefly)
Orange Gate: 0.2 miles from the orange gate on Access Road to top of JMC and Noah
Parking access trail: 0.1 mile to Little Shawny
Trotter: 0.5 miles from Little Shawny to Round Top
Upper Trails (above reservoir Access Road)
Orange Gate access road: 0.8 miles from Nebo Loop Road to reservoir.
Canal Trail: From Maple Dell parking to reservoir, 1.3 miles
Broken Collar Bone: 1.4 miles from Salem Hills drive to property line gate, continues as Rattlesnake Tree to Kaya
JAX: 0.4 miles arc from Taze to reservoir DT, connection uphill to Kaya
Karl's Loop (closed per property owner): 1.8 mile loop at northern end of system, reached via Lariat
Kaya: 1-mile arc on hillside from Taze to JAX, connection to Rattlesnake Tree, makes loop with Ray Gun
Lariat (closed per property owner): 1.2 mile loop ride from top of Ray Gun, with connection north to Karl's Loop
Overlook: 0.5 miles from upper Access Road around reservoir to Ray Gun, connection to Round Top
Rattlesnake Tree: 1 mile starting on northern Kaya, continues as Broken Collar Bone
Ray Gun: from Overlook above reservoir to Lariat and northern end of Kaya, connections to Taze
Round Top: 0.6 mile lariat loop from Overlook, with connections to Wakara loop and top of Trotter
Taze: 0.1-mile alternate off Ray Gun with connection to Jax
Wakara: 2.3 mile loop off Round Top
Map of upper Forebay trails
Getting there:
Take the Payson Main Street Exit 250 from I-15 and turn south towards town. Drive into Payson on U-115 to the traffic light, then turn left on 100 North, U-198. About 1/3 mile later, at a traffic light on the top of a small hill, turn right at 600 East. Drive up the Nebo Loop Road.
Main Parking:
At mile 4.6 since turning off Highway 198 in Payson, turn left into the large paved parking area. Cross the bridge and take the connector trail to Little Shawny.
JMC Trail:
1/10th mile uphill as the road crosses Peteetneet Creek, there's a spot on the left side of the road just uphill from the creek. The JMC trail starts uphill here N39 59.217 W111 41.884 at a metal gate. There's a wide shoulder nearby on both sides of the road for a few additional vehicles.
Reservoir access road:
The reservoir Access Road will be on your left at mile 5.5, but you won't see the road or gate until you've pulled into the parking area. Look for a wide shoulder with an old log fence N39 58.764 W111 41.513. The ride starts by heaving your bike over the gate and ducking under the dork-basher. There's paved parking and a kiosk about 200 feet further uphill on the right if the access road parking is full.
Maple Dell parking:
Drive uphill to mile 5.8. As you see the signs for the Maple Dell scout camp up the road on the right, turn left into the paved parking area. There's a bathroom near the entrance. On the downhill (north) side of the parking lot, go to the cindered path to the left of the canal.
Bathroom: Maple Dell (Canal trail) parking and at Forebay main parking
Water: Payson City park, 3 miles down canyon
Camping: Payson Lakes
Zoomed-out view of the Forebay system
Updated GPX and maps 2021