Rectangular stacks of timber in rows supported the flume, designed to carry water past the sink areas where the water disappeared into the ground. Photos June 3, 2010 by Bruce.
Flume Trail (Dry Fork, Vernal)
The Flume Trail is a singletrack along Dry Fork, northwest of Vernal. It features beautiful scenery plus some butter-smooth singletrack interrupted by a smattering of technical challenges. The epic ride is 20 miles, with 1600 feet of climbing to an altitude of 8300 feet. But because of the multiple trailheads, there are options for shorter rides and for non-technical cruises.
Overall, the ride is intermediate in tech requirement, but there are a few areas that non-advanced riders will walk. The ride follows the course of Dry Fork at a gentle rate of climb. You're surrounded by aspen, fir, and pine forest with occasional breakout views. While the highlight of the ride is a visit to the old flume site, the trail itself is one of the best you'll do.
Bridge across Dry Fork at Trailhead 2, which is the first trailhead on the Dry Fork Road. At the water's edge, birch trees add to the greenery.
A nice buff trail section. Riding downhill is a grin-generating experience.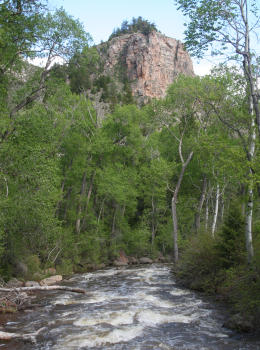 View over non-dry Dry Fork. Pretty ride! And a bit different from other Vernal trails.
A line-picking exercise. Good bike control and balance gets you through this tight spot. The arrows show the route.
The lower two miles offers the most technical riding. The trail twists as it goes up and down, with a few rock gardens that are fun to navigate. The first mile is a bit of work both uphill and down. This first section would be upper-intermediate in tech requirement, with a few tiny advanced challenges.
After the next trailhead (at mile two), the trail is quite mellow for a couple of miles. This is the easiest section both in terms of aerobic grunting and technical control. I recommend the section between trailhead #2 and Brownie Creek for beginners. It's a great cruise.
A log has been converted into a rollover. These are all on the lower section, including a couple between the alternate trailhead #1 on Sawtooth Cove Road and trailhead #2.
Lumber ramp over a side-stream. It tips a bit side to side. I think it's less scary to ride than to walk across.
After mile 3, there are three spots where the trail briefly joins the gravel road. Ride up the road and watch for a 4x4 post on your left to resume the singletrack. On the day of my ride, all of these sections had flags placed in the brush, marking where new trail is going to be cut to avoid these detours onto the road.
At the campground by Brownie Creek, the continuing trail curves 0.4 miles toward Dry Fork. This section has a lot of boulders and deep sand. You need to ford the creek to continue. On the day of my visit, Dry Fork was Not Dry. Thigh-high water made crossing a potentially-deadly impossibility. If water prevents safe passage, backtrack and continue a couple of miles up the road to catch the upper trail.
The passage through the creek is closed by high water on June 3.
Just a sample of a rock garden waiting to hang up your front wheel. I didn't have to walk any of them. Big bike, big muscle, and big speed gets you through.
There are periodic rock gardens. When you hit these, pick your route quickly and carefully. Keep your speed up and you can bang over them. I appreciated full suspension and 29-inch wheels on these spots. Intermediates who want to "take it slow and careful" will get tossed off their bikes. It's "ride it fast or don't bother."
At the primitive upper camping area (mile 17 from Vernal), there's a nice 1/2 mile nature hike. The trail is well-maintained, with markers corresponding to teaching material in self-guiding pamphlets. Bikes are allowed, but I'd recommend walking if significant numbers of hikers are on-trail. Good spot for kids.
View of the sandstone walls of the canyon as we hit a break in the aspens.
Upper trailhead. The footbridge takes you to the 5-mile loop featuring the ruins of the flume.
Many riders opt to do only the upper loop, driving directly to the top trailhead. OK. But the lower canyon is soooo much fun. The upper loop has a mile of fairly tricky trail that's not at all suitable for beginners. Or timid intermediates. The northern (return) side of the loop is one long rock garden. Advanced riders won't think it's so bad.
The upper trail starts with three miles of very nice buff singletrack as you climb. Then the monster emerges. The trail turns downhill and gets rough. Embedded boulders, loose rocks, as the trail twists through pine forest. Sometimes it's hard to quickly spot what's trail and what's mountainside. After about 2/3 mile of this, you hit a "T" intersection. Turn left to go down to the flume site. The right fork will be your return trail to complete the loop.
Sample trail view as we climb uphill on the loop.
Heading downhill toward the flume site, trying to pick out trail among the shadows of the pines.
At the flume site, several log towers remain. The flume was an elevated "ditch" -- an attempt to channel water past a sink where it disappeared into the earth. That's why Dry Fork becomes dry once the early runoff is complete. The flume was built in over 4 years in 1893-1897, but leaked so badly it washed its own towers away. The flume (and the small town of workers at the site) was abandoned.
Riding notes, from TH#21 (1st bridge):
0.0 Go across bridge at NW corner N40 34.325 W109 42.143
0.1 Fork R uphill N40 34.303 W109 42.174
1.3 Trail crosses bridge to north side of creek
2.0 Pass TH#32 N40 35.468 W109 43.406
2.8 Pass TH#43 undeveloped N40 35.948 W109 43.991
3.4 L uphill on road N40 36.156 W109 44.575
(NOTE: road detours are temporary.
trail is flagged for new cut 2010.)
3.7 L off road on ST N40 36.289 W109 44.803
4.2 L uphill on road N40 36.589 W109 45.209
100 feet later, L off road on ST
4.5 L uphill on road N40 36.741 W109 45.372
4.6 L to ST at south end of parking N40 36.845 W109 45.535
(vs stay on road, L fork if creek high)
5.1 Cross creek N40 36.744 W109 45.767
7.6 Straight as upper TH joins on R (see upper loop notes)
Timbers create a support for the (missing) flume channel.
Looking up at a flume support tower in the forest.
Riding notes, upper loop only:
0.0 South on ST and cross bridge N40 37.422 W109 47.550
0.1 Lower trail joins on L, keep R uphill
N40 37.338 W109 47.577
0.9 Fork L on Flume (R = return) N40 37.346 W109 48.425
1.9 Fork R to Historic Flume Site N40 37.372 W109 49.226
(Begin rock-strewn descent)
3.4 Fork L downhill N40 37.498 W109 48.740
3.5 Flume site N40 37.550 W109 48.784
Reverse, retrace back to fork at 3.4
3.6 Straight (L) N40 37.498 W109 48.740
4.0 Back at loop fork, keep L
4.8 Keep L (R=down canyon)
4.9 Back at TH
round trip from lower trailhead = 20.0 miles
Getting there:
From the middle of Vernal, go north on Highway 44 to 1500 North (Highway 121 to Lapoint) and turn left. Drive west to 3500 West and turn right. Zero your odometer here. Drive north on 3500. It will veer to the west as it becomes Dry Fork Road. 8.4 miles from 1500 North, you'll reach an intersection where Dry Fork Road turns a sharp 90 degrees right. (You'll see it descending to cross the creek.) Straight ahead is Deep Creek Road. Turn right to follow the Dry Fork Settlement Road north through the valley. At mile 9.2, turn left (Dry Fork Road = Red Cloud Loop Road).
Map of the Flume Trail
Trailhead #1, the first trailhead on Dry Creek Road. The first bathroom is at trailhead 2.
Trailhead 1 (Recommended): At mile 11.1, about 1/4 mile past the BLM entry sign, turn left into a small parking pull-through. The trail starts by crossing the bridge.
Trailhead 2 (Bathroom): Keep on the Dry Fork Road to mile 12.9. Turn left into parking. Find the trail heading uphill of the bathroom.
Trailhead 3 (Bathroom, Brownie Creek): Continue on the road to mile 15.4. Turn left into the parking area and find the trail next to the big sign. The trail will cross the river after 1/2 mile.
Upper Trailhead (Bathroom at camp area): Fork left after you cross Brownie Creek. At mile 17.0, keep left as you pass a camping area with a bathroom. (A 1/2 mile nature interpretive trail is on the left; bikes are allowed.) At mile 17.4, park and find the trail crossing the foot bridge.
Camping: Campgrounds Brownie Creek and at Nature Trail
Bathroom: Trailheads 2, 3, and campgrounds
Water: At campgrounds
Bike services, maps, trail conditions:
Altitude Cycle, 580 East Main, Vernal. 435-781-2595
View down the canyon. The pink flag marks a spot where a short detour onto dirt road will be replaced by singletrack this year.