Chad descends a typical steep section of Burro Pass. September 3, 2007.
The Whole Enchilada Epic Bike Ride
This shuttled ride includes the trails
Geyser Pass
,
Burro Pass
,
Hazard
, a piece of
Kokopelli
(or
Jimmy Keen
),
Porcupine Singletrack
, and
Porcupine Rim
in an epic La Sal to Colorado ride
This ride is 28 miles long, with 7000 vertical feet of downhill. It's an unforgettable epic experience, but is only for strong, skilled, and adventuresome riders. It peaks at 11,200 feet in the La Sal Mountains and drops to the Colorado River. Climbing will total about 2200 feet.
You'll need a shuttle vehicle. Leave one vehicle at the Grandstaff (Negro Bill Canyon) trailhead, and drive the other to the Burro Pass trailhead. Or just cough up the bucks for a commercial shuttle to Geyser Pass. From the ride's finish-line, the trailhead is 35 miles and 6000 vertical feet away. The riding season for the Burrow Pass section is mid July through September. Start the ride
Geyser Pass Section
[ link to trail page ]
The Geyser Pass Singletrack is a newer segment of the Whole Enchilada, proving a nice plush singletrack route from parking at Geyser Pass to the Burro Pass trailhead. This segment is 1.5 miles long, with 150 vertical feet of climbing. But you'll actually lose a total of 200 vertical feet between Geyser Pass and the Burro Pass trailhead, going from 10,500 to 10,300.
View east as we pass through a meadow. Mount Tomasaki is straight ahead.
The trail passes through groves of aspen.
From the trailhead, you have two options to find the trail. You can go to the right of the kiosk, then veer left onto the Geyser Springs road (071). Most riders will hop on the singletrack between the toilet and the kiosk. This will take you past a picnic table before dumping you onto the doubletrack after about 100 yards.
You'll quickly come to a fork in the dirt road 0.1 miles from the trailhead. The right fork is FR 071 heading east, with a connection uphill to the Burro Pass trailhead. This is the old route. Instead, keep left on FR 243. The fork in the road is marked with a nice sign (as of 2015). Just uphill along the side of the left fork, you'll also see the little "WE" sign that marks the Whole Enchilada route.
Pedal on a bit uphill. In less than 100 yards, you'll see the singletrack (marked with the "WE" sign) branching away from the doubletrack on your right. The trail begins a gentle climb.
After a mile, the trail will begin to drop into the little canyon south of Burro Pass. When you reach a doubletrack heading straight uphill, turn left and climb. The Burro Pass trailhead will be on your right, about 200 feet uphill.
View west as we turn onto Burro Pass.
The Whole Enchilada, ride description:
Begin from Geyser Pass parking
0.0 ST between toilet and kiosk
N38 29.122 W109 13.940
0.05 L on ST N38 29.163 W109 13.932
0.1 L at DT fork N38 29.197 W109 13.913
0.15 R on Geyser Pass ST
N38 29.228 W109 13.930


1.5 Left uphill on Burro DT
N38 29.756 W109 13.056
1.55 Burro Pass trailhead
N38 29.801 W109 13.036
Keep straight and uphill
...proceed to Burro Pass segment
Burro Pass section
[ link to trail page ]
Most riders will already have started from the Geyser Pass trailhead. (The official Burro Pass trailhead is remote and may not be drivable after a rain or in early summer, with the last 1/2 mile very steep and rutted.)
From the official trailhead at 10,400 feet, you'll ride uphill 800 vertical feet in 1.2 miles. Unless you're superhuman, there will be some hike-a-bike sections. (20% slope at 11,000 feet is tough!) Enjoy the beauty. Later on, you'll be too busy flying downhill and trying not to crash.
Crossing the ridge, you begin a steep switchback descent. This is fun stuff, with some technical challenges involving loose rock, roots, and very tight switchback turns.
Bruce drops over a root section. Photo by Mike.
Chad rockets through the creek.
After a couple of miles, the trail mellows. You're riding through fir with occasional meadows and aspens. You'll plunge through the creek a few times.
As you reach the aspen zone, you may actually have to pedal a bit. When you reach a water-diversion ditch, you're almost done with Burro. We took the trail over the ditch and uphill across a small mountain. It looks like you can ride along the ditch and meet the trail later near Warner Lake.
At the 4-way intersection, keep right, go through a squeeze gate and past a small lake. At the back of the Warner Campground, you've finished the Burro Pass section.
Begin Burro Pass Section
...you are at the Burro Pass trailhead
1.5 Start uphill through the trees
N38 29.801 W109 13.034
Step through the gate onto ST
2.7 Ridge, cross and start downhill
N38 30.214 W109 13.654
Switchbacks, loose, steep
4.7 Fork L downhill
N38 30.701 W109 15.143
5.3 Cross ditch R uphill
N38 30.53 W109 15.68 (approx)
6.3 Fork R, go through squeeze gate
N38 30.989 W109 16.437
Pass by lake
6.5 DT Warner Campground
N38 31.161 W109 16.519
Follow main road out of CG
...Proceed to Hazard County
Hazard County Section
[ link to trail page ]
Head out of the Warner Campground on gravel road. Descend a bit, then when the trail starts uphill, fork right on gravel road to the Hazard trailhead. Start uphill on singletrack. You'll make a fairly stiff climb of about 1/2 mile.
At the crest of the hill, you enter a zone of armored gap-jumps. Do them if you dare. There's a big penalty if you don't clear the gap! You leave aspen and enter a gambel oak area, like an uber-Lambert Park.
Mike cranks uphill on Hazard, with Warner Campground and the end of the Burro Pass trail above his head.
Chad approaches a gap jump on Hazard County.
The trail twists sharply in a fun downhill romp. Some turns have armored kick-offs, and there are occasional stunt opportunities. If you do the trail more than once, you'll get familiar with what's coming up, and can push a little more speed.
...You are following the gravel road from Warner Campground
Begin Hazard County Section
7.0 As road starts uphill, fork R uphill
N38 31.460 W109 16.806
7.1 Hazard County TH on R of parking
N38 31.532 W109 16.907
Up hill, then long twisting descent
10.4 Meet La Sal Loop Road
N38 32.545 W109 18.736
...Proceed to Kokopelli
Dominic lands the bike after a jump on Hazard County.
Mike and Chad rattle down a rocky section of Kokopelli.
Kokopelli Section
[ Link to trail page ]
The Kokopelli starts as a dirt doubletrack surrounded by grass and oak brush, right across the road from Hazard. At first, it's a gentle downhill slope, with a bit of occasional uphill. The terrain becomes dryer, giving way to rocky jeep road surrounded by pinion and bitterbrush.
The Kokopelli is the lowest-voltage section of the ride, but hey, it's all good. Singletrack lovers and tech riders will skip the lower half of Kokopelli and descend via the Upper Porcupine Singletrack.
About 100 yards past a small elevated ride-over cattleguard in the fence, there's a singletrack climbing up on the right. That's the start of UPS (Upper Porcupine Singletrack). Proceed down Kokopelli, or rail the UPS by forking right.
Begin Kokopelli Section
Cross La Sal Road onto DT
11.9 Through fence over hiking cattleguard
12.0 Upper Porcupine Singletrack forks R
N38 33.706 W109 19.649
Fork R for UPS option, L for Kokopelli Options
Chad takes a little air on an open-rock section of the Kokopelli.
UPS (Upper Porcupine Singletrack) Option
Fork R on UPS at mile 12
14.0 Overlook at DT, cross to ST
N38 34.529 W109 20.767
15.0 R at ST fork (L=Sand Flats Rd)
N38 34.842 W109 21.453
All options now converge on same ST fork. See below
Kokopelli Options
Stay on Kokopelli at 12.0
13.4 Sand Flats Rd, fork R uphill
N38 33.880 W109 21.114
Sand Flats Road Option 1
14.4 Fork R on DT
N38 34.428 W109 21.351
15.0 At overlook, find ST on L
N38 34.529 W109 20.767
16 R at ST fork (Add 1 m to distance)
Porcupine Singletrack
N38 34.842 W109 21.453
Sand Flats Road Option 2
14.4 Stay L on Sand Flats Road
N38 34.428 W109 21.351
14.8 Cross cattleguard, R on ST
N38 34.709 W109 21.510
15.0 L at ST fork onto LPS
Porcupine Singletrack
N38 34.842 W109 21.453
The Jimmy Keen Trail opened November 2014.
Jimmy Keen (alternative to Kokopelli)
[ link to trail page ]
Jimmy Keen is a singletrack trail finished by the National Forest Service in late fall 2014. It's an excellent alternative to riding Kokopelli, connecting you from Hazard County to the Upper Porcupine Singletrack. The trail takes a large meander out through Jimmy Keen Flat. You'll do some climbing on this trail, and its meandering course will add significantly to your time and miles. At almost 8 miles, it's over four times as long as the straight shot down Kokopelli.
You can reach Jimmy Keen either from the viewpoint on the La Sal Loop road just north (to your right) as you finish Hazard County, or you can pedal down Kokopelli to the point where the trail crosses.
Looking northwest along the Porcupine Rim as the Porcupine Singletrack flirts with the cliff edge.
Porcupine Singletrack Section
[ link to trail page ]
The porcupine Singletrack stretches from the mid-Kokopelli down to the Castle Valley overlook on the Porcupine Rim trail. It's divided into Upper and Lower Sections. This is IMHO the best part of the ride. Quick moves on singletrack through pinion forest with patches of slickrock. Lots of dropoffs.
The connection to the UPS (Upper Porcupine Singletrack) is about half-way down the Kokopelli, just after crossing the fence. To skip the UPS, stay on Kokopelli then turn right on Sand Flats road.
If you ride Kokopelli to the Sand Flats Road, the next opportunity to catch the Porcupine Singletrack is found 1-1/2 miles down the Sand Flats Road. Turn right as you finish Kokopelli. As the road turns hard left to a long straight section, there's a doubletrack on the right. This is a primitive camping area. If you go all the way to the end, overlooking the rim, you'll find the singletrack crossing the turnaround area. Go left downhill.
The second connector from Sand Flats Road to the Porcupine Singletrack is 2-1/2 miles from Kokopelli. As you ride the straight section of Sand Flats, cross a cattleguard and spot a singletrack on the right (going north). Follow this about 1/2 mile to a T intersection and turn left.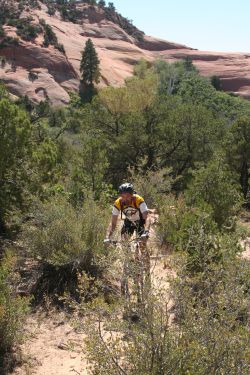 Mike cruises the singletrack through rock and brush.
You'll cross a deep gorge on the lower section. The trail drops down an impossibly-steep cliff to your right. Hoof it to the bottom. Apparently, some superhuman types actually ride this. Chances are, that's not going to be you. The Porcupine Singletrack is a nice combination of twisting singletrack, open rock, and small challenges. It's pretty straightforward to ride downhill. We did it uphill as well, and found it a significantly-harder challenge both in riding and following the trail as we hit open rock areas.
Chad heads down a slickrock patch in the middle section of the Porcupine Singletrack.
...From the T intersection of Lower Porcupine Singletrack
Lower Portion, Porcupine Singletrack
15.0 From ST fork proceed northwest
(L if coming from cattleguard, R if already on LPS)
Hike down Big Dip
16.8 At Porcupine Rim overlook
N38 35.656 W109 22.637
...Go right on Porcupine Rim DT
Porcupine Rim Section
[ link to trail page ]
The Porcupine Rim section begins at the Castle Valley overlook. This is about 4 miles from the start of the Porcupine Rim ride, and skips almost all of the climbing. Head right and follow the Porcupine Rim trail DT, slightly uphill as it parallels the rim.
Mike flies off the diving board on Porcupine Rim.
An alternate would be to head the opposite direction, back to the Porcupine Rim trailhead on the Sand Flats Road. I'm not sure why you'd want to. But it does provide a quicker bail-out route if you need to quit. The Porcupine Rim section is 11 miles long. It's a fast ride for skilled bikers, but can be a bit rough. There are a few doubletrack spurs that fork off the trail, but trail signs show the right way. If you don't see a sign, follow what appears to be the main track.
Looking to the Colorado from Porcupine Rim.
As you reach the singletrack lower section you'll hug the top of the cliff before dropping to the Colorado River. There are some technical sections that only the most skilled can clear.
Begin Porcupine Rim Section
Castle Valley overlook
West (right) on DT
Follow Porcupine Rim down
28.0 At highway
Getting there, Geyser Pass TH: On Moab's Main Street, head south on US-191. Zero your odometer at Center Street Center Street and drive 8.2 miles. Turn left toward Ken's Lake - La Sal Loop Road. At the T intersection 1/2 mile later, turn right. Stay on the paved La Sal Loop Road to mile 20.6, then turn right on gravel Geyser Pass road. After several miles the road narrows to a single lane. Drive 8 miles on Geyser Pass road (to mile 28.6) until you see a bathroom, kiosk, and parking on your left with a road fork straight ahead. This is Geyser Pass (N38 29.122 W109 13.940).
The path of the Whole Enchilada.
Burro Pass (old) TH: As you pass the parking area, go left (you should see a "Burro Pass 1.2" sign as you curve around the fork), then keep right at the fork that immediately follows. 1.2 miles later (mile 29.8) turn left off the main road on an eroded doubletrack climbing steeply up the mountain, with a sign "Burro Pass TH" (N38 29.408 W109 12.906). Go 1/2 mile up the mountain (4-wheel drive strongly suggested here) and park on the right side where the DT disappears into some fir trees. The sign indicating the singletrack trailhead, and a step-around squeeze gate, is in those trees uphill from you.