View of the Heber Valley from Coyote Middle on June 5, 2015.
Chop'd Coyote
This trail is located north of Heber in the Riverview and Coyote Canyon riding area. This 4.9 mile trail links the middle of Upper Riverview trail to the backside of the Coyote Loop. (Note 2023: the connection has been interrupted by construction. I'm told it will be restored.) It chops the Coyote Loop in half. The trail is not technical but it's a substantial climb and recommended for intermediates or better.
You'll need to climb 1.6 miles from the UVU Wasatch Campus trailhead to reach Upper Riverview, then head south 0.4 miles to find Chop'd Coyote. As an out-and-back, that's 13.8 miles with 1700 vertical.
Most riders though, use Chop'd Coyote for shorter versions of the Coyote Loop . Chop'd Coyote's reason-for-being is to split the Coyote Loop into two shorter rides. But they won't be as short as you'd think, and you really won't skip much climbing.
Terrain on the west side of the hill -- mostly sage, a bit of oak, and cactus on the lower altitudes.
Handlebar view from the ridge, looking west toward Cascade Mountain and Timpanogos.
Below, I describe a southern half-loop that goes from the UVU trailhead up Chop'd Coyote, southbound and down Coyote and returning via the sagebrush singletrack near the canal. It's 17.3 miles (compared to 24 for the full loop). Climbing is 1900 vertical.
The northern half-loop is from the Riverview trailhead on highway 32, going clockwise to drop Chop'd Coyote, then back via Riverview. This route is 16 miles with 2100 feet of climbing. The northern half-loop offers several variations to increase or decrease the mileage in the Cutthroat area .
The terrain is mostly sage brush with small stands of short gambel oak. The slope is sun-exposed after early morning, and tends to get hot in summer. As the trail zigzags cross the mountain face, there are constant views of the Heber Valley.
After crossing the first ridge, we're approaching the doubletrack road, which lies at the bottom of this valley.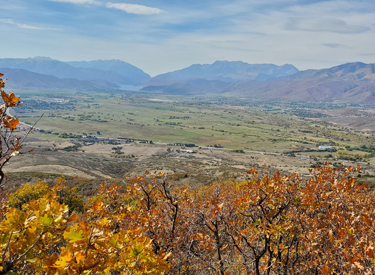 Another look across the Heber Valley toward Deer Creek and Provo Canyon in October.
The trail track is machine excavated, so it's broad and flat. The turns have been worked so they're smooth and flow well for climbing. But when riding downhill, there are a lot of switchbacks that are quite tight or that don't have a decent run-out. It's not a high-speed descender.
In 2022, there's one connecting trail while riding Chop'd Coyote. The top of Lonely Mountain forks away from
Chop'd Coyote
at 2.2 miles from Upper Riverview if you're using Chop'd Coyote as your uphill.
When descending Chop'd Coyote from the Coyote Loop at the top of the mountain, it's 2.7 miles from Coyote to the Lonely Mountain fork. Lonely Mountain can take you down to Mordor for an expert-level continued descent, or to Upper Potatoes for an intermediate downhill.
Riding through a grove of tall oak as we approach the Coyote Canyon dirt road near the top of Chop'd Coyote.
It's not ALL oak brush and sage. There's one, yes one, grove of aspen and maple.
On the uphill climb, you'll cross a first ridgeline, then descend slightly as the trail turns north into a valley. After crossing the Coyote Canyon road, the singletrack continues uphill to reach the Coyote Loop on an sagebrush-covered ridgeline.
One option for a shorter loop ride on the northern half-loop of Coyote is to use the newer
Looney Tunes
trail. This cuts two miles and 200 feet of climbing off the loop.
Another fun option on the northern half-loop is the Sufferin Succotash trail down to Wile E Canyon. The top of Sufferin Succotash is on the Coyote Loop, 100 yards north of where Chop'd Coyote joins it.
High on the mountain, with Timpanogos and the Heber valley below.
Southern Half-Loop clockwise from the UVU TH:
0.0 Step-over gate at kiosk, up ST
N40 32.782 W111 24.752
0.1 Uphill over canal, immediate left
N40 32.837 W111 24.615
0.4 Straight across DT Lower Riverview
N40 32.935 W111 24.533
1.6 Right on Upper Riverview N40 33.207 W111 24.238
2.0 Hard L uphill on Coyote Middle (Chop'd Coyote)
N40 33.064 W111 24.042
6.5 Join DT (Coyote Lane) uphill
N40 34.206 W111 23.733
6.7 Right (dirt road) N40 34.313 W111 23.854
6.8 L 80 ft N40 34.352 W111 23.779 to Coyote
Go R on Coyote N40 34.368 W111 23.773
7.3 Cross dirt road N40 34.290 W111 23.473
14.2 Fork L (R = to Riverview) N40 32.364 W111 23.405
15.2 Cross DT (Coyote Lane) N40 32.184 W111 23.741
15.4 Fork R N40 32.121 W111 23.816
15.6 Fork R N40 32.128 W111 23.928
15.8 Fork L (R = Freefall) N40 32.158 W111 23.983
16.1 Join dirt road northbound N40 32.387 W111 23.921
16.2 Veer L onto ST N40 32.405 W111 23.990
17.1 L across bridge N40 32.837 W111 24.615
Immediate R to ST, descend to TH
17.3 At parking
Northern Half-Loop clockwise from Riverview (Hwy 32) TH:
0.0 Trail at downhill end of parking
N40 34.404 W111 25.215 Take stairs over fence
0.3 Keep L for Coyote (R = return) N40 34.430 W111 25.062
4.5 Cross DT N40 35.353 W111 23.617
4.55 Fork R (L = to highway 32) N40 35.329 W111 23.601
7.6 Unmarked, R 80 feet to DT N40 34.366 W111 23.772
R downhill on DT
7.7 L downhill on Coyote Lane N40 34.314 W111 23.853
7.9 Veer R on Chop'd Coyote ST N40 34.205 W111 23.733
12.5 Hard R on Upper Riverview N40 33.064 W111 24.042
12.9 Keep R (L = to UVU TH) N40 33.205 W111 24.240
14.6 Keep R (L = viewpoint) N40 33.704 W111 25.007
15.7 Keep R (L = Sheep Bones) N40 34.321 W111 25.058
15.8 Fork L N40 34.432 W111 25.066
16.1 Back at parking
Getting there, Riverview Trailhead:
From
Salt Lake
, take I-80 eastbound to Silver Creek Junction (just past Park City). Go south on US-40, past the Jordanelle reservoir and descend past the dam. At the traffic light at mile 14.2 from I-80, turn left on 32 and climb 1.1 miles. When you see the second entry into Riverview on your left, note the gravel parking area on your right N40 34.403 W111 25.214. That's your spot.
From
Utah County
, drive up Provo Canyon to Heber. At the traffic light on US-189/US-40, turn left and drive north through Heber. 4.7 miles from the intersection, turn right on Highway 32 and climb 1.1 miles to the parking area as above.
UVU Wasatch Campus Trailhead:
One mile south of the junction of Highway 40 and 32 (a couple of miles north of Heber), turn east (toward the mountain) at the UVU campus. Go to the uppermost level of parking behind the UVU buildings. Look for the duck-under and kiosk N40 32.798 W111 24.735. A singletrack trail climbs 1.5 miles to the Riverview Trail.
Coyote Trailhead:
Two miles south of the junction of Highway 40 and 32, turn east (toward the mountain) on Coyote Lane. Just after the road crosses a canal, turn left into the parking lot. The singletrack starts at the northeast corner at the step-over, where you'll also find a repair stand and a kiosk with a trail map. The Coyote singletrack takes you uphill. After merging with the gravel road to cross the bridge, veer left onto singletrack then keep generally right and uphill at the trail forks.
Cutthroat (Highway 32) Trailhead:
Drive up Highway 32 four miles. Look for a gravel road on the right side N40 35.430 W111 23.389. You can park along the road and clamber over the fence near the (locked) gate. Find the singletrack on your left and ride uphill, keeping to the right at the Wile E Canyon fork about 100 yards uphill. You'll reach the fork that starts the Coyote loop 0.4 miles from the highway.
Canal DT trailhead:
Just uphill from the light on highway 32, watch for the canal crossing. Park along the road. Start riding south on the doubletrack just uphill from the canal.
Coyote area trail pages:
Riverview Trail page Lower Riverview page Coyote Loop page Isengard/Mordor page Chop'd Coyote page Cutthroat (Wile E Coyote and Looney Tunes) page
Bathrooms: No public restrooms nearby.
Water: Gas stations in Heber, campgrounds.
Camping: Hailstone campground at Jordanelle on US-40, about 6 miles away.
Bike services: Slim and Knobby's bike shop, Heber