View west as the trail pivots on top of the ridge. We're about 1/2 mile from the top. Original photos and trail review June 4, 2009 by Bruce. Last updated 2018.
Canyon Hollow Trail
Includes Brock's Point Trail
Canyon Hollow is a multi-user trail in Corner Canyon. The trail extends from the Silica Pit area to the Corner Canyon Road. The upper end is about 1/2 mile downhill from Clark's Trail , 1/2 mile uphill from the top of Ghost Falls . The trail itself is only 2.3 miles long, but the shortest loop ride would be 4.6 miles.
The trail is easier-intermediate in difficulty. In general, the trail surface is smooth and broad with plenty of wiggle room. There are some short areas where the side-slope is moderately steep on the side of the trail.
Heading uphill through a forest of stout maples.
The new bottom of Canyon Hollow (over to Coyote Hollow) was cut in 2013. We're looking at the new trail cut from the old Silica Pit trail.
From the trail's beginning just off the Coyote Hollow trailhead there's 800 vertical feet of climbing. From the Equestrian Center parking via the Corner Canyon Trail it's 1100. Top altitude is 5250 feet.
There are two ways to get to the bottom of Canyon Hollow to start climbing uphill. One is the Coyote Hollow trailhead. This is the most direct connection to Canyon Hollow. As you hit the first trail fork east of the trailhead, keep straight as the
Bonneville Shoreline Trail
crosses to begin climbing Canyon Hollow.
You also can reach the bottom of Canyon Hollow from the Bonneville Shoreline Trail via any of its trailheads.
There's a fun section of winding turns about half-way up. There's also a bypass option that goes straight past, but that's much less fun.
Trail view in wooded area near the top.
You can also go to the old entry to Canyon Hollow. For example, let's say you started at the Equestrian Center parking lot. After you can pedal up the Corner Canyon trail and take the doubletrack to the wide trail intersection, continue straight south on doubletrack. After 1/4 mile, fork to the right on a singletrack that takes you 1/10th mile up to Canyon Hollow.
The top of Canyon Hollow also has two entries. From the Peak View trailhead, you can take the Brock's Point trail 0.4 miles northeast. A hard left turn at the trail fork puts you on Canyon Hollow heading downhill.
Coming uphill on Brock's Point, entering the Peak View trailhead.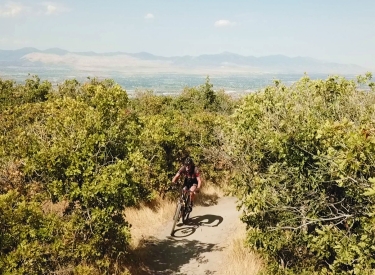 Most of the ride is in fairly tall maple forest. Occasionally you'll break out into an oak brush area where there are views.
The official upper end of Canyon Hollow is on the Corner Canyon dirt road, about mid-way between the Ghost Falls and Peak View trailheads. So, for example, if you climbed
Ghost Falls
and plan to descend Canyon Hollow, head uphill on the road to the top of Canyon Hollow.
Canyon Hollow is great for either climbing or descending. When used as a climber, riders can descend
Ghost Falls
(connected via a short jaunt down the dirt Corner Canyon Road),
Rush
(connected via Brocks Point),
Clark's
, or
Ann's
plus
Potato Hill
plus
BST
Or just turn around and do Canyon Hollow downhill.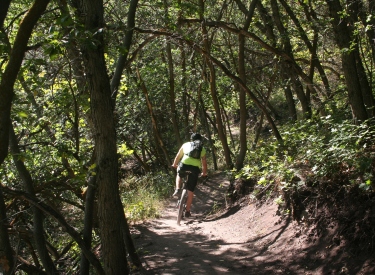 A rider heads uphill through maple forest in August 2013.
The uphill connection of Canyon Hollow to Ghost Falls. From here, it's only a tiny detour to go see the falls and return to continue your climb.
To descend Canyon Hollow, most riders head up
Clark's Trail
, which is the shortest route to the top, connecting via Brocks Point (which bypasses the top 1/4 mile of Canyon Hollow). Others prefer to climb Ghost Falls and connect via the upper Corner Canyon road. Riders doing a big loop can reach Canyon Hollow from Ann's Trail, connecting through the Peak View trailhead via Brock's.
Most riders will want to do the trail as a loop. The trail rides both ways. I've created loop options for a downhill with the climb via Clarks Trail from Coyote Hollow, and an uphill version from Corner Canyon with the downhill via Ghost Falls . There are a lot of other possibilities. The trail forks on Canyon Hollow are well-marked with trail signs.
Cranking around the Brock's Point trail intersection from Canyon Hollow, heading uphill. Tight turn, but hey, you've got this.
Typical trail view after the trail was first constructed in 2009. The trail winds around and bobs up and down.
The trail area is mostly forested in maple and Utah oak. It breaks out into views a couple of times. It's a fun ride. Strong riders should consider adding the trip to Jacobs Ladder. A singletrack just across from the top of Clark's takes you over to the doubletrack climb to the
Jacobs Ladder
downhill singletrack.
The trail system in the Corner Canyon area is complex, and it's changing. A riding guide and map are strongly recommended. But understand that new trail forks will appear, and old trails will be returned to nature as trailwork continues in the area.
Remember: if you get lost, downhill always takes you to civilization.
View northwest over the Salt Lake Valley.
>Climbing loop, to Ghost Falls, from Corner Canyon:
0.0 From parking, west, down through tunnel
0.1 On exit from tunnel, L up, sidewalk, then R
N40 30.322 W111 50.731
0.3 Keep L uphill N40 30.234 W111 50.636
0.5 Keep straight
0.6 Keep R (L=to street) N40 30.098 W111 50.394
0.7 R on DT N40 30.041 W111 50.316
1.0 Stay on DT, veer L at DT fork
N40 29.764 W111 50.118
Find optional ST along R side of DT
1.1 If on DT, pass Ghost Falls ST N40 29.767 W111 50.023
1.3 ST rejoins DT, continue uphill N40 29.750 W111 49.890
1.4 Follow ST L around gate
Fork R on Canyon Hollow N40 29.774 W111 49.809
1.7 Rejoin Pipeline, keep R as Ghost Falls forks L
N40 29.758 W111 49.646
1.8 Fork L (off Pipeline) N40 29.752 W111 49.615
Fork R N40 29.752 W111 49.615 (L=to Ghost Falls)
Keep R next two forks
2.0 Keep R on Canyon Hollow N40 29.736 W111 49.416
2.9 Brocks Point trail comes in on right, keep straight
3.1 Top of Canyon Hollow, L on DT
N40 29.525 W111 48.866
3.4 Pass Jacobs Ladder trail, stay on DT
3.5 L onto ST, Upper Ghost Falls
N40 29.666 W111 49.037
4.2 R to Ghost Falls (Ghost Falls North)
N40 29.740 W111 49.304
4.5 Fork R (start retrace Ghost Falls trail)
N40 29.766 W111 49.621
5.2 Back at DT, continue downhill
5.4 Veer L to Rush Limelight N40 29.751 W111 50.124
6.5 Parking
Downhill loop, via Clarks Trail, from Coyote Hollow
0.0 Enter trail downhill, immediate R uphill
N40 29.617 W111 50.311
0.1 Fork L and cross bridge
N40 29.561 W111 50.234
1.6 Top of Clarks, fork L on DT
or follow Brocks Trail east from fenced TH
N40 29.308 W111 49.204
(Option: add Jacobs Ladder, up along pipeline)
2.1 L on ST (start Canyon Hollow)
N40 29.525 W111 48.866
(if riding from Brocks, take hard L on Canyon Hollow)
3.2 Keep L at all Ghost Falls connectors
N40 29.736 W111 49.416
3.4 Stay R N40 29.726 W111 49.535
L = to Rush one-way trail
3.6 Stay L on Canyon Hollow
N40 29.766 W111 49.621
3.8 Keep straight (L = down to DT)
N40 29.755 W111 49.792
4.0 Keep straight (cross Rush)
N40 29.713 W111 49.925
4.4 Keep L N40 29.632 W111 50.286
Go 50 feet, keep straight (L = back up Clarks)
4.5 back at trailhead
Getting there, Coyote Hollow trailhead: Take the Bluffdale exit from I-15 and turn east towards the mountains. Climb the hill as above, but turn right at the light on Traverse Mountain Road. After one mile, turn into Mike Weir Drive on your left. Pass the Mike Weir trailhead 1/2 mile later and continue another half mile until the road veers left downhill. Take the next right turn, turn right again, then left. You should now be on Gray Fox Drive. Take the next right into Coyote Hollow Court. The parking is on the right at the end of the pavement. The Canyon Hollow trail starts about 50 feet from the pavement.
Lower Corner Canyon Trailhead: Take the Bluffdale exit from I-15 and turn east towards the mountains. Continue on Highland Drive until you reach the ballpark parking lot. Directly across the street from the parking, the Lower Corner Canyon trail heads uphill (GPS N 40° 30.351' W 111° 50.721'). To reach the trailhead from the north (Sandy area), take 13th East southward until it ends at the stop sign just past the underpass. Turn left and drive 1/4 mile.