Chad descends a typical steep section of Burro Pass. September 3, 2007.
Burro Pass Trail
The Burro Pass trail starts at 10,300 feet in the La Sal Mountains. It crosses a saddle at 11,200 feet elevation before descending to Warner Lake campground. Most riders will do the Burro Pass trail as part of " The Whole Enchilada ," an epic ride 26.5 miles long with 7000 vertical feet of downhill.
If you're doing the Whole Enchilada, you'll reach the Burro Pass trail via the Geyser Pass singletrack , 1.5 miles from the Geyser Pass trailhead. Just follow the "WE" signs for navigation. You can also do Burro Pass as a loop ride of about 10 miles with around 2000 feet of climbing. The loop ride starts at 10,300, peaks at 11,200 feet in the La Sal Mountains, then loops around past Oowah Lake. Burro Pass is only for very strong, skilled, and adventuresome riders. Season is Mid July through September. The catch is, we haven't done the entire trail route described here. But it exists on our maps, so help yourself and good luck.
First on the agenda: a long commute from Moab. The Burro Pass trailhead is almost 30 miles and 6000 vertical feet away. The Burro Pass trailhead is remote and may not be drivable after a rain or in early summer. The last 1/2 mile to the official trailhead is steep and rutted. Most riders therefore will start their ride at the Geyser Pass trailhead, from which you can connect to Burro Pass via the Geyser Pass singletrack , or via FR 071 (Geyser Springs road).
From the official trailhead at 10,400 feet, you'll ride uphill 800 vertical feet in 1.2 miles. Unless you're superhuman, there will be some hike-a-bike sections. (20% slope at 11,000 feet is tough!) Enjoy the beauty. Later on, you'll be too busy flying downhill and trying not to crash.
Chad and Mike climb uphill toward Burro Pass.
Burro Pass. Elevation 11,200 feet.
At the top of the ridge, ignore the hiking trail that goes steeply uphill on your right. Head straight across and downhill.
After crossing the ridge, you begin a steep switchback descent. This is fun stuff, with some technical challenges involving loose rock, roots, and very tight switchback turns.
After a couple of miles, the trail mellows. You're riding through fir with occasional meadows and aspens. You'll plunge through the creek a few times.
As you reach the aspen zone, you may actually have to pedal a bit. When you reach a water-diversion ditch, you're almost done with Burro. We took the trail over the ditch and uphill across a small mountain. It looks like you can ride along the ditch and meet the trail later near Warner Lake.
For the Whole Enchilada: At the 4-way intersection, keep right and go past Warner Lake to the Warner Campground. Find your way through the campground, where WE Segment 3 ( Hazard County ) awaits you on the paved road just outside.
For the loop ride: At the 4-way intersection, keep left. The trail descends on singletrack to join the gravel Oowah Lake road. Proceed to the right past Oowah lake and find the continuing Boren Mesa singletrack.
Bruce drops over a root section. Photo by Mike.
Chad hits the water on one of many creek crossings.
There's some push-a-bike steep climbing as you head south away from the lake. At the fork with the Clark Lake Loop Trail, stay on the Boren Mesa trail (right fork). At the next intersection about a mile later, leave Boren Mesa and go left on the wider (double-trackish) trail heading southeast. (The Boren Mesa trail gets very nasty here, but is a longer and meaner loop option.) Begin climbing southeast and uphill toward the Geyser Lake road. You'll go about two miles.
When you reach the Geyser Pass road, turn left and follow the road back to where you parked your car.
Note: Alternative loops include
(1) start at Warner Lake and head 1/3 mile to the intersection then down toward Oowah Lake.
(2) start on the Geyser Pass road at Geyser Pass. Use the
Geyser Pass singletrack
to head for the Burro Pass trailhead.
(3) use the Ooway Lake or Warner Campground roads as returns from the Burro Pass trail (lots of dirt road and substantial climbing).
Dominic skirts a small meadow.
Mike flies over roots among the large firs.
Burro Pass, counter-clockwise loop
0.0 Start uphill through the trees N38 29.801 W109 13.034
Step through the gate onto ST
1.2 Ridge, cross and start downhill N38 30.214 W109 13.654
Switchbacks, loose, steep
3.2 Fork L downhill N38 30.701 W109 15.143
3.8 Cross ditch R uphill N38 30.53 W109 15.68 (approx)
4.8 Fork left on ST N38 30.989 W109 16.437
(Lake = to Warner Campground)
Further mileage is approximate, based on topo map of area!
6-ish Join DT L to Oowah Lake
7-ish Pass R of Oowah Lake and find Boren Mesa ST
8-ish Fork L southeast on DT
9-ish L on Geyser Pass road
11-ish L to Geyser Pass ST
12-ish L uphill on road to TH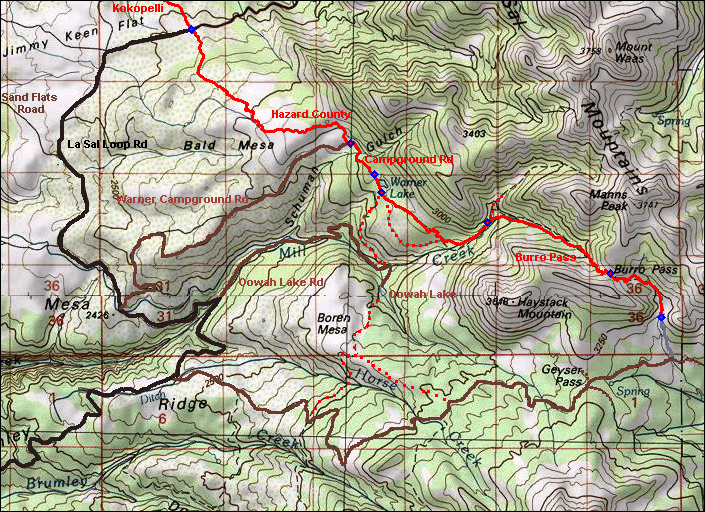 Getting there:
On Moab's Main Street, head south on US-191. Zero your odometer at Center Street Center Street and drive 8.2 miles. Turn left toward Ken's Lake - La Sal Loop Road. At the T intersection 1/2 mile later, turn right. Stay on the paved La Sal Loop Road to mile 20.6, then turn right on gravel Geyser Pass road. After several miles the road narrows to a single lane. Drive 8 miles on Geyser Pass road (to mile 28.6). Here you come to a fork, with a small turnaround on the left just before the fork. This is Geyser Pass (N38 29.122 W109 13.940). Go left (you should see a "Burro Pass 1.2" sign as you curve around the fork), then keep right at the fork that immediately follows. 1.2 miles later (mile 29.8) turn left off the main road on an eroded doubletrack climbing steeply up the mountain, with a sign "Burro Pass TH" (N38 29.408 W109 12.906). Go 1/2 mile up the mountain (4-wheel drive strongly suggested here) and park where the DT disappears into some fir trees. The sign indicating the singletrack trailhead, and a step-around squeeze gate, is in those trees uphill from you.
Note: Most riders will park at Geyser Pass (the formal trailhead 1.2 miles from the spur leading up to the singletrack trailhead). If so, add 1.7 miles to the mileages on the riding guide. If you parked on the road below the spur (1/2 mile from the singletrack trailhead), add 0.5 miles.