Bruce rolls the edge of Bull Canyon in 2018. Photos and ride description November 2, 2011 by Bruce with additional photos April 2011 and April 2018. Updated for new trail segments in November 2015.
Bull Run
The Bull Run trail is an excellent slickrock and singletrack ride along the cliffs on the northern edge of Bull Canyon. The actual trail is 5.4 miles in length, with a vertical change of around 1000 feet. Bull Run is used mainly as a downhill route, either as part of the Magnificent 7 or as a loop ride using Getaway as the uphill. Riding season is April through mid-November.
Most riders park where the Gemini Bridges Road turns off Highway 313, at the top of Getaway at 6000 feet altitude. The actual Bull Run trailhead is 1.1 miles down the Gemini Bridges road. (If you choose to descend
Getaway
from the top, the
7-up
trail will take you over to the Bull Run trailhead.)
At the bottom, the Bull Run trail ends on Arth's Corner a few feet from Arth's trailhead on the Gemini Bridges road. (For those who want to visit the Gemini Bridges, the trail crosses the road just above the bridges. From the bridges, you can pick up continuing trail -- Arth's or Great Escape -- about 1/10 mile downhill.)
Starting out the ride to Bull Run via Getaway at the upper end of the Gemini Bridges Road. The new (in 2015) upper Getaway trail (plus a piece of 7-up) provides a singletrack link down to the Bull Run trailhead.
At mile 1.1, here's the singletrack trailhead. Ready to rumble?
Bull Run can be ridden as an out-and-back from either direction. It's not that tough as an uphill -- although Getaway is much easier. You can start from the top as described above, or park at
Arth's Corner
trailhead and head up from the bottom.
Most riders would prefer to ride Bull Run as a loop from the top. For the uphill, use the Gemini Bridges road or Getaway (recommended).
My ride description starts from the top, where the Gemini Bridges road meets Highway 313, using the classic route. That's to keep the mileage and directions consistent for riders who are doing a shuttled ride such as the
Magnificent 7
.
We're skirting the head of a slot canyon. We'll be heading east on a finger of rock between this canyon and Bull Canyon to our right.
Sneaking along the edge of the cliffs, with ledges uphill and down to make the riding fun.
Bull Run is the first segment of an epic 26-mile point-to-point ride called the
Magnificent 7
or Mag 7. This ride finishes on the Potash Road at the bottom of the Portal Trail. A road return means 25 miles of road and paved bike path with 1900 vertical feet of climbing -- do-able if you have enough time, fluids, calories, and leg.
Begin Bull Run by heading down the Gemini Bridges road from Highway 313. Ride 1.1 miles. At the marked trailhead, turn right for 100 feet on doubletrack, then right again onto singletrack at the kiosk. The trail to the left is the new
7-Up trail
.
An alternate route to the trailhead is to descend Getaway . When Getaway crosses 7-up at mile 1.5, turn right on 7-up (cross the Gemini Bridges road) and ride to the Bull Run trailhead.
View to the north. The two buttes at mid-right in the photo are Monitor and Merrimac.
The trail is easy to follow, with logs and rocks to corral you in, and yellow paint stripes to mark the riding line.
Bull Run heads south on red dirt through pinion and juniper. The trail starts on dirt and rock of the Curtis Formation, then drops onto the top of Entrada sandstone.
Although known as a downhill romp, Bull Run will ask you to do a bit of climbing as you roll down the hill.
Bull Run curves around a small canyon, then follows the canyon rim eastbound. The canyon will be to your left. This isn't Bull Canyon yet. The ride is mostly slickrock with short stretches of red dirt.
Bruce rolls through pinion pine forest with the La Sal Mountains to the east.
The temperature is 37 degrees. The clouds are moving up on the La Sals. I'm riding with three layers on my core, and another three emergency layers in the Camelbak (racing shell jacket plus two plastic ponchos). Plus a foil blanket. Heavy thermal tights. Plus a headband. Riding alone on cold days means you come prepared to spend the night.
You'll flirt with the cliff edge on a mildly technical sandstone surface. The trail is well-marked with yellow paint stripes on the rock. Route-finding is quick and simple, so even a first-timer on this trail can motor right along.
At mile 1.6 of Bull Run, the trail comes to a narrow spot with cliffs to your left and your right. A fence crosses this spot at N38 35.230 W109 45.502. Step over the gate and continue. Bull Canyon will now be to your right.
Typical riding view along the edge of Bull Canyon, with waves of undulating Entrada sandstone.
Gene cruises the edge of the cliffs with the Entrada sandstone slopes of Bull Canyon in the background.
About 1/10 mile after the fence, the trail temporarily drops away from cliff edge (and from the old unofficial "green dot" route) to avoid a bighorn sheep area. At mile 2, you'll head into a pasture and join doubletrack for 1/3 mile. Here the connector from Getaway joins on your left. Keep straight. Soon you'll be back at cliffside with Bull Canyon to your right.
The sandstone is now more continuous, and a bit smoother than on the upper singletrack. Stop and enjoy a few looks into Bull Canyon on your right.
Looking west towards Crips Hole from the trail.
Derek hits a steep rock ramp with a 90-degree right turn at the bottom.
After crossing the Crips Hole road, the trail becomes dirt singletrack with occasional rock. After a mile it veers north across a meadow and crosses the Gemini Bridges road about 1/4 mile uphill from the arches. Bull Run will end at
Getaway
and
Arth's Corner
.
If you're doing the classic loop ride (see below), fork right when you reach the Gemini Bridges Road instead of crossing it. Turn right again 1/4 mile later on the short road spur to the bridges. Bike parking is on your right as the little road loop curves to the left above the bridges.
If you're doing the more-popular loop ride with Getaway as your uphill, continue down Bull Run when the trail crosses the road. Proceed to the intersection where the bottom of Bull Run meets Arth's and Getaway.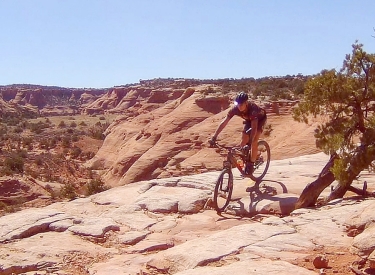 Looking west as we roll the edge of Bull Canyon.
Derek and Gene take in the view.
If you're riding the Mag 7, continue downhill on Bull Run to the trail fork where Bull Run meets Arth's Corner singletrack and turn left on Arth's. An alternative descent is to fork right on Arth's and cross the Gemini Bridges road to descend Great Escape .
Bull Run is my favorite section of the Mag 7, and I recommend it highly as a stand-alone ride as well.
Lariat loop w Getaway to Bull Run down, Getaway up:
0.0 Getaway TH, top of Gemini Bridges road
L on Getaway ST N38 34.409 W109 47.504
0.6 Keep R (L = Mustang)
N38 34.710 W109 47.295
1.5 L on 7-up N38 35.013 W109 46.666
Cross Gemini Bridges Rd
1.7 Bull Run TH, cross to Bull Run trail
N38 34.921 W109 46.580
3.3 Cross gate N38 35.230 W109 45.502
5.2 Cross Crips Hole Rd N38 35.379 W109 43.511
6.3 Cross Gemini Bridges Rd N38 35.292 W109 42.873
7.0 L on Getaway
N38 35.267 W109 42.215
Stay on ST as you cross several DTs
11.7 Fork R (L = connector to Bull Run)
N38 35.435 W109 44.901
13.3 Cross 7-up N38 35.013 W109 46.666
14.3 Stay L (R = Mustang)
N38 34.710 W109 47.295
14.9 Back at parking
Classic Bull Run Loop from 313 (or Mag 7 to mile 6.3):
0.0 Start east on dirt road
N38 34.407 W109 47.507
0.6 Pass road on R, keep straight
(alt = R, then L on DT before green tank)
0.9 Pass old DT N38 34.679 W109 46.678
1.1 Right to trailhead N38 34.900 W109 46.592
100 feet then R on ST N38 34.921 W109 46.580
2.7 Cross gate N38 35.230 W109 45.502
4.6 Cross Crips Hole Rd N38 35.379 W109 43.511
5.7 R on Gemini Bridges Rd N38 35.292 W109 42.873
6.0 R toward Gemini Bridges N38 35.306 W109 42.589
6.1 Park bikes N38 35.233 W109 42.605
Walk to bridges (0.2 mile each way)
Leave parking to east, pass viewpoints
6.3 Hard L on main road N38 35.252 W109 42.408
Mag 7: R and downhill on road
Catch Arth's Corner ST on L, 0.15 miles down road
6.5 Pass spur to Gemini, keep straight
7.4 Pass Crips Hole Rd on L, keep straight
N38 35.517 W109 43.464
8.3 Keep straight (Metal Masher in from R)
12.0 Back at car
Getting there:
From I-70 and Crescent Junction, drive south on US-191 for 20 miles (about 9 miles north of the Colorado River if you're driving out from Moab) to Highway 313. Drive 13 miles on 313 to the Gemini Bridges sign and turn L onto dirt road.
Getaway trailhead near 313 (traditional shuttle drop-off): As soon as you pull onto the dirt road, find a spot to park. This is the trailhead if you're doing the traditional Mag 7 or doing the lariat loop ride using Getaway from uphill. Getaway is on the north (left) side of the road about 200 feet from the highway.
Bull Run trailhead: Head down the Gemini Bridges dirt road 1.1 miles to the Bull Run trailhead.
Gemini Bridges: If you're riding uphill to Bull Run from Gemini Bridges, drive down the gravel road 6 miles and turn right to the Gemini Bridges parking area.
Arth's Corner trailhead: (bottom of Bull Run and Getaway): Drive 1/4 mile downhill from the bridges and spot the trailhead on the left side of Gemini Bridges road.