Viewpoint looking at Cedar Breaks, one mile into the ride. For the next half-mile, it's hang on and plunge. Photos June 17, 2003 by Bruce.
Blowhard Mountain
Blowhard Mountain is an advanced-technical downhill trail, usually ridden one-way with a shuttle vehicle. The trail drops 3300 vertical feet over 7 miles, for an almost 12% rate of average slope. One section near the top is particularly steep, averaging 22% slope over a mile. This is a challenging and tricky trail, delivering some great views and real bragging rights.
Brochures from shops and resorts at Brian Head may give you the impression that intermediate riders can do this trail. Well, maybe. But I wouldn't recommend Blowhard for the casual rider. This trail has a steep mile -- not "fly down the trail, take some air" steep, but "hang your butt behind the seat, work the brakes carefully, skid the tires through loose rocks while bouncing over roots and rock outcrops in constant terror" steep.
This is a sample trail section. Looking uphill to the north, the arrows mark the path of the bike down the trail.
The trail traverses several picturesque meadows after the initial plunge off the upper plateau. Aspen and spruce mix here.
The trail begins by climbing uphill. After 1/2 mile, you begin dropping. Not too bad, you think. A few switchbacks, a few loose steep plunges, but not tough. Then, at mile 1.0, you hit the sick stuff -- a tiny trail traversing a steep side-slope, on a bed of loose pebbles, plunging at a 25% incline, through ridiculously tight switchbacks, down rock-outcrops, over roots.
The upper portion of the ride is on the freshwater limestone of the Claron Formation, formed 60 million years ago in a giant lake. This limestone breaks up into small angular chunks. These chunks form the trail surface, which makes the mile of steep ridgeline riding spooky for riders who like firm braking and steering control. Heavy spruce forest surrounds the trail here.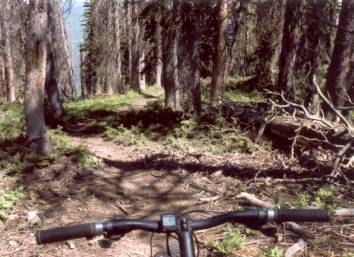 Typical trail view on an easier section, as the trail rockets through the spruce forest.
Nearing Highway 14, the trail hugs the edge of these cliffs before dropping into a gorge in the cliff face.
Once you've survived the initial 1.6-miles to reach the Potato Hollow trail fork, it gets much easier. Here Blowhard becomes an intermediate-level trail, with a few short sections reaching advanced technical. There are intermittent patches of sand, but they're easily ridden. Here you're riding through aspen, with occasional spruce, fir, cedar. The final steep plunge to the highway follows a gorge cutting through cliffs of Navajo Sandstone. In this lower ecosystem, trees are juniper, cedar, and bitterbrush.
For riders without a shuttle vehicle, there's the loop option. You'll spend 11.1 miles on pavement, 1.1 on gravel road, and 7.0 on the trail, for a 19.2-mile ride. You'll climb 3100 vertical getting to the trailhead. Add about 300 vertical on-trail. The loop is a monster ride. Even though the climbing is on pavement, don't underestimate the difficulty of 3400 vertical at this altitude, especially with the morning wind coming down-canyon into your face. If you're an experienced roadie climber, allow about 80-90 minutes for the 12 miles on the road.
The trail exits from the Gorge between two sandstone cliffs at Highway 14. This view is from the pick-up zone.
Riding notes, downhill:
0.0 R (north) into the trees on ST.
1.0 Cliff-top view of Cedar Breaks
Descent gets tricky, 800' in 0.5 mile
1.6 Fork L (R=Potato Hollow)
N 37 35.890' W 112 52.823', alt 9400'
2.5 Veer L under power line
N 37 35.890' W 112 53.479', alt 9250'
3.1 Cross Crystal Springs Road
N 37 36.285' W 112 53.830', alt 8950'
6.0 R through fence
N 37 37.141' W 112 55.753', alt 8250'
6.4 Cross DT
(option: DT goes to U-14 at m10.8)
7.0 At road
N 37 36.965' W 112 55.919', alt 7450'
Getting there:
In Cedar City, zero your odometer at the intersection of Center and Main Street. Head east up the canyon on U-14. Trail's End: At mile 9.2, underneath tall gray cliffs, there's a cindered pullout on the left side, GPS N 37 36.965' W 112 55.919', altitude 7450'. The trail hits the road here. If you're riding the loop or leaving a shuttle vehicle here, I suggest you park at a pullout 100 yards down-canyon or 1/2 mile up-canyon, so you won't be in the way of the shuttle vehicles from Brian Head. (Alternate: continue to mile 11.5 and park at Wood's Ranch for loop ride.)
Hand-drawn ancient map of the Blowhard loop ride w pavement climb.
Trailhead:
Continue on U-14 to the top of the plateau. At mile 18.1, turn left on U-143. Drive another 2.3 miles (mile 20.3) and turn left onto a gravel road at N 37 35.983' W 112 51.022'. 1.1 miles up the gravel road, just after going under power lines, spot the trail sign on the right side of the road, at mile 21.4. Trailhead GPS N 37 35.607' W 112 51.628', altitude 10650'.