Chris rolls down the Beaver Dam Trail. October 9, 2002. Photo by Bruce.
Bennie Creek to Beaver Dam Loop
This longish loop is reserved for strong, conditioned riders with good downhill skills and a sense of adventure. It's pretty, it's fun, but it's tough.
Riding from an elevation of 5400 feet at Birdseye in Spanish Fork Canyon, you'll climb to 8400 over the top of Payson Canyon, then drop down Beaver Dam Canyon and roll out along Nebo Creek Total climbing on this 22.7-mile loop will be around 3500 vertical feet. Definitely strenuous aerobic. Advanced technical, but can be managed by intermediate-technical riders who are strong and adventurous.
The ride starts on doubletrack in the village of Birdseye. Rapidly, you leave farmland behind and enter forest of maples, oak, and fir. After 4 miles, it rises on singletrack to the ridge separating the canyons. The last 1/4 mile gets really steep, and may require push-a-bike unless conditions (and your legs) are perfect. At the ridge, the trail forks left for a mile on the Loafer Mountain Trail, then forks left again on the Blackhawk Trail. Now you're riding through broken aspen forest, with occasional maple and fir. Meadows give you great views of the surrounding mountains.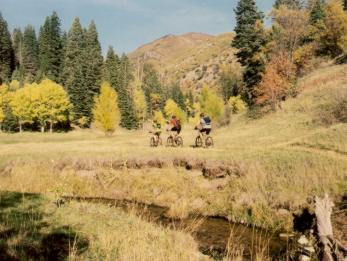 After a bit of doubletrack, the singletrack climbs along Bennie Creek towards the ridge. Front to back are Chris, Mike, and Dominic.
Mike grinds uphill through the golden aspens on the Blackhawk section of the loop.
The trail forks off the Blackhawk Loop to follow the Blackhawk Trail (Blackhawk and Blackhawk Loop are different trails) up and over the road at 8400 feet. Then it drops down the Beaver Dam Trail, which (at least, the way we rode it*) has some stiff little climbs on the lower half -- just when you're ready to quit and go home. The descent is fairly steep and somewhat, but not horrendously, technical. It drops over 2000 vertical feet in about 3 miles -- and that includes a bit of "climbing back up!"
*We passed a trail fork that went hard-right down to the creek, just when the trail began climbing up the mountainside, about 1-1/2 miles down Beaver Dam. It appeared that the main trail went straight ahead, rather than dropping back to the creek. We went straight, which led to a significant amount of additional climbing on narrow, fairly technical singletrack, with some steep-but-short tech descents to make up for the climbing. This trail rejoined a trail in the creek bottom a mile later. It will take another visit to determine whether there's a trail alongside the creek for the whole downhill. (If so, it would make the descent a lot easier and faster.)
Bruce crosses a large meadow on the Blackhawk Trail.
Chris rides towards Mount Nebo, seen between the trunks of the aspens.
After the descent down Beaver Dam, the route forks left on the Nebo Creek Road, a high-speed dirt and gravel road that will take you back to the highway. This road allows speeds in excess of 24 mph. Judge for yourself what speed your tires can hold as you head into the gravel on turns.
This is an epic, all-day ride. Don't even dream of taking a newbie around this loop. Depending on trail surface conditions and your climbing strength, actual in-the-saddle time is likely to be between 6 and 9 hours.
Dominic plunges down the Beaver Dam Trail. Some sections of this trail are plush, others are a bit primitive and rather technical. As more bike tires hit this trail, it will get better!
A "cruiser" section of the Beaver Dam Trail, as Bruce hurtles down towards Nebo Creek.
When this trail is wet, it can get significantly more difficult. The Nebo area is popular with horse riders, especially around elk and deer season. After a big rain, the horses do incredible damage to the trail surface. We rode in the middle of elk season, a few days after a big snowstorm. Many damp areas were pitted up to 12 inches deep, requiring big-time effort and control to fight through. Some sun-exposed areas were dry, and the 8-inch-deep hoofprints rattled your fillings loose and made control difficult.
Riding notes:
0.0 Start west from parking on S side of church
N 39° 55.458' W 111° 32.905' Alt = 5400
0.8 DT goes left of home, through metal gate
2.5 Cattle grate at border of National Forest
3.5 Deer Hollow Trail comes in on R
N 39° 56.408' W 111° 35.940'
4.0 DT ends in ST, continue straight ahead
N 39° 56.366' W 111° 36.462' Alt = 6600
6.2 Steep up to coral, fork L (Loafer)
N 39° 57.122' W 111° 38.454' Alt = 7900
7.1 Fork L up through gate (Blackhawk)
N 39° 56.497' W 111° 38.499'
8.5 Fork L downhill (R = out to road + Rock Springs Tr)
N 39° 55.819' W 111° 37.822' Alt = 8100
9.3 Keep straight (Ranger Station trail in from R)
N 39° 55.410' W 111° 37.574'
9.6 Fork R at sign (L = Blackhawk Loop)
N 39° 55.147' W 111° 37.617'
11.0 Cross paved campground road
N 39° 54.542' W 111° 38.373'
Trail through fence going west
11.6 4-way fork - straight 50 ft, then hard L downhill.
N 39° 54.155' W 111° 38.337'
approx 13 Straight (R = downhill, possible alternate)
Climb along hillside
14.7 Trail joins along creek, go L downhill
N 39° 51.685' W 111° 37.645'
15.0 Drop onto Nebo Cr Rd, turn L
N 39° 51.418' W 111° 37.600' Alt = 6300
20.4 Gate end Nebo Cr Rd, L on paved road
N 39° 53.528' W 111° 32.957'
22.7 Back at parking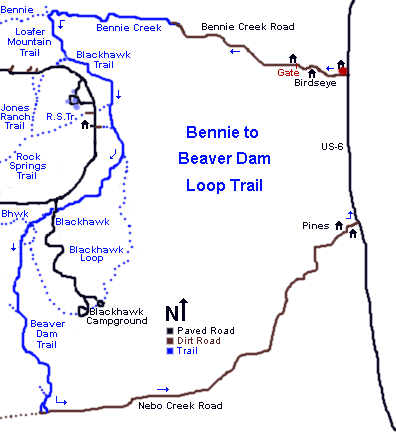 Haven't been back to this trail in a while. But you'd never guess that from the brand-new state-of-the-art map, would you?
Getting there:
From I-15 in Utah County, take the Spanish Fork - US-6 exit and drive up Spanish Fork Canyon. Just past the Billie's Mountain landslide (about 5 miles up the canyon), turn right on US-89. Five miles later, spot a small white church on your right. This is Birdseye. Turn right at the far end of the church, and park along the south side of the church. The ride starts by continuing west on the road into Birdseye.