View from the top of Bald Mountain, looking town at Little Dell and Mountain Dell Reservoirs, with Parley's Canyon (left) and Emigration Canyon (right). Photos by Bruce, August 30, 2002.
Bald Mountain Backside Loop
This loop ties the Great Western Trail from Big Mountain Pass to Jeremy Ranch east of Parley's Summit, using the East Canyon Road and the
Mormon Trail
in Little Emigration Canyon to complete a 19.4-mile loop. This loop is for strong, experienced riders who can handle some stiff climbs and descend in occasional loose rock. Many bikers ride a portion of the Great Western, starting at Big Mountain Pass, as an out-and-back.
The Great Western has a lot of up-and-down. Although the altitude at the towers is 300 feet lower than that of Big Mountain Pass, you'll do almost 2000 vertical feet of climbing between these two points. The trail follows the ridges and mountain peaks that separate the Salt Lake valley from the Park City area. You'll climb over 5 hills, around 400 vertical feet each time. For the loop as described here, peak altitude is 7900 feet, bottom 6100. Total climbing will be around 3500 feet.
Near the northern end of the Great Western (GWT) by Big Mountain Pass, mahogany sets berries in small trees that crown the trail under the quaking aspen.
A citizen of Bald Mountain catches some early morning rays. Horned toads are plentiful along the trail. I also saw a bull moose with full rack, cow moose, coyote, and a curious vulture that kept coming back to hover 50 feet over my head. (Might have been the smell, or maybe he thought I wasn't going to make it back.)
You can also ride the trail as an out-and-back from Big Mountain Pass to the microwave towers. This will be 15.2 miles. I've done this, and I think it's actually more work than dropping into the valley and climbing back up the Mormon Trail. But it's a really nice ride if you can handle it.
Much of the ridgeline ride is maple and aspen with an occasional fir. The understory features fern, mahogany, choke cherry, and elderberry. In open areas, there are mule's ear, lupine, and brush.
It's not all brutal up and spooky down. There are long stretches of ridgeline such as this one. Elderberry bushes are close by at right, with current bushes up ahead.
Nearing Parley's Canyon, we're going to turn east and drop down to Jeremy Ranch.
The area around Bald Mountain is rocky and rough. Around mid-day, a violent wind blows cross-wise over this ridgeline, adding to the challenge of riding. There are many tough granny-gear climbs. Probably the worst is coming back (northbound) up Bald Mountain if you're riding the trail as an out-and-back.
As the trail turns east towards Jeremy Ranch, the trees get bigger. You cruise downhill on a broad, shaded trail. The trail will touch on civilization at Moose Hollow, then move on northeast to the East Canyon Road on narrow singletrack over a brush-covered hillside.
Looking down the trail, we're mid-way between the microwave towers and Jeremy Ranch.
Old hand-drawn map created before GPS came into use.
Getting there, Jeremy's or Little Emigration Trailhead:
Take I-80 eastbound from Salt Lake. Just after Parley's Summit, take the Jeremy Ranch exit and turn north (left) under the freeway. Keep straight onto Jeremy Ranch Drive and continue until the road turns sharply around to the right, where you'll see the dirt East Canyon Road branching the left. You can park here, or drive 4.9 miles up the dirt road until you see the parking area for the Mormon Trail (and picnic tables and a bathroom) on your left. GPS N 40° 48.944' W 111° 35.080'.
Getting there, Big Mountain Pass Trailhead: On I-80 in Parley's Canyon, take the Little Dell Recreation Area (U-65) exit. From the exit, drive uphill 8 miles to the top of the pass, then park on the right side of the road at GPS N 40° 49.687' W 111° 39.244'. The trail begins on the far side of the parking area, heading uphill.
Ride notes, counter-clockwise loop from Big Mountain Pass:
0.0 At the far end of the parking lot, trail heads uphill
0.8 Crest ridge and begin first descent
1.5 Cross broad meadow of Mule's Ear
2.0 Crest ridge, 7900 ft, start descent to 7500
2.3 Stiff climb up to Bald Mountain
3.5 Top of Bald Mountain, 7900 ft, N 40° 47.547' W 111° 38.924'
begin steep loose rock descent
4.5 Climb up from 7400 ft
5.0 Briefly join fire road, descend
5.1 Pass branching trail on R (descends ridge towards Little Dell)
N 40° 46.418' W 111° 38.951'
6.0 Cross game trail on saddle, start climbing up again
6.5 At crest of hill, keep straight (L goes 0.2 to viewpoint)
N 40° 45.783' W 111° 38.238' Alt 7800
7.6 Microwave towers, singletrack goes to R of structures
Joins gravel road
7.7 At first turn in road, hop singletrack on L, heading east
9.0 Fork "Main"gy Moose, turn R onto Switchback Trail
N 40° 45.789' W 111° 36.009'
(continued below...)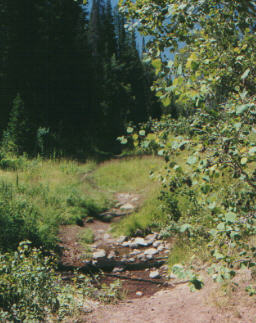 The uphill on the Mormon Trail in Little Emigration Canyon is a fairly steady climb on reasonably buff trail.
9.4 Go L as ST joins doubletrack
N 40° 45.754' W 111° 35.898' Alt 7000
9.8 Trail hits paved road at Moose Hollow gate (Saddleback)
Find continuing trail across road on your left
N 40° 45.777' W 111° 35.559' Alt 6750
10.2 Fork hard L N 40° 45.713' W 111° 35.419'
10.8 L onto paved bike trail on Jeremy Ranch Road
N 40° 46.000' W 111° 35.015' Alt 6250
10.9 L onto gravel East Canyon Road
14.8 L into parking area for Mormon Trail
Lift bike over fence, trail crosses creek
19.4 Arrive back at Big Mountain Pass