View uphill on CMG near the Midmountain Trail. Original CMG description September 9, 2011 by Bruce, with the latest update July 22, 2022.
CMG (Crescent Mine Grade)
with Loose Moose and First Time Return
This page discusses the CMG (Crescent Mine Grade) trail and two short trails that are often used with CMG. Loose Moose and First Time Return are downhill-only, as is the bottom 1.4 miles of CMG. There's no shuttle option, so you'll need to climb the hill to get to these trails -- which I'll also discuss here.
A note about navigation: Park City's trail system is extremely complex, with trail forks and crossovers coming at you constantly. It's a struggle to keep them adequately marked -- I never encounter so many lost riders asking directions as I do when riding Park City Mountain Resort (PCMR). I highly recommend riding with a navigation app such as Trailforks. Also, Park City publishes a big beautiful trail map that's updated yearly. Makes a nice souvenir.
Trail intersection where Jenni's, Flat Cable, and Loose Moose come together in a complex join-and-split intersection. One trail post. You'll have to stop to read the small print and see which way the arrows are pointing.
Handlebar view as we descend lower CMG. The trail is a wide and plush engineered bench-cut here.
The riding for these trails begins at 6900 feet at the main PCMR parking lot. The top of CMG lies at 8600. The season for Loose Moose, lower CMG, and First Time begins in early June, while upper CMG must wait until July. Loose Moose is an intermediate trail, while CMG and First Time offer easier riding.
Getting to the top of the trails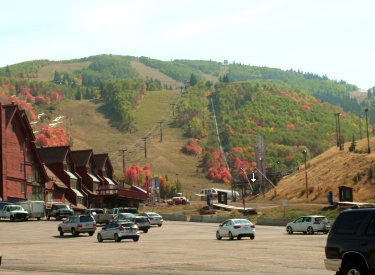 Park City Mountain Resort parking. Go through a slot in the cement barricades hear the condos to find the trail uphill.
There are many ways to arrive at the top of these trails. If you're starting at the resort base, I recommend Jenni's Trail. It begins on Silver Spur, just uphill from PCMR parking lot. Find the path through the concrete barriers, then aim for the singletrack heading to the right as it climbs the hump in front of you. That trail is the Silver Spur. Climb 0.2 miles, keeping to the left where the (unmarked in 2022) one-way return from First Time joins from downhill on your right. Now Silver Spur will fork to the right. Keep left and begin climbing on Jenni's.
Jenni's will cross First Time Return at 0.7 miles from PCMR parking (also an unmarked intersection in 2022). Keep straight -- Jenni's is on the right uphill.
Jenni's will reach the CMG crossover at mile 1.4 (1.6 from parking). CMG below this is one-way. For a quick loop, veer left and descend CMG. To continue climbing Jenni's, keep straight and right. If you plan to climb CMG, make a hard right uphill. (Most people descend this section of CMG. They may be riding fast and not expecting oncoming riders.)
Low on Jenni's trail, we're surrounded by a forest of maple and oak.
Crossing a ski slope on Jenni's trail, which winds in and out of aspen groves as it climbs.
At mile 2.9 from parking, Jenni's will reach a complex intersection in a small grove of trees. Straight ahead takes you to Flat Cable. Left is Loose Moose downhill. Turn hard right uphill to continue Jenni's, keeping to the left when Loose Moose joins.
Loose Moose forks away from Jenni's to your right at mile 3.5 from parking. (The upper portion of Loose Moose is 50 feet up Jenni's on your left. It goes over to the top of Sweeney's Switchbacks and the bottom of John's Trail.) Jenni's continues up to Drift Road, where a connector can take you up to the Midmountain Trail. Right on Midmountain will take you north to the upper section of CMG.
CMG (Crescent Mine Grade) trail
The CMG trail as it heads uphill from Midmountain.
CMG is 4.3 miles long with 1700 feet of elevation loss from top to bottom. The upper end is on the Thaynes dirt road at 8600 feet. When planning a ride, it can be useful to divide CMG into three sections: Thaynes to Midmountain (1.1 miles, two-way, with 450 feet of elevation loss); Midmountain to the Jenni's Trail crossover (1.9 miles, two-way, with 700 feet elevation loss); and Jenni's intersection to PCMR base (1.4 miles, one-way downhill, with 500 feet elevation loss).
Although the middle of CMG (from Midmountain to Jenni's crossover) is officially two-way, almost everybody rides it top-to-bottom, so it's best to consider CMG below Midmountain as a continuous downhill.
Rolling and twisting engineered trail on lower CMG.
Following an old overgrown mine roadcut on CMG, surrounded by a mixed forest of fir and aspen.
Upper CMG (above Midmountain) is done equally in both directions. It's often combined with Apex. This creates a reasonable route for climbing to, or descending from, Charlie's 9K trail on the upper mountain.
Upper CMG (Thaynes Road to Midmountain)
Let's start at the top. CMG begins on Thaynes Road, around 1/2 mile downhill from the lower end of Apex. If you're descending Apex from Charlie's 9K, turn hard left downhill at the bottom of Apex. Then after descending Thaynes, make a hard right turn onto the top of CMG.
Upper CMG is just to the left of this trail marker. We're looking up Thaynes Road. If we were going uphill, we'd pedal up the doubletrack to reach Apex.
Rolling through aspen and fir on CMG.
There's 450 feet of elevation change on upper CMG over one mile of riding. If you're descending CMG, keep left when you pass a connector called Short Fuse. Fork right when you reach the Midmountain Trail. CMG and Midmountain are merged for 1/10th mile here as the combined trails descend.
When you hit a gravel road (Claimjumper Road), drop left downhill on the road about 20 feet to find the continuation of CMG on your right. This is not an intuitive trail fork, and you'll miss it if you aren't reading the trail markers carefully.
A long look down the ski slopes from CMG.
Smooth descending as we follow the old mine grade.
Middle CMG (Midmountain to Jenni's crossover)
We now begin the middle section of CMG: from Midmountain to the Jenni's crossover. As mentioned above, this section is two-way trail, but almost everybody will be doing it downhill. It will be 1.9 miles with 700 feet of elevation loss.
This portion of CMG follows an old mine road grade. The slope will be gradual but steady. The trail is mostly smooth and wide.
At 1.1 miles from Midmountain, keep to the right on CMG as the Eagle trail forks left. Eagle decends to Spiro for an alternate descending route.
Rolling around a rocky outcrop.
Handlebar view as we coast downhill.
When you reach a trail crossover (trail sign missing in July 2022) with Jenni's trail, keep straight (left and downhill). This is the final lower CMG section, which is one-way downhill-only.
Lower CMG (Jenni's crossover to PCMR base)
The bottom of CMG is one-way downhill-only. It's 1.4 miles in length with 500 feet of elevation loss. This stretch of the trail has been rebuilt so it's highly engineered and fast to ride.
Approaching a turn on lower CMG. The high sidewall allows us to rock the turn with speed.
Rolling the berm on the descent.
After descending 0.4 miles from the Jenni's crossover, you'll see a trail uphill on your right. This is the bottom of Loose Moose, so don't enter it.
Turns are highly banked with a generous turning radius, so it's easy to take them with speed. This portion of the trail is rated intermediate, but experienced beginners should have no problem. But keep in mind that groups of riders will be coming down this trail at blazing speeds. I suggest that slow riders pick weekdays to avoid the crowd.
Handlebar view as we approach another fast turn on CMG.
The descent on lower CMG is a lot of fun!
At mile 0.9 the CMG trail will break out onto a ski slope. In about 50 feet, the CMG trail will turn hard to the right. The trail that continues straight is the First Time Return trail.
From here, CMG will wind back and forth across the ski slope meadow as it returns to the lift area.
Bumping over roots during the initial drop down Loose Moose.
Loose Moose consists of a short upper segment linking upper Sweeney's Switchbacks and lower John's Trail to Jenni's Trail, and a 1.1 mile downhill-only section that descends through multiple turns to end on lower CMG.
There's 450 feet of elevation loss while descending Loose Moose between upper Jenni's and lower CMG.
The upper section of Loose Moose is only 0.2 miles long. It traverses the hillside between Jenni's and a trail fork for Sweeney's and John's trail. (If you're pedaling on upper Loose Moose from Jenni's, a left downhill takes you down Sweeney's, while right uphill connects to the the bottom of John's trail.)
If you're arriving from John's or Sweeney's on upper Loose Moose, turn downhill right at the trail intersection with Jenni's, then fork left about 50 feet later to descend lower Loose Moose.
Upper Loose Moose, looking southeast as we approach the trail fork for Sweeney and John's.
Arriving on Jenni's at the top of the downhill part of Loose Moose.
Most riders will be arriving at Loose Moose, not from John's or Sweeney's, but while climbing or descending upper Jenni's trail. From the Drift Road area where multiple trails come together behind the ski lift, it's 1.4 miles downhill on Jenni's to reach the top of the Loose Moose descent.When climbing from the Park City base, it's 3.5 miles of climbing to reach the top of the DH portion of Loose Moose.
The terrain is a combination of maple and oak scrub forest, thick aspen groves, and tall stands of fir.
Heading into a stand of fir on the descent.
The upper set of switchbacks tend to be narrow and tight.
From the upper Jenni's trail intersection down to CMG, Loose Moose begins as a narrow and sometimes rough trail hugging the slope. Then after it crosses Jenni's again, it becomes an engineered flow trail with highly banked turns and a wider and smoother riding surface. The rough upper half makes this an upper-intermediate ride.
If you want to skip the tougher upper DH section, you can simply turn to the left at the multi-trail intersection on Jenni's at mile 2.9 of your climb. This option is suitable for early-intermediates or experienced strong beginners.
Approaching a turn. The upper half of the descent is narrower, rockier and steeper.
Memory Lane! This was what Loose Moose looked like in 2011. Narrow singletrack with encroaching bushes.
The trail has been widened and in some cases rerouted to create a riding surface that's more friendly to non-experts.
On the wide doubletrack. This spot may confuse some riders. Just keep straight and downhill.
After the initial 1/4 mile of descent on narrow singletrack, Loose Moose will fall onto an old doubletrack for about 1/10th mile. The strip has been bulldozed recently. Follow the track downhill to the area above the Jenni's trail crossover.
Note that it's possible to link into Loose Moose from Flat Cable at this spot, but I don't think many riders are choosing Flat Cable as an access point to Loose Moose. Flat Cable is usually used as an alternative climbing or descending route for Sweeney's, so it doesn't share a trailhead with Loose Moose/CMG.
Find your way through the multi-trail Jenni's intersection and descend past the Payday lift. Now the trail becomes a series of turns on steep hillside. The riding surface here is generous, with wider turns and clear sight-lines.
Bruce rolls into a turn on the lower smoother set of switchbacks.
Almost to the CMG trail.
At the bottom of Loose Moose, you'll hit CMG. You'll make a hard 180 turn to the right. Don't go straight -- CMG is downhill-only at this location, and keeping straight will take you uphill against traffic!
Descend 0.5 miles of CMG, then select either First Time Return or lower CMG for the final run back to parking.
On the traversing part of First Time Return, the trail passes through a maple and aspen forest on a low hill.
First Time Return is a newer trail that offers an alternative to lower CMG for the final run back to the base of PCMR. It's 0.7 miles long with around 150 feet of elevation loss. The trail is new in 2022 with trail signs not yet in place in July 2022.
You must descend CMG to reach First Time. The top of First Time Return is located on a ski run, 0.5 miles from where Loose Moose joins CMG or 1 mile downhill from the Jenni's trail crossover where CMG becomes one-way downhill.
After climbing a little hill, we traverse a bit before we hit the big turns.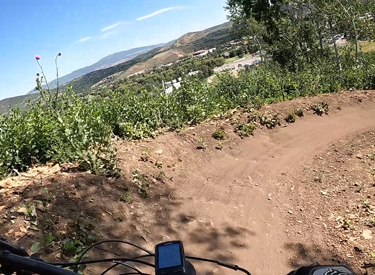 Hitting the first turn. The turns are wide and highly banked. Blazing fast for experts but good for beginners also.
As CMG crosses a small bridge to reach a meadow ski slope, keep straight and left when CMG turns right downhill. You're now on First Time (the fork is not marked yet in 2022).
The First Time Return trail will climb gently up a low hill and traverse until it crosses Jenni's trail after 0.3 miles. At the crossover, be sure to keep straight and to the left uphill. The trail to the right is the uphill-only Jenni's trail. (In 2022, so many people have been going the wrong way that there's a cheater trail to reconnect.)
First Time will now begin descending through a series of highly banked engineered turns. The riding surface is wide and smooth. The ride is appropriate for experienced beginners. This is fun stuff.
There will be some launch-pad bumps, and there are a couple of table jumps.
Approaching a launching hump, then a downhill turn.
Approaching a table jump on First Time.
Almost done as we approach a turn under the ski lift.
An old tressle near the base of First Time.
First Time Return is a lot of fun. Although the trail was brand-new for my ride, the surface was hard and fast.
First Time will cross Silver Spur (keep to the right at the crossover), then it will drop through a miniature valley to zoom up to rejoin Silver Spur for the final descent to parking. These forks are unmarked in July 2022, but you'll figure it out.
Bottom Line!
Very nice trails. When combined with Apex, CMG offers a continuous downhill from the 9K trail. Loose Moose and First Time are very nice downhill routes for looping on the lower resort area.
Looking down to the resort from lower CMG.
area map
Getting there:
PCMR main parking. Southbound on Park City's main drag (Highway 224, Park Avenue), turn to the right towards Park City Mountain Resort (PCMR) on Empire Avenue. Turn right again at Silver King Drive. Turn left on Lowell Avenue and find the entry to the large parking lot. The trail will be at the southwest corner of the parking lot, toward the Payday lift and the Alpine Slide. Pass between the barricades heading west and look for a singletrack straight ahead that turns to the right as it climbs a small hill. That's the Silver Spur trail, which shares a common beginning with Jenni's trail, your route uphill.
Full services at PCMR. No nearby camping.