Looking uphill on the Grove Creek trail. For much of the uphill, the trail hugs a ledge between cliffs. Lots of little rocks to make your back tire slip... Spin out and tip the wrong way -- you're magpie food. Photos July 4, 2006.
Big Bad Brutal Baldy Loop
Grove Creek to Dry Canyon
This loop ride is for strong, skilled, advanced riders only. It features a long and very steep climb, a mean tricky descent, and plenty of opportunities to hurt yourself. The trail surface is often rough and loose. It's a tough trip both uphill and down. You'll need good climbing skills (or a tolerance for long hike-a-bikes) and a sense of adventure. The ride is 15 miles, going from 5160 feet to 8280 feet. Total climbing will be about 3500 feet. And because of rough trail conditions, that 3500 of climbing is harder than it sounds.
Most riders don't have the taste for pain required to climb uphill on Grove Creek. It is a brutal climb. The trail is most commonly done as a downhill. For information on riding Grove Creek as a shuttled downhill, see the Grove Creek Trail page .
The loop ride starts at the edge of Pleasant Grove, at the mouth of Grove Creek Canyon. The first little bit is pleasant, as you ride through the trees along the river. Then you start climbing on narrow trail with lots of loose rock. You'll switchback to the left away from the creek, then switchback to the right to head back east. At the corner of this second switchback, the Mahogany Mountain trail forks northbound on your left.
The trail rises high above the creek, hugging the mountainside along the cliffs. This is a tough granny-gear climb, made harder by loose rock rolling and slipping under the tires. Not easy. I suggest frequent breaks to catch your breath, so you can attack with a high-cadence pedal stroke to keep up your speed over the loose trail surface.
Grove Creek Falls is about two miles up the trail. Nice spot for a break here. Shortly after the falls, the trail crosses the creek and climbs switchbacks, then crosses back to the original side of the creek as it reaches the shoulder of the mountain.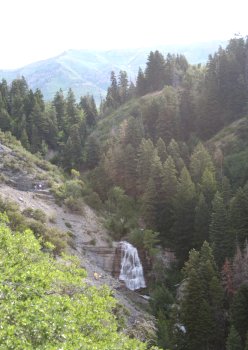 View of Grove Creek Falls, with Timpanogos in the background. The white spots at mid-left are hikers on the trail.
Handlebar view of the Grove Creek Trail just before the Indian Camp.
Here the climbing continues, but it's more mellow. You're riding in quaking aspens and meadows. There are a few springs that create swampy areas on the trail.
When you reach the Indian camp and pass the last set of springs from which Grove Creek originates, you'll turn right at a fork. (Straight ahead takes you to Timpooneke Road.)
When you reach doubletrack, you can go left a mile to a viewpoint looking over the valley. Right takes you to the Battle Creek Trail, which starts as doubletrack then becomes narrow singletrack as it descends. Somewhere here, the Battle Creek Trail forks right, but I didn't see the fork. If you see a trail fork here, keep left. Just stay on the main trail heading towards the pass behind Baldy.
I wouldn't want you to think this trail is all sweat, pain, and danger. There's also stinging nettle, like this shoulder-high crop. Just hold your breath, tuck your elbows in, and ride as straight as you can.
We're almost at the end of the Grove Creek Trail, where will join the Battle Creek Trail. The track here is about 8 inches wide.
After losing a bit of hard-won elevation, you begin climbing the switchbacks to the pass. The grade here is OK, but there are many sections that are strewn with huge loose boulders. I couldn't ride it clean. The turns of the switchbacks tend to be torn up and loose from horse traffic, with some trenching and washouts. (Note 2011: The winter's heavy runoff created further damage. This part of the trail is reported to be ugly.)
At the pass behind Big Baldy, the trail crosses over the ridge. There's a connection to the Great Western Trail just below the pass, heading to your left. Depending on the season, it may be overgrown with tall grass and hard to spot. The GWT takes you down to the Orem Bench Trail in Provo Canyon. This is a MUCH easier descent than Dry Canyon, but it adds several miles to the loop. Most riders, as I was, are stupid enough to plunge down toward Dry Canyon.
Looking west over Utah Lake as we climb the switchbacks towards Big Baldy.
Looking up the side of Timpanogos from the pass.
The Dry Canyon trail rapidly becomes a deep steep trench. It's a hairy, white-knuckle, uncontrolled descent. And if you walk, you'll probably slip and fall down anyway. Horses tear up the surface of this deep "ditch" of a trail, so there's little for your tread to grab as you slide headlong down the mountain. Get your butt back over the rear tire. Work your brakes intelligently. But you ain't gonna stop, dude, so just surf on down. If you need to bail, step off the back of the bike. It's not pretty.
When the pitch of the Dry Canyon Trail becomes more sane, there are still big rocks to contend with. You need good bike-handling skills here, but the trail actually becomes fun to ride again.
The trail ends in a series of steps above the Dry Canyon Trailhead. From here, turn right and find the Bonneville Shoreline Trail to ride north.
Looking south, that's Provo peak on the left as we begin our scary descent into Dry Canyon.
Riding notes, clockwise loop:
0.0 From parking lot, head east up the canyon
N 40° 22.483 W 111° 42.721
0.5 Switchback, go L uphill toward valley.
Ignore small trail going straight.
0.9 Trail turns R toward canyon.
At fork, keep R (L=Mahogany Mtn)
N 40° 22.751 W 111° 42.575
2.3 Bridge, cross creek, climb.
N 40° 23.414 W 111° 41.734
3.4 Indian Camp / Springs, fork R
N 40° 23.690 W 111° 41.174
4.0 L on DT toward Timpooneke Road
4.1 R on DT, N 40° 23.226 W 111° 41.069
Keep heading generally southeast
7.3 Cross pass, plunge downhill
N 40° 22.295 W 111° 39.354
10.6 Dry Canyon Trailhead, go R to ST at gate
N 40° 20.522 W 111° 40.564
13.3 BST dumps onto gravel road, go N
N 40° 21.345 W 111° 41.943
13.8 R on road, then immediate L on gravel Rd
N 40° 21.811 W 111° 42.186
Follow roads generally north, below power lines
15.0 Cross creek to parking area.
Looking down Dry Canyon. We'll be dropping between the cliffs on a ledge above the river.
Now, in case anybody missed the message:
This is a very difficult trail. It's steep and climbs a long way up. There are many areas with rough loose riding surface. It has a hairy technical descent with significant potential for injury. This trail has killed people in the past. But if you're a strong skilled rider with a sense of adventure and a tolerance for suffering, maybe this is your trail.
Other riding options:
Some riders do Grove Creek as an up-and-back, riding either to the falls, or all the way to the viewpoint above Battle Creek. Another option is a DH shuttle, starting where the Timpooneke Roads ends at the Battle Creek Trail and riding downhill.
Getting there: Get off I-15 at the Pleasant Grove exit, and head east toward the mountains. As the street curves north, you'll reach State Street at the light. Turn right. As State begins to curve southward past a big shopping complex, turn left at the traffic light to Main Street. Go through the 4-way stop at Center, then turn left at the light on 100 East (Canyon Highway). Proceed north to 500 North and turn right. 500 North becomes Grove Creek Drive. Follow it up to the paved parking area. (Bathroom at trailhead.) The ride starts on the east (mountain) side of the parking area, heading straight up the canyon. N 40° 22.483 W 111° 42.721
Map of the Grove Creek loop ride on Big Baldy