Looking east as Bruce pedals through a grove of stunted fir. Photos and initial trail review September 18, 2019. Updated for new construction October 10, 2020.
Charlie's 9K Trail
The Charlie's 9K trail contours the higher hillside southwest of Park City. At around 9000 feet elevation, it is a higher-elevation version of the Midmountain Trail (at 8000 feet). Two segments have been completed as of fall 2020. It now runs 5.2 miles from Empire Pass to the Blazing Saddles trail above Shadow Lake.
The top elevation of the trail is 9450 feet. There are many north-facing slopes and tall forest cover that retain snow until early summer. The expected riding season will be July through September.
While the two ends of the trail have a couple of smooth miles, the central portion of the trail (between the Apex trail intersection and the Fat Lip trail fork) has a lot of embedded boulders that raise the tech level to upper-intermediate.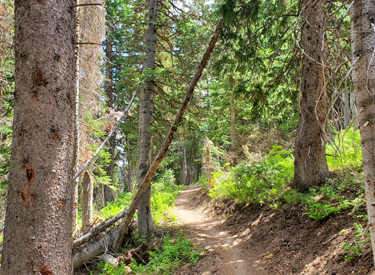 Riding east on Charlie's 9K as we leave the Shadow Lake area.
Bouncing through a rougher stretch of trail in the central portion of Charlie's 9K.
The western side of the trail has significant up-and-down riding, and is higher in elevation at 9300 feet, compared to 9000 at the eastern end. When done from east to west, there will be a total of 800 feet of overall climbing. Add 450 feet of total climbing coming the other way, west to east.
Heading out from the Empire Pass parking area on the westbound doubletrack.
Empire Pass:
The trail can be reached through the Empire Pass parking area. Take the doubletrack west past the top of
Corvair
, then turn right onto 9K 0.1 miles after leaving the parking area. This is a fairly small parking lot, so on weekends you'll probably need to find another starting spot.
Bonanza Flat:
Most riders will start from the big parking area on the Guardsman Road in Bonanza Flat, 1/2 mile west of Empire Pass. Go uphill across the road to the singletrack, which will take you east and uphill 0.7 miles to meet 9K where it branches away from the ridge doubletrack.
Here's the origin of Charlie's 9K on Blazing Saddles, just above the Shadow Lake trail. The lower trail to the left is 9K.
Shadow Lake:
There's no parking anywhere near the western end of the trail. You'll need to reach Shadow Lake via a combination of trails. For example, after climbing to the Midmountain Trail by any of the climbing routes (for example, Mother Urban or
Jenni's
), you can connect to
Tommy's Two Step
(or
Steps
), then
Three Candles
,
Keystone to Shadow Lake to Blazing Saddles
, where you'll reach the western end of 9K.
Wasatch Crest: You can drop down to 9K after descending Puke Hill from the Wasatch Crest or from the top of Pinecone. The loop 9K to Crest to the connector above upper Mill Creek, then back via Midmountain is a wonderful monster ride!
Fir and aspen alternate with alpine grasses and low shrubs. The far eastern end has a bit of open scrub terrain for around a mile, then you'll enter constant forest.
As the name implies, Charlies 9K trail sticks to an elevation of around 9000 feet. The terrain is a mix of fir, aspen, and low scrub. Groves of trees alternate with open grassy areas with wide views.
The trail is a machined bench cut and is mostly smooth dirt for the first mile or two on each end. The first two miles is an easy technical ride, and not too tough aerobically considering the elevation. The trail gets a bit more technical and becomes harder work on the western half.
Mixed aspen and fir forest as we head west from Empire Pass.
Northbound as the trail contours the mountain below the Empire lift on the trail's eastern side.
You can ride the trail as an out-and-back from Empire Pass, or create a loop ride. The loop rides tend to be difficult either due to length or technical riding. Beginning riders should do the first section of trail (to McConkey's Road or just beyond) as an out-and-back. Solid intermediate riders can go all the way to Shadow Lake, then return in a loop via Midmountain or come straight back.
The area downhill from 9K is a complex maze of multiple entangled trails, so if you're doing a loop ride, it's best to carry a device with a navigation app to help you find your way. Park City has a nice big trail map, and I highly recommend it, but even that may not be enough. And because there are so very many Park City trails, I've buried many of the individual trail descriptions inside loop ride pages on this website. So this website won't be of much help either!
North slopes tend to have mature forest.
Here's the trail fork for Black Forest and Cyn City, seen from the 9K trail as if you were riding west to east (toward Empire Pass).
After starting out from Empire Pass, the first connection for 9K comes at the gravel McConkey's Road at mile 1.8, where the combined Cyn City and Black Forest is a 180 downhill to your right. Black Forest is a black-diamond descent to TG2 then to Midmountain.
Cyn City is a machined intermediate DH flow trail that forks away from Black Forest after 1/4 mile, descending to Midmountain near the Link intersection. The next fork comes in 0.4 miles as Stiff Upper Lip forks right, connecting downhill to Fat Lip at McConkey's Road. (McConkey's Road goes north to Thaynes Road, Webster Road, and Flat Iron in the Park City Ski Area.)
The next trail fork, at mile 2.0 is Stiff Upper Lip, which will connect via McConkey's Road to Fat Lip northbound.
The next trail fork is Change Reaction, also on your right, coming 0.5 miles after Stiff Upper Lip at mile 2.5 of the ride.
An eastbound rider has passed the trail fork to Stiff Upper Lip. As the shape of the fork shows you, riders turning onto Stiff Upper Lip are arriving from Empire Pass, not from Shadow Lake.
Looking at a tight switchback turn on the eastern side of Pioneer Ridge.
About 1/2 mile after the Stiff Upper Lip trail fork, around the area of the Change Reaction trail fork, the trail starts to climb Pioneer Ridge. You've got around 300 vertical feet to get up and across. The climbing grade is tolerable on this side of the ridge, with a fairly smooth trail. Here you'll reach 9K's highest elevation, 9350.
Once you get onto the other side of Pioneer Ridge, the riding gets rough due to embedded boulders.
Two samples of the trail surface on the western side of Pioneer Ridge. Here we're in an aspen grove on the switchbacks.
And here we're just traversing through sparse fir forest. You'll be crossing some rockslides and other tricky spots.
At mile 3.8, just after climbing up and over Pioneer Ridge, 9K crosses the Apex trail. Uphill, Apex continues as Dead Tree and connects to the Scott's Bypass trail for a loop ride option. Downhill, Apex crosses Keystone (for another loop ride option) then ends on Thaynes Road, where CMG is just downhill to your left.
The lower trail on the left is Apex. We're on the 9K trail facing east. Apex continues on uphill from this trail crossing.
Looking east as the trail skirts the Little Belle ore bin.
After the Apex trail crossing, the trail is smoother there are some nice views. Be sure to check out the old Little Belle mine tipple, which has been reconstructed from the original structure from 1890. The mine produced lead and silver. (Note: A "tipple" is a structure where ore is dumped from mine cars or hoist buckets, then poured into wagons for transport down the mountain. It's also called an "ore bin" because it stores ore while waiting for wagons to pull up.)
9K then contours above the Shadow Lake trail to end on Blazing Saddles at mile 5.2. Go left uphill to head for Scott's Pass and the Wasatch Crest or Pinecone. Downhill will take you to the Shadow Lake trail where you can connect to Keystone.
Looking down at Shadow Lake.
In a meadow above Shadow Lake as we turn around on an out-and-back.
1. Take 9K east from Empire Pass,
Cyn City
down,
Midmountain
southbound then either
Corvair
,
Tour Des Suds
,
Boulder
, or Team Big Bear for the climb uphill to Moosebones and back to Empire Pass. A hard right turn at mile 1.8 of 9K (at McConkey's) takes you downhill on Cyn City. (An expert alternative is to keep right after 1/4 mile to
Black Forest
This expert-level plunge joins TG2, coming in from your right. (Resist the temptation to take TG2 south for a loop. It gets hike-a-bike steep.) Descend to Midmountain, then turn right to head back for a loop. You can start at the Midmountain Trail parking on Empire Pass road if you want to do the climbing first.
2. Take 9K all the way to Blazing Saddles. Descend to Shadow Lake then connect to Keystone. As Keystone ends, continue on Fat Lip then climb Stiff Upper Lip back to 9K for a lariat ride. Or drop Black Forest or Cyn City to Midmountain (as above) on your way back for a truly worthy workout.
View east from the 9K trail.
A fun log ride, just before the trail hits McConkey's.
Bottom Line!
Very nice trail. It's a great out-and-back ride for conditioned intermediate riders. Or it can be a fun piece of bigger rides spanning the mountain between Deer Valley and the Park City Ski Area. The rocky central section and higher elevation make the full ride for upper-intermediate riders, but the first two miles on the eastern end are suitable for experienced beginners.
Getting there:
Empire Pass:
As you enter Park City, follow the signs for Deer Valley and Guardsman Road. Get on Bonanza Drive heading south uphill. At the roundabout, turn toward Empire Canyon (SR 224). Stay on that road for about 3.5 miles. Go through the roundabout in front of Empire Canyon Lodge and head uphill on 224. When the road reaches Empire Pass, turn right into the parking area at the top of the mountain. The 9K trail is reached via a short connector on the ridgeline.
Pine Creek/Bonanza Flat trailhead:
On the Guardsman Road about 1/2 mile west of Empire Pass, turn downhill into the trailhead. The connector to the 9K trail is across the road from parking. It's around 0.7 miles up to the 9K trail, which you'll find on the opposite side of a doubletrack on the ridge.
Midmountain Trail parking on Empire Pass Road:
When driving up Empire Canyon as above there's parking just uphill from the Midmountain Trail. Just after the road makes a turn to the right, there's parking on the left side of the road. Park here if you'll start your ride on the Midmountain Trail, then coast down to the trail, which is just above the turn in the road.
Toilet at Empire Pass and Guardsman Road trailheads.